Almost every day, parents are asking me how they can deal with the excessive use of screens, and just how much time is ok for kids? How do we control what our kids are doing or watching online? And how do we approach this issue with them? To all these parents I answer that there is a short answer and a long answer. The short one is parental control app, which I will elaborate on shortly. The long answer is an extensive list of things parents must do to make sure their kids are safe. In this article I will go over 9 important, free, and easy to implement tips for parental control. If you are able to implement some of them, you are already headed in the right direction to smarter parental control.
Taking a step back to human psychology, it is important to understand how kids' brain develop. In the early ages 3-4 (the age they start watching YouTube and playing the iPad), kids comprehend the world around them based on vision and their logic is still in development. As they grow up, ages 5-6 they can better translate the experiences they have to consequences. For example, if they get burned, they begin to understand why they should not to put their hands in a fire. They are able to process simple information in their brain, and use this information to make simple comparisons.
The part of our brain that is in charge of decision making is called the prefrontal cortex, and I assume that by now you ask yourself why is that important. This crucial part of our brain is developed last, from an evolutionary perspective. This part in the front part of our brain (see image below) is the one that is responsible for our child's capability to plan things and think about the consequences of their actions, solve problems and control impulses.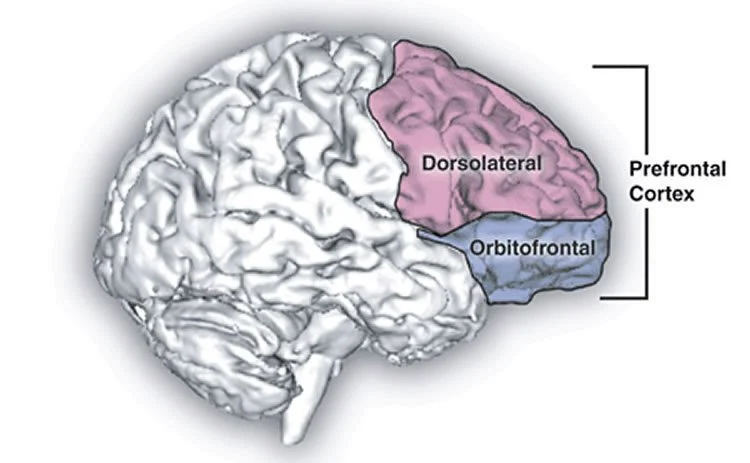 Now, if we understand the above, we as parents must realize that until their early 20's, our kids will still be easily manipulated into bad behavior like; bullying, smoking, fighting, driving dangerously, preforming dangerous acts etc. all without much thinking on what can happen.
I hope you follow this logic. If our kids are easily manipulated and consequently spend most of their time on line with their screens, it is then easier to take advantage of them, cyberbully them, steal from them and harm them in many ways. These dangers are better explained in the linked article: Internet Dangers Imposed on Our Kids
The internet is filled with scammers, predators, and just bored people that want to play around. In this setting, our kids are perfect targets as they have inability to process information right and determine what is right or wrong, what is true or and what is false.
Now for the short simple answer I mentioned above; there is a new breed of apps that help parents monitor what their kids are doing online.
Parental Control App
Simply put is a software or app that once installed on the kid's device gives a good visibility for the parents (who also have an app or dashboard). It provides access to what kids are doing, what websites they are visiting, who are they talking to, and where are they located. Some of the biggest brands in software security developed apps and software for parental control, but there are also many other good apps out there that would give you peace of mind.
Some of the leading companies that have parental control apps in addition to their anti virus and other protection tools are:
Norton Family Premier: A leader in antivirus and personal computer protection since 1991. Norton now offer parental control as part of the 5 device protection package named Norton 360 Deluxe. Although the app does not work on mac devices it is a perfect solution for parental controls as it does a great job monitoring what your kids are doing and how much time they spend on line (read our Norton Family Premier review).
Kaspersky Safe Kids: Kaspersky labs is now offering its Kaspersky safe kids product which works great with iOS devices and has an easy set up and a fairly decent price (read our Kaspersky Safe Kids review).
McAfee Safe Family: McAfee which is now part of intel security division is one of the worlds known brands for computer protection. They have a leading personal anti-virus software that already tracks mal ware and tries to keep your computer safe, so it was just a low hanging fruit to add the parental control features. McAfee Total Protection is offering parental controls as well as part of the Family package so in addition you can enjoy their VPN, Antivirus and password protection tools (read our McAfee Safe Family review).
Some of the leading companies in parental control which are solely focused on providing parents the tools too. You can visit our detailed reviews of more than 20 of the best parental control apps to learn more and decide for yourself which app is a good solution for you.
But, back to the long answer, below you will find 9 tips for better parental control which you can use in addition or separately to the parental control app option to protect your kids and be more involved in what they do online. Check out this full parental controls app comparison of features between all the apps.
1. Educate Your Kids
Start with having a serious talk, describe the dangers and explain what they should and should not do.
What you want to achieve from this conversation is their understanding that before anything they do online, especially on social media they need to think if what they want to share or post would be helpful or harmful. For example, you can discuss what does nudity mean, and what is allowed to be sent as a photo and to whom? You need to explain that in many countries forwarding a nude picture of a class mate is considered a felony.
Depending on your child's age, you need to explain about "sextortion", which is basically when minors sending nude photos of themselves to their boyfriends and girlfriends. Once sent, your kids have zero control on where it is sent next and this photo is no longer safe. Further explain how an innocent image sent to someone becomes a tool for extortion by someone else that got his hands on the photo. They need to be aware of cyberbullying and understand that kids commit suicide after being bullied online. You can take them through some articles of real cases so they understand that it is real and that cyberbullying makes young people twice as likely to commit suicide.
Additional points to discuss should be, phishing scams, talking with strangers, malware, downloading stuff and posting private information.
2. Show Them How to Do It Right
A good example is the best form of education, show your kids how careful you are when you are taking their photos to not show and nudity and how you do not post online your private things. Show them that you do not save credit card numbers or other important information online. Teach them about how to create strong passwords. Go over the setting of your LinkedIn/Facebook account as an example of the privacy options that exist there. Here, you can learn how to put parental controls on Facebook.
3. Privacy Settings: Use the Parental Controls That the Social and Video Platforms Offer
This should be an easy task to complete. Each social network or video platform such as YouTube, Instagram, Facebook, Netflix, Amazon Prime, Hulu, etc. have their own parental control options that help you make sure that your kids are not exposed to porn, or violence. The main issue here is that the automatic privacy settings are not configured to be the most secure.
It is advised to go over platform by platform and make sure you configure the privacy setting to the most private option. A good trick that works well with small kids is making sure you are logged in to YouTube on the iPad or phone and once they watch you can see all the videos in history.
Test if privacy settings are set to the most secure level by just searching your kids name on any search engine, if the profile is not set to the most secure level you will be able to show them how anyone can access their private information and friends list.
Delete Old Accounts
Kids often move from social network to social network for example, most young kids now do not have Facebook and use only Instagram and TikTok. Make sure you delete old accounts that are no longer in use.
For Netflix we recommend setting up different users for each child with the proper age restriction so you can control what they see and they will not be shown adult and violent content.
You can follow our guides on how to set up parental control on different platforms:
4. Set up the Parental Control on Gaming Consoles and Other Hardware
Today, all the gaming consoles are connected to the web, moreover, many kids play games like Fortnite and FIFA not only against their friends but also with strangers from around the world. Some of the consoles come with cameras and other equipment so you really need to make sure you set up parental controls on Xbox, PlayStation and other gaming consoles you might have.
In addition, people use hardware such as Roku to access their content and channels. These platforms also have the option to block certain content and create a safer environment.
5. Use Parental Control on iPhone and Android (Built-in Features)
Here is an easy win for you. Whatever phone your kid is using you can make sure you configure parental control on their device.
iPhone Parental Controls
This allows parents to easily block specific apps, restrict settings and purchases and much more, you can even restrict Siri from preforming web search that you do not want. The screen time feature lets parents see exactly how much their kids are using their devices, what websites and apps are most in use. We like to allow only 2 hours of watching time every day which means that once we set up the screen time for 2 hours it is automatically turns off the device and we as parents can see how much time spent on YouTube or Netflix or any other site. You can read our guide on how to put parental controls on iPhone or simply visit Apple support for more information.
If the iOS device settings are not enough for you, check our recommendation and detailed reviews of the best parental control apps for iPhone.
If your kids use iPad as their personal TV and game pad, make sure to read our detailed recommendations for the best parental control app for iPad.
Android Parental Controls
This is also a great feature for parents that gave their kids their out dated Samsung phone. The Android eco system is an open garden compared to apples approach hence the need for protection for your kids is even greater. Google knows kids are getting their phones in younger age now days and does allow parents to apply restriction on app downloads, purchases, explicit content, films, music etc.
Basically to everything that can be downloaded from the play store. The set up is a bit more cumbersome than the one for the iOS devices but still easy to follow and implement. In our next section we will discuss the Family link solution but for the meanwhile you can follow our guide on how to put parental controls on Android.
6. Google Family Link for Parental Control
We just love google family link, which is a great and free option for parents to monitor and manage their kids online behavior. The app is available on both Android and iOS and can be downloaded from the respective stores. You can also manage some features from the browser but we recommend downloading the app. Google basically lets parents manage all their kids' devices from their own device.
The process is quite simple, each kid needs to have his own account and once logged in they can be linked (one-time setup) to the parents family link app. Parents can then monitor screen time, what apps are being used and even install apps that they think their kids can enjoy and learn from. The app also has location tracking feature but it ends here and if you are on the lookout for something more robust you would need a full-fledged parental control app and see what are the exact features you want.
Read our Google Family Link Review to learn more about the benefits of the app.
7. Parental Controls on Google Chrome
Chrome is one of the leading browsers and probably your kids start their online journey. Kids are no different than adults and use search engines for research, shopping and playing around watching YouTube or playing games. Today, the web is an important learning tool and kids are required to use it to perform research for school projects, however it is very important that parents are controlling what their kids get exposed to on search results.
Google has enabled a very easy set up of safe search which means that parents can block explicit content and images from appearing in the search results. Of course it is no 100% bullet proof as images and content can still appear under different not blocked search terms but this is definitely a good start to protecting your kids. To turn on safe search just go to setting on the chrome results page and the first item on the drop down list is search settings. There you can configure the safe search function. Remember that it only blocks content on the google search results and will not prevent your child from seeing "bad" content on other search engines like Bing and Mozilla Firefox.
8. Strong Passwords Are Important for Parental Control
Teach your kids to set up passwords for any online tool or account they use. Explain to them that using date of birth or serial of numbers is an easy password to hack.
Make sure you set up passwords that are harder to hack which contain numbers, symbols and letters.
Make sure you do not use the same password on different accounts
Make sure you remember you password
The more services you use the harder it is to manage and remember all your users and passwords. You can use one of the password manager services like Dashlane or Laspass. They have a free version you can start with.
9. Family Shield by OpenDNS: Configure Your Router to Have Safe Internet at Home
This recommendation requires a little understanding and configuration on the DNS and IP level. To make it simple DNS is a database that matches names with specific IP address. For example you can go to Netflix.com but also can type their IP address. Of course it is much easier to remember names rather than numbers. There are more features to DNS which you can read more about here, but just to mention that emails, world wide web and other application all use DNS services.
Family shield by OpenDNS is a great option to monitor and block inappropriate content from kids computers and other devices, it is done on the proxy level and once your kids are trying to access a domain that was flagged by the OpenDNS system it will not allow access.
Click here for detailed instruction on how to configure your name servers with OpenDNS.
If you are now certain that a parental control app is needed, read our article How Can I Monitor My Child's Phone Without Them Knowing for some additional tips.
Summary
In this article, we tried to explain the importance of parental control and provide parents with some easy to do steps As you can see above, there are many free options to start enforcing parental control with your children. whether you choose one of or more from the 9 tips above you are already one step closer to ensuring your child's safety online. Read our article on how to manage your kids screen time wisely: Screen Time: How Much Is Too Much and How to Set Screen Time for Your Kids