Bark Phone
The digital age has brought forth a plethora of devices tailored to various age groups, and among them, the Bark Phone stands out as a unique offering for kids. Designed with the primary goal of ensuring children's safety while they explore the digital world, this mobile device from Bark is more than just a smartphone; it's a guardian.
Get This Phone!
Overview
Bark, a company renowned for its app that aids parents in monitoring their children's online activities, has ventured into the smartphone market.
The Bark Phone is their maiden offering, aiming to provide an all-in-one solution for parents and children alike. While the hardware is sourced from another manufacturer, the phone boasts a custom Android skin from Bark, ensuring certain restrictions tailored for young users.
Specs
Below is a concise table detailing the specifications of this smartphone, providing a quick snapshot of its features and capabilities for those keen on understanding its technical aspects:
| | |
| --- | --- |
| Operating System | Android 13 |
| Internal Memory | 64 GB |
| Screen Size | 6.6 inches |
| Phone Memory (RAM) | 4 GB |
| Front Camera | 13 MP |
| Rear Camera | 50 MP |
| CPU | Octa core (2.2Ghz + 2.0Ghz) |
| Brand and Model | Samsung A Series |
| Color | Black |
| Bluetooth | ✅ |
| 5G | ✅ |
| Water Resistant | ❌ |
| Battery | 5000 milliampere hours |
Hardware and Design
At its core, the Bark Phone is a rebranded Samsung Galaxy A13 running on Android 13. It doesn't aim to win any design accolades but serves its purpose efficiently. The phone is sturdy, and while it might not be the trendiest device on the block, it provides all the essential features a child might need.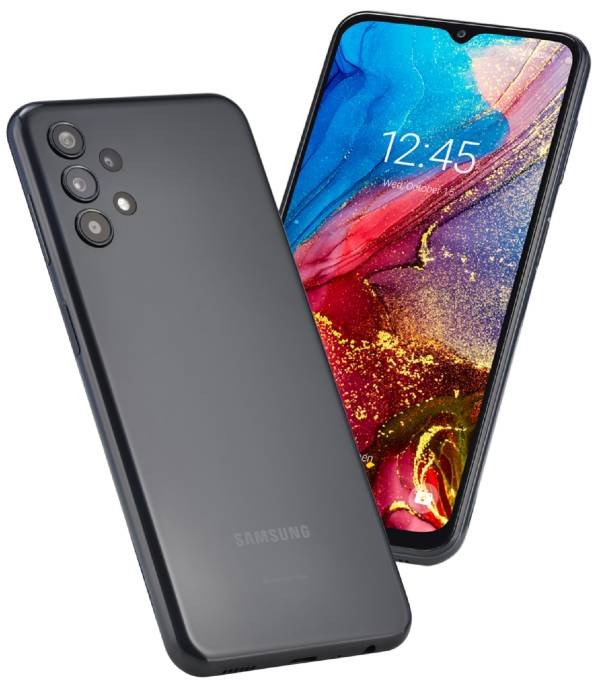 With a 6.6-inch PLS LCD display, a quad-camera setup, and a side-mounted fingerprint scanner, it offers a comprehensive smartphone experience. The device also includes a 5000mAh battery, ensuring it lasts through the day, even with Bark's VPN running in the background for constant monitoring.
Software and User Experience
The software is where the Bark Phone truly shines. While the device might seem barren with only essential apps like the camera, clock, and contacts initially, parents can customize the phone's app library based on their comfort level.
Two primary apps, Guard Dog and Bark, ensure the phone's safety features are always active. The former displays the status of various functions, while the latter provides a quick GPS check-in feature.
Parents have the flexibility to grant their children access to the entire Play Store, allowing them to install games, social media apps, and more, based on approval. This level of customization ensures that the Bark Phone can be as restrictive or as open as the parent deems fit.
Get This Phone!
Parental Controls
The Bark Phone's parental controls are its most significant selling point. Unlike other kid-friendly smartphones, Bark offers a comprehensive suite of monitoring tools. From screen time restrictions to location tracking, everything is managed through the Bark companion app. Parents can set specific rules for school hours, bedtime, and free time, ensuring the device adapts to the child's daily routine.
One unique feature is the Insights section, which provides a detailed analysis of the child's phone usage. From app usage times to internet activity, parents have a clear view of their child's digital habits, allowing them to make informed decisions about access and restrictions.
Purchasing Model
Bark's approach to selling the phone is unconventional. Instead of a one-time purchase, Bark offers the phone as part of a package that includes the device, wireless service, and app features, starting at $49 per month. This model ensures that the phone is always equipped with the latest safety features from Bark.
The downside?
One caveat is that the phone can't be bought outright, and if the service is terminated, the device needs to be returned to Bark.
Conclusion
The Bark Phone is a commendable effort to provide children with a safe and controlled smartphone experience. Its robust parental controls, combined with the flexibility it offers, make it an excellent choice for parents looking to introduce their children to the digital world with a safety net in place.
However, the purchasing model might not appeal to everyone, especially those who prefer to own their devices outright. If you're comfortable with the subscription-based approach and prioritize your child's digital safety, the Bark Phone is undoubtedly worth considering.
Get This Phone!