Last Updated: December 1, 2023
MMGuardian Review 2023
Introduction
MMGuardian is a full-featured parental control solution introduced in 2012. Since then, it has scanned more than 2 billion texts and raised more than 1.5 million alerts. MMGuardian provides good monitoring tools for parents, but what sets MMGuardian apart from competition is the innovative AI tools that the company implements which learn your kids behavior patterns and can alert parents about any, sexting, suicidal thoughts, cyberbullying or any other violence their kid might be involved in.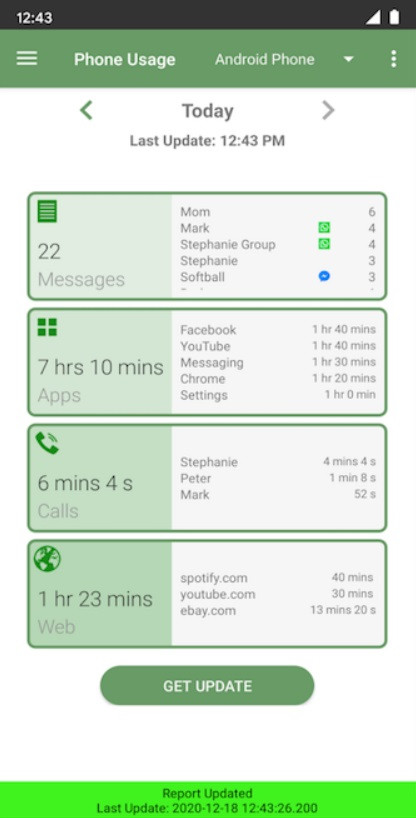 MMGuardian also has patented anti-tamper technology to prevent children from bypassing the app. For those parents who really want to get some peace of mind, MMGuardian offers a version that can block the child from using the safe mode.
Is MMGuardian the right parental control app for you? Read this short review and learn from the insights we'll share.
CLICK HERE TO GET EXTRA 10% AT CHECK OUT
Visit MMGuardian
How to Set Up MMGuardian?
Regardless of the device where you will install MMGuardian, the process is the same. You will first install this on the phone of your child, then install the program on yours. During registration, you need to provide a few details, which include your phone number, email address, and password.
Family Filtering, Blocking, and Monitoring
With MMGuardian, you can enjoy a variety of web filters to be sure that your kid won't be able to access any age-inappropriate content. The best thing is that they cannot bypass the filters that you will set.
Through the app installed on your phone, you can toggle the On and Off command. In previous versions when you would activate this feature, kids could use only the MMGuardian browser but with the recent release of the new MMGuardian app it supports other popular browsers and they also removed the option to use the MMGuardian browser. Parents can now easily apply the filter and put parental control on google chrome or any other browser.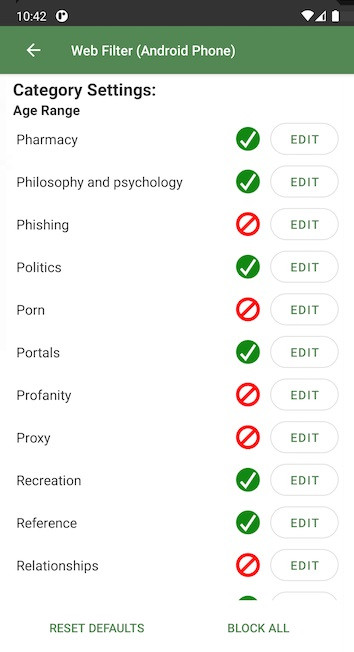 To filter web content, you can also select the age range of the user, making sure that they can see only age-appropriate content. You can also customize the categories of the content that you do not want your child to access. Click View or Edit Category Settings and you can customize what your child can see. You will receive an app in the parent app regarding the blocked websites or keywords that your kid is accessing. There are more than 150 web filters available at MMGuardian, which is one of the most extensive from the parental control apps we have tested.
You can also manually input the URLs of the websites that you would like to block.
Activity Record
MMGuardian has priority alerts and inappropriate picture detection which are both powered by artificial intelligence, this means that every time anything concerning is happening on their child's phone they will get an alert. With MMGuardian parents can enter their own custom keywords to be alerted about. Another option is to actually view any and all the messages their child sends and receives themselves. We recommend parents to combine the two options to get some peace of mind.
Call and Texts
You can monitor the calls and texts on your kid's gadgets. This includes both incoming and outgoing communication. You can also set limits on who could call or text the user.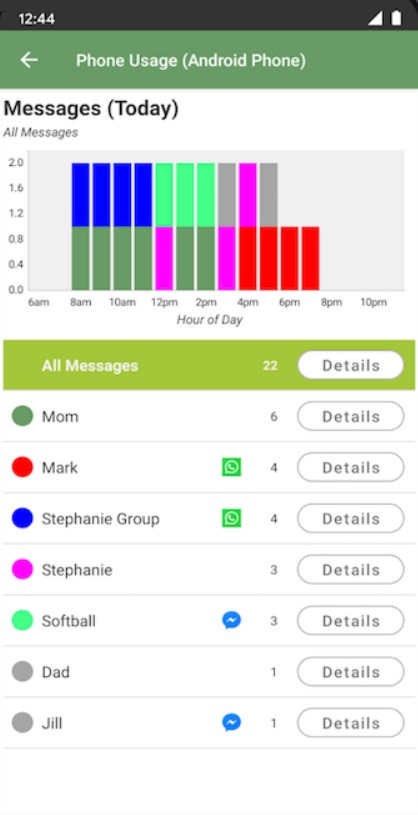 Web Browsing History
Using this app will make you in the know of the websites that your child is accessing or the search terms that are inputted. From here, you can also decide what is inappropriate for your kid and block it instantly.
Social Media Apps
As expected, MMGuardian is also capable of monitoring social media messages, such as Facebook Messenger, Instagram, and WhatsApp. The company recently added also the ability for parents to track the new popular social media apps Snapchat and TikTok so parents can be sure to monitor these platforms as well. You can view a detailed report of these messages, including details about the person your kid is talking to.
MMGuardian Pros and Cons
Pros
Screen time limits
Automatic phone locator scheduler
SMS and call block
One-click phone lock
Great AI feature
Cons
Supports only Android and iOS
Lacks a few of the enhanced features which different applications have
Mobile Support
MMGuardian is compatible with Android phones, Android tablets, iPhone, and iPad. To enjoy the best benefits of using this parental control program, make sure to update to the latest version of the operating system.
Update Nov 5th: MMGuardian now supports iPhone message reports for both Windows and Mac users. Parents can now see all SMS and iMessage texts in their parent app, and they'll also receive the AI-generated alerts for concerning messages about predators, drugs, suicidal thoughts, and much more
CLICK HERE TO GET EXTRA 10% AT CHECK OUT
Location Tracking
You can remotely locate your child to know their whereabouts through MMGuardian's control panel. Through the app, you will be able to track the real-time location of your kid or see history where your child has been in the last seven days. One odd feature is that you can see the speed at which your child moves from one location to another, which we don't find to be useful.
This can also be activated through a short text message. All that you have to do is to type Locate and send it to your child's phone. Next, you will get an alert depending on what the GPS detects.
MMGuardian does not offer geofencing so if you are looking for this specific feature this is not the solution for you. We have reviewed many parental control apps where this is one of their most important features but not all parents are interested in that.
Some parents prefer the tracking feature that MMGuardian provides where parents can enter schedules, during which they will receive updates on their child's location. We believe tracking and fencing your kids where you can restrict several locations and receive instant alerts when the system detects that your child is in a potentially unsafe location is an important parental control tool for peace of mind.
Time Management
You can limit your kid's s screen time with the help of MMGuardian. You can set the schedule when the gadget will be automatically locked. When this happens, they cannot use the device other than for making emergency communication or connecting to the parent's phone that is linked to the MMGuardian account.
To use the time management feature, start by accessing the app on your child's device. Click Time Settings and choose the times you want the gadget to be locked.
There is also an option to set screen time to limit use. You can set the limit at a range of 30 minutes to 4 hours. The best thing is that you can choose the categories to limit, such as games and social apps. Otherwise, there is also a limit to block everything on your kid's phone.
Pricing
There are different pricing plans available, depending on the device that will be used and the length of the plan that you will choose. For a detailed look at the prices, refer to the image below. Regardless of the subscription that you choose, they all renew automatically unless you cancel.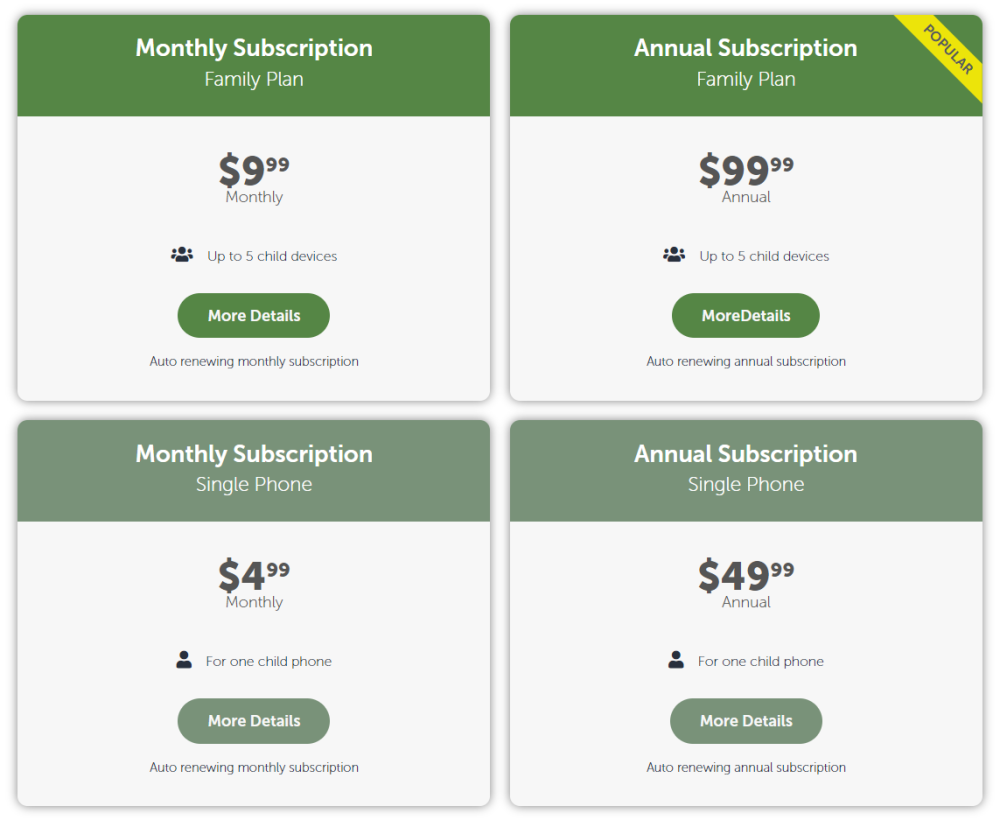 Not sure whether to sign-up or not? Take advantage of the 14-day trial that MMGuardian is offering.
If this is an expensive solution check out our selection of free parental control apps and their reviews.
Conclusion
In sum, MMGuardian is a powerful and feature-packed choice for a parental control program. Like many of the apps we have reviewed, MMGuardian has basic functionalities, such as tracking calls and SMS, time management, and web filtering, among others. However, managing the features can be quite complicated. The app would have benefited with a better design and an easier to use interface. Also, there is no geofencing, which makes the location management features inferior compared to its competitors.
Click the button below for an additional 10% discount at check out:
Visit MMGuardian