Qustodio Discount
If you're interested in finding out whether Qustodio provides discounts, this brief guide can assist you in discovering potential ways to save money at checkout.
Ensure a protected online experience for your child by setting up a parental control account – sign up today:
Visit Qustodio
Is There Currently a Discount Available for Qustodio?
Yes, Qustodio is presently providing a discount to individuals who choose to sign up for their premium account.
Discount Percentage
At the checkout, Qustodio will apply a 10% discount to the original premium that you need to pay. This makes the costs significantly lower since you will only have to pay a lesser amount.
Multiple Discount Codes are Not Allowed
Qustodio only allows the use of one discount code per purchase. It is not possible to combine or stack multiple discount codes for a single transaction. If you have multiple discount codes, you may need to use them for separate purchases or choose the code that offers the best discount value for your needs.
Discount Code Restrictions
There may be some restrictions on using discount codes. The restrictions can vary depending on the specific discount code being offered. Some common restrictions may include:
Limited-time offer: It may only be valid for a specific period, after which it will expire.
Specific plan or product: The discount may only be applicable to certain Qustodio products or services.
New customers only: Some codes may only be available to new customers who are signing up for Qustodio for the first time.
One-time use: It may only be used once per customer or per purchase.
Non-transferable: The discount may not be transferable to other customers or used in conjunction with other offers.
Minimum purchase: A minimum purchase amount may be required to be eligible for the discount.
Geographic limitations: Some codes may only be available to customers in specific geographic locations.
It is important to carefully read the terms and conditions of any discount code before using it to ensure that you are eligible and that it meets your specific needs.
Interested in regulating your child's online access? Create a parental control account by registering here:
Visit Qustodio
Upgrading to Premium Plan
The promotional code can only be used for Qustodio Premium subscriptions. By default, all new accounts begin with the complimentary Free plan.
To upgrade, simply navigate to the dashboard and select the Upgrade option. This will display various Premium plan choices. Pick your desired plan and press the associated "Buy Now" button to advance to the payment screen, where the discount code may be applied.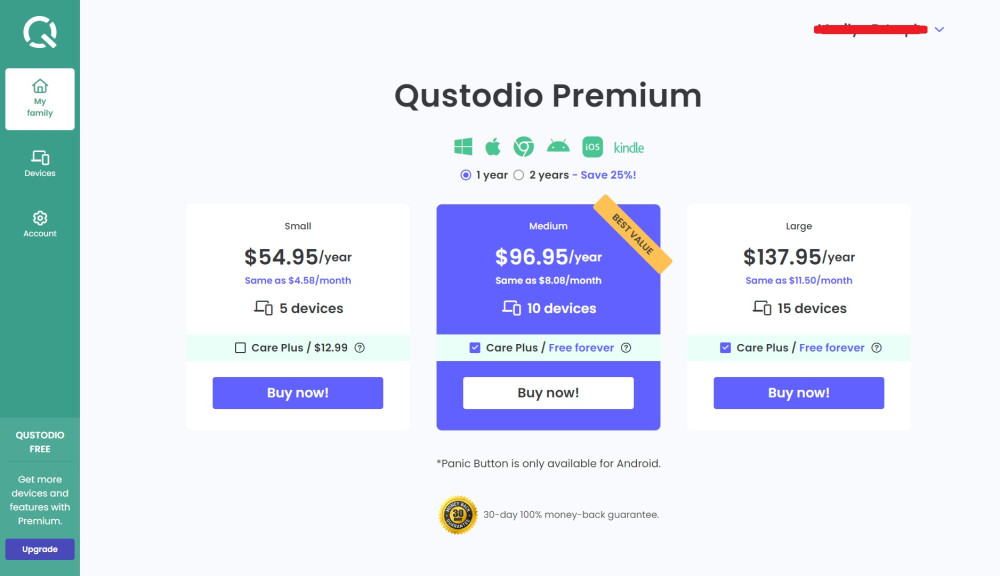 Applying the Discount Code to Your Order
To apply the Qustodio discount code to your order, simply enter the code at the point of payment when you are subscribing to their services. At the checkout page, you will see an option to enter a discount code or coupon.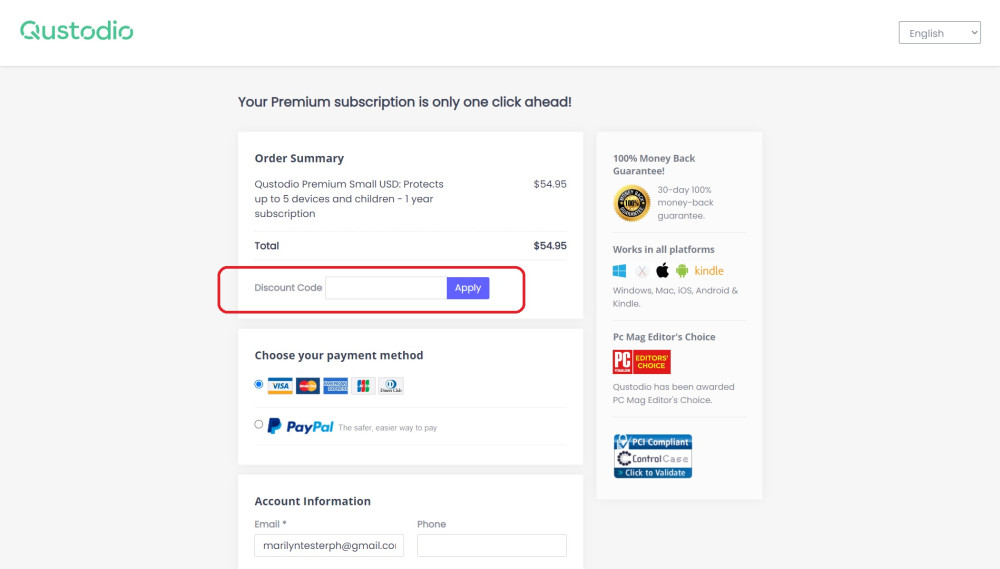 Simply enter the alphanumeric combination into the appropriate field and click on the apply button. The discount should then be reflected in your order total before you make your payment.
10% Discount from Parental Control Now
If you're considering purchasing Qustodio, a leading parental control software, then you're in luck! You can now save 10% on your purchase by using the coupon code IMAGINE10 when signing-up for an account.
To take advantage of this offer, simply register, choose your preferred plan, and enter the coupon code IMAGINE10 at checkout. The discount will then be automatically applied to your order, giving you 10% off the premium.
This coupon code is available for a limited time only, so don't wait too long to take advantage of this amazing offer. Whether you're a concerned parent, teacher, or caregiver, Qustodio is the perfect solution to help keep your kids safe online. So why not give it a try today and enjoy the extra savings with the IMAGINE10 coupon code?
Keep your child's digital world safe – register for a parental control account now by signing up:
Visit Qustodio