Last Updated: December 1, 2023
SpyTrac Review 2023
Introduction
Spying apps always get a bad rep. Some people might think that they are an invasion of privacy. However, there are many instances when its use is justifiable. Such as in the case when parents want to monitor what their children are doing in order to keep them safe. Using a spying app will allow you to know the whereabouts of your children, monitor their social media activities and even read deleted texts.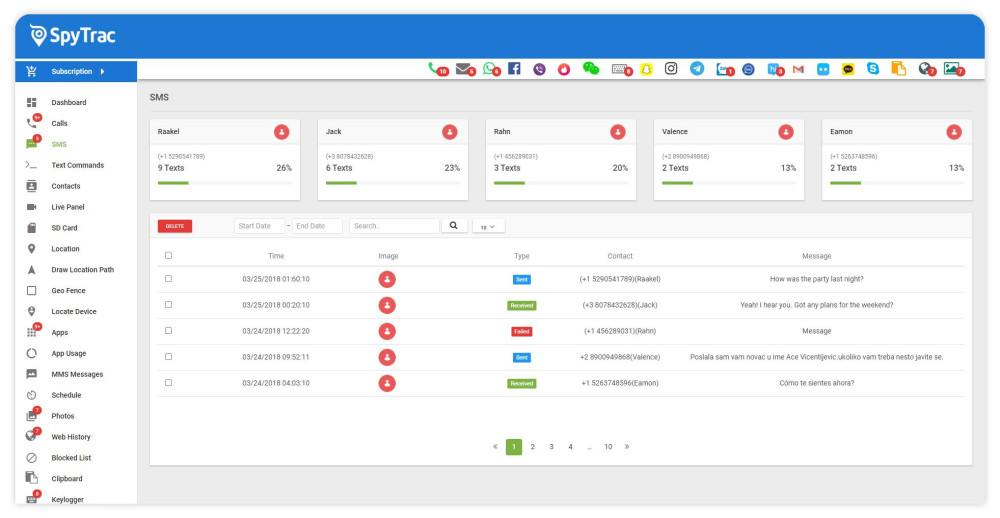 If you are looking for a spying app to use, Spytrac is one of the best options to consider. From text message monitoring to application blocking, it has a variety different features. Read this short review to know more about this app and the functions that you can expect.
Try SpyTrac for Free!
Spytrac Installation
One of the biggest selling points of Spytrac is that it is user-friendly. Even without technical knowledge, you can finish its installation in a snap. You will need physical access to the device that you would like to monitor. Here's how you can do it:
Step 1: Go to the website and click the Buy Now or Try It Free Button. Alternatively, you can also search for it on Google Play Store.
Step 2: Continue with your order by inputting the required details, which include your email address. Check your email and you will receive log-in details, including your password and registration code. Follow the guidelines to complete the installation.
Step 3: Open the app on the device to monitor using the log-in details you received in your email.
Step 4: After logging in, you can now configure your account. Look for the activities that you would like to monitor. You will need an internet connection to finish this part of the installation.
Visit SpyTrac
Device Compatibility
Before downloading Spytrac, take note that it is compatible only with Android devices. You need at least Android 4.1. You can use it on both smartphones and tablets.

Spying Features
Undecided if Spytrac is a great option for spying software? This section lists down some of the most important spying functions that you can expect from this app.
Live Viewing
One of the most powerful features of this app is the ability is to monitor audio, video, and screen in real-time. The live feed will let you know what is exactly on the screen. Alternatively, the mic and the camera can activate automatically, so you see and hear what is happening around the person you are spying on.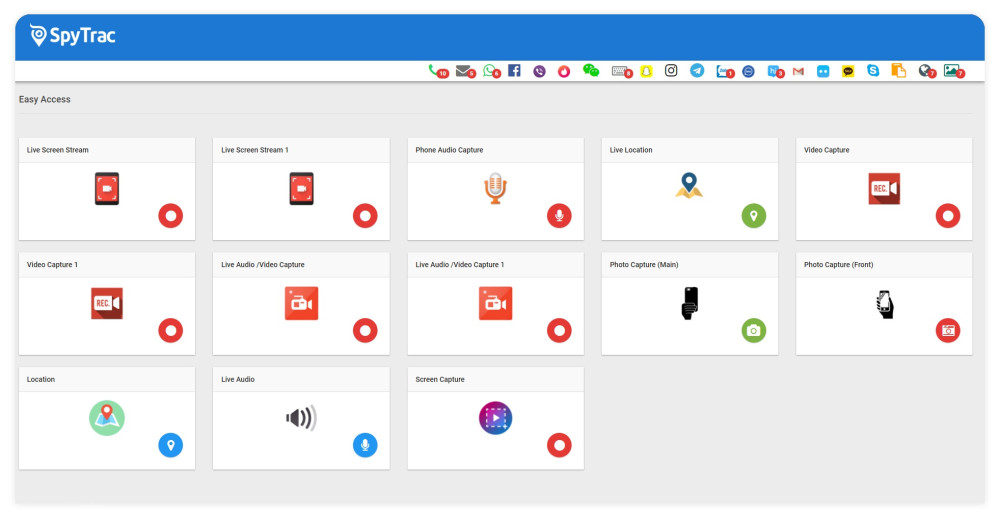 Websites and Apps Monitoring
This is another spying function that many parents will appreciate. You will have an idea of the websites that children use most of the time or the apps that they are accessing. This will help not just in preventing addiction, but also in instilling a more responsible digital behavior while promoting online safety as well.
Location Tracking
With this feature, you can always monitor the location of another person or device in real-time. It uses GPS location data, so the latter must be turned on for this feature to work. It narrows down the location to 15 to 30 feet of the device's actual position. You will see the actual location on a map and view history as well.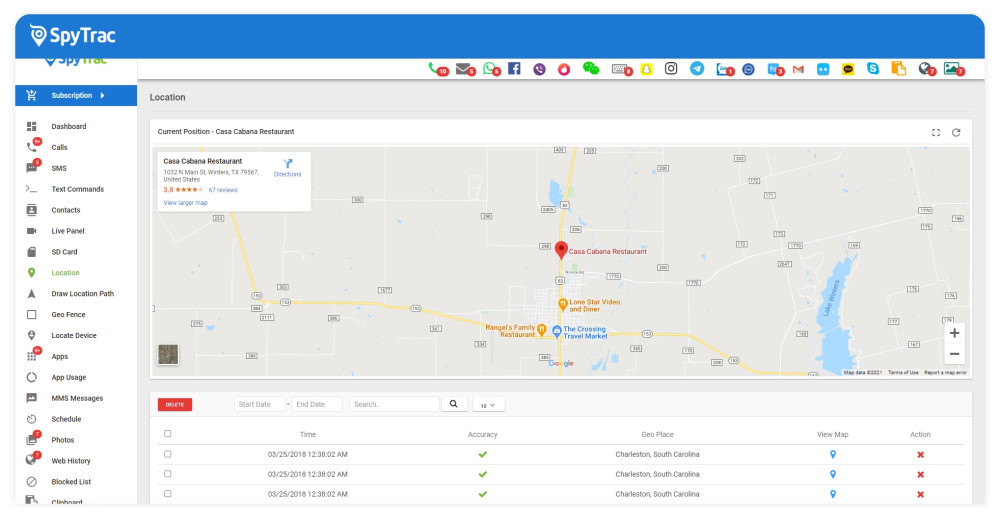 Instant Messaging Apps Monitoring
You can also use Spytrac to monitor different social messaging applications, such as Facebook Messenger, WhatsApp, Skype, Telegram. Viber, Snapchat, and Kik. You can use the app to see incoming and outgoing messages, as well as multimedia files.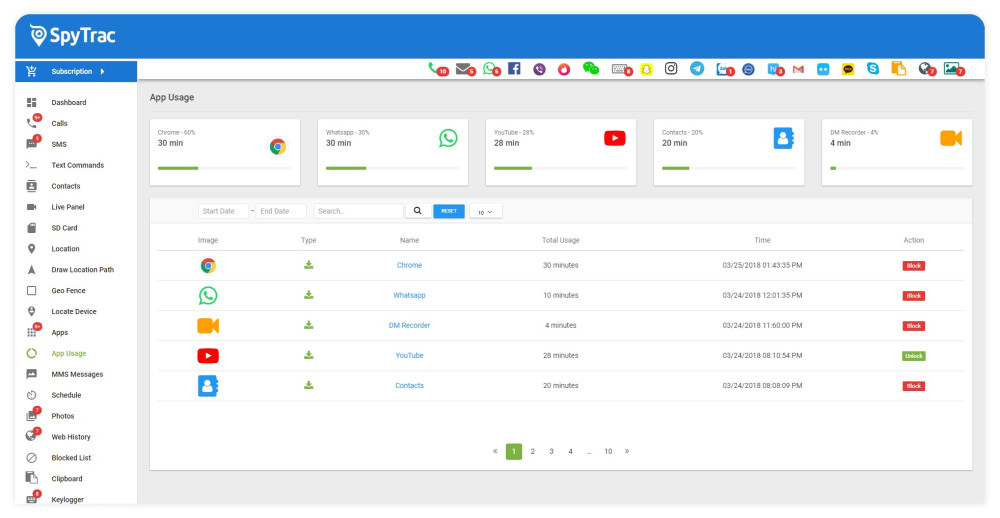 Call and SMS Tracking
At the same time, you can also spy on the calls and text messages on a phone or tablet. You will see comprehensive information, including the contact number, time, and duration of the call. The best thing is that you can see even the messages that have been deleted.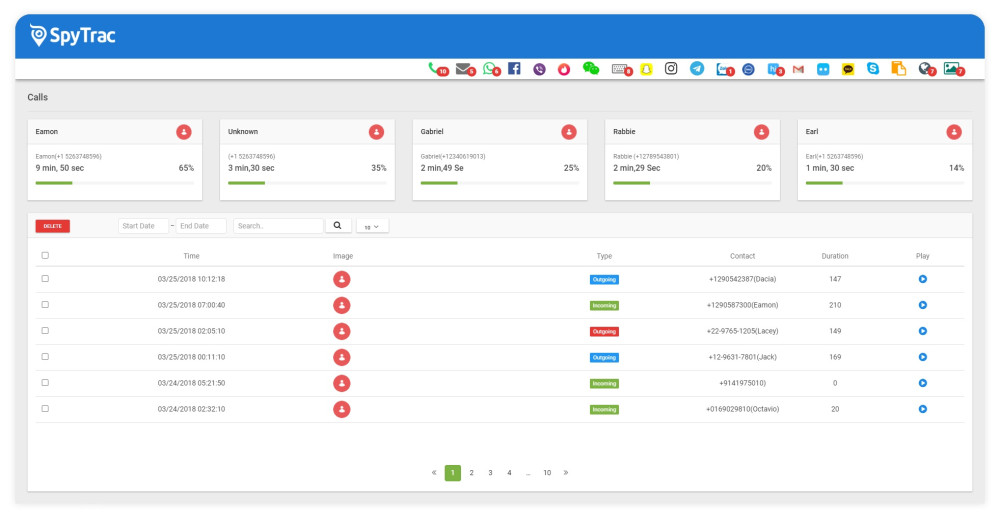 File Monitoring
Staying true to its promise of exceptional spying, you can also use Spytrac for monitoring the files on another device. This will include photos and videos, as well as documents. You can download files remotely and see them on the parent dashboard.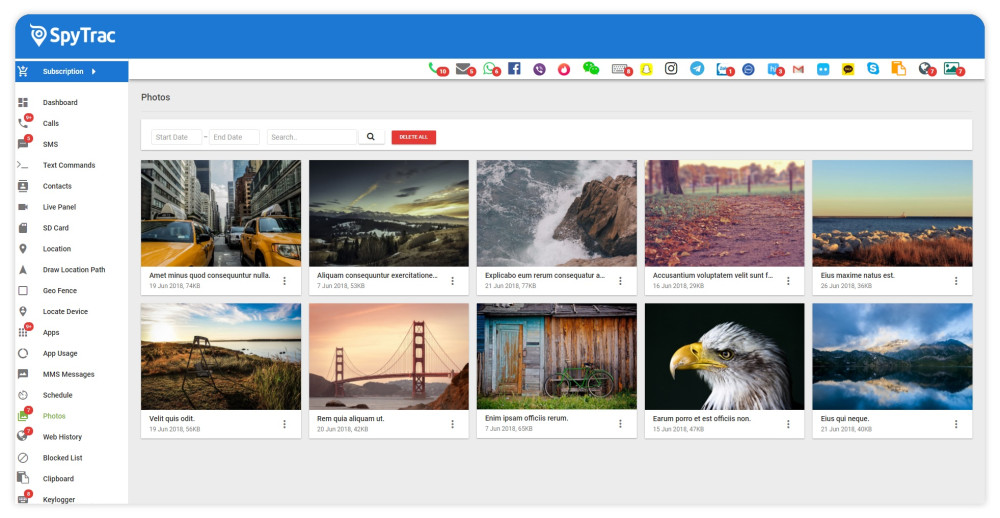 Calendar Monitoring
Another good thing about Spytrac is that you can take a peek at the activities of the person being monitored through the calendar. If there is an event that has been added that is supposed to take place in a shady location, you can act immediately.
Other Features
Aside from those that have been mentioned above, below are other notable features that you will love from Spytrac.
Remote Control
A common feature that you will find in spying apps, there is no need to access the device to start monitoring. While you will need the latter to install the app, once it is on the phone, you can see everything on the parent dashboard.
Analysis Tools
The app works as if it has a mind of its own. It is intelligent enough to analyze your child or any other person that you are monitoring. It has statistics to monitor the most used apps and most visited websites. You can also see the person someone is talking to most of the time. You will receive a PDF, Excel, or CSV file with the things that you need to know.
Premium Support
A big selling point of this spying app is the support that the manufacturer offers. You can enjoy access to a knowledgeable and friendly customer representative round-the-clock. This means that the resolution of any case will be quick. You can contact them through phone, chat, or email. Plus, the website features a comprehensive FAQ section if you need self-help.
Pricing
When choosing a spying app, the price is one of the most important considerations. Nonetheless, the cheapest isn't always the best. It is best to consider the features and functions, and from there, decide how much the app must be worth.
In the case of Spytrac, the cost is justifiable. It is affordable, but this does not mean that it compromises the functionality.
There are three plans available for Spytrac, which include the following:
Basic: $4.92 per month, billed once as $29 for three months and $59 for 12 months
Premium: $9.92 per month, billed once as $39 for one month, $59 for three months, and $119 for one year
Xtreme: $16.58 per month, billed once as $59 for one month, $119 for three months, and $199 for one year
All of these plans are good for a single device only. If you are unsure of what to get, take advantage of the free trial.
Conclusion
In sum, SpyTrac is a powerful spying software. It packs a plethora of features that are especially helpful to parents. You can be confident knowing the whereabouts of the owner of the device you are spying on. It has a live stream of what is happening in the area, stores messages and files in instant messaging apps, and tracks real-time location, among other things. Plus, it is pretty affordable and even comes with a free trial.
Visit SpyTrac