Qustodio Download
Are you interested in installing the Qustodio parental control app on both your device and your child's? Our guide is here to help you through the entire process, from downloading the app to setting it up.
With this comprehensive guide, you can quickly and easily download the Qustodio app from the app store and install it on your devices. Let us show you how it's done!
Support your child's online safety – register now to set up a parental control account:
Visit Qustodio
How to Download?
Here's a simple step-by-step guide on how to download the app:
If you're using an Apple device, go to the App Store, and if you're using an Android device, go to the Google Play Store.
Use the search bar to find the "Qustodio parental control" app and press enter.
Select the appropriate Qustodio app from the search results and tap on it.
On the app page, tap on the "Install" or "Download" button.
If asked, enter your App Store or Google Play Store account password to authorize the download.
Wait for the download to finish. This may take a few minutes depending on your internet connection speed.
Once the download is complete, launch the app, create an account, and follow the instructions to set it up and start monitoring your child's device usage.
Download Page
Alternatively, the Qustodio website has a dedicated Download page where you can get direct links to get the app or program. The URL of this page is qustodio.com/en/downloads.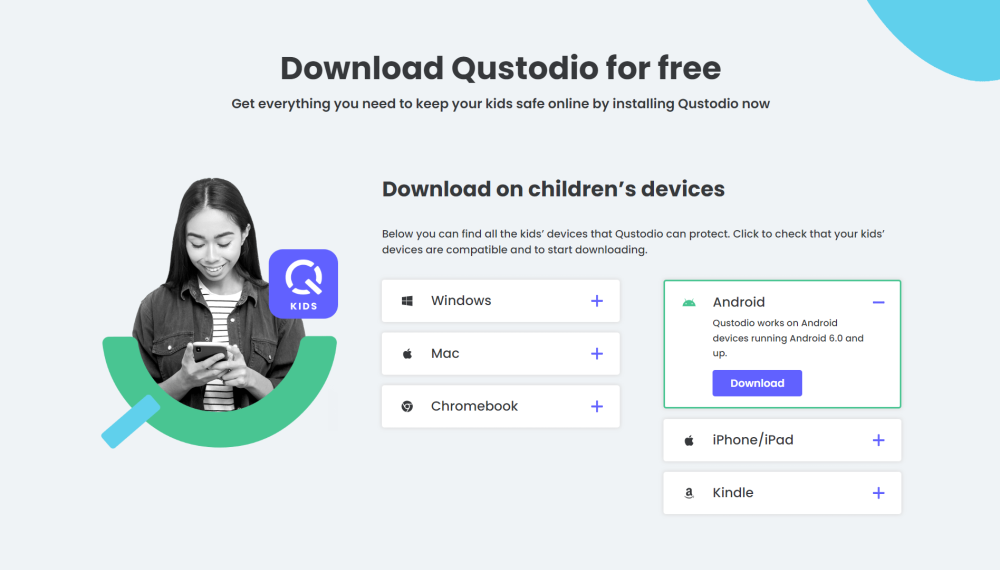 Is It Free to Download?
The Qustodio app can be downloaded free of charge from either the App Store or Google Play Store. There is no need to pay any fees or make any payments to download the app itself. However, it's worth noting that to utilize all of the features, you will need to subscribe to a paid plan.
Compatible Devices
If you're wondering about the compatibility of this parental control app, it's designed to work seamlessly with a variety of popular mobile devices.
Specifically, it's compatible with iOS devices such as iPhones and iPads running iOS 11 or later.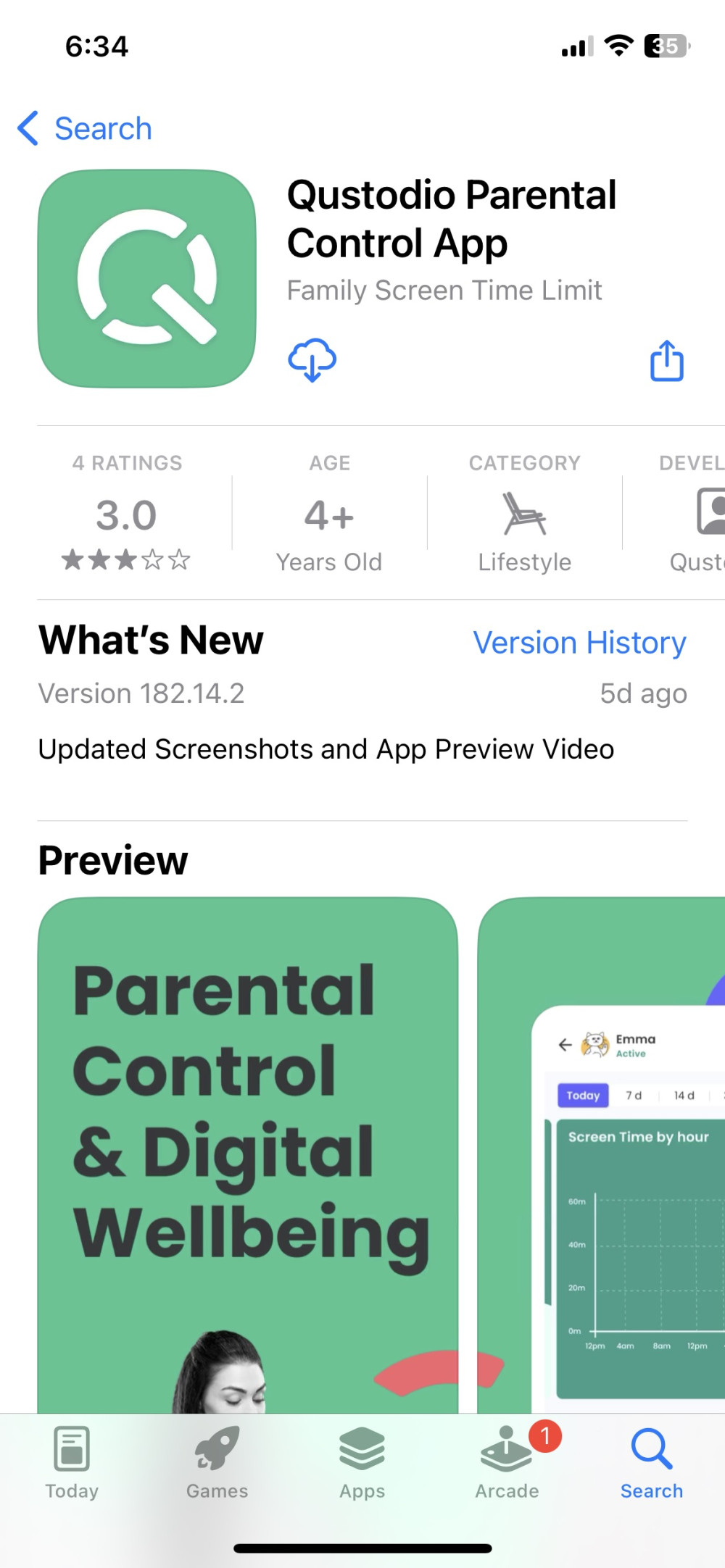 It also works with Android mobile devices running Android 5.1 or later. This wide range of compatibility ensures that you can easily use the app across different devices to monitor and manage your child's online activity.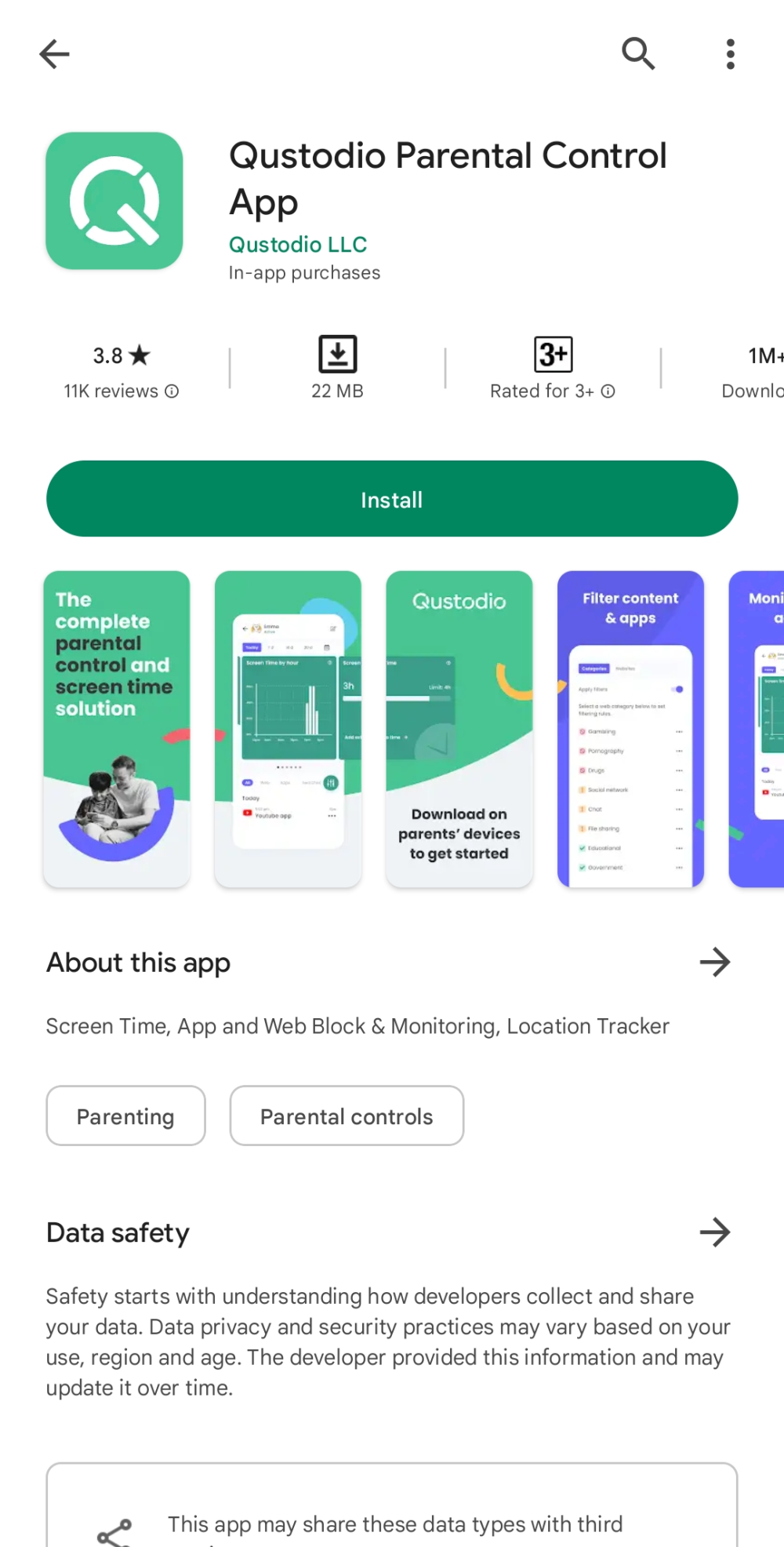 So, is your device compatible? Then it's high time that you open an account here:
Visit Qustodio
Downloading the App on Multiple Devices
Did you know?
With Qustodio's app, you can manage and monitor your child's device usage across multiple devices? This means that once you have subscribed, you can install the app on all the devices that your child uses, including smartphones, tablets, and even computers.
One of the app's most notable features is its ability to enable parents to manage and monitor multiple devices from a single dashboard. You can create different profiles for each of your children and customize the settings according to their unique needs. This allows you to manage each child's device usage separately and gain insights into their online activity, making it easier to track their progress and ensure their safety online.
It's important to note that the number of devices you can install the app on may vary depending on your subscription plan. Some plans may have a limit on the number of devices that can be monitored simultaneously. However, most plans allow for multiple devices, making it easy for parents to manage and monitor their children's device usage across various devices.
Time It Takes to Download
The download time for the app can vary depending on various factors, such as the device you're using and the speed of your internet connection. However, in most cases, downloading the app is relatively quick and can be completed within a few minutes.
This means that you can set up the app and start monitoring your child's device usage in no time. Whether you're using an iOS or Android device, you can easily download the app from the App Store or Google Play Store and get started right away.
Minimum System Requirements
Before downloading and using Qustodio on your device, it's essential to ensure that your device meets the minimum system requirements. For iOS devices, the app is compatible with iPhones and iPads running iOS 11 or later. This means that your Apple mobile device needs to have an operating system of at least version 11 to download and use the app properly.
On the other hand...
For Android devices, the minimum requirement is Android 5.1 or later. In this case, your Android tablet or smartphone must have at least Google's operating system with a version of 5.1 or above to run the app correctly.
It's worth noting that while the app may work on devices that do not meet the minimum system requirements, its performance may be affected, and some features may not work correctly. Therefore, it's advisable to ensure that your device meets the minimum system requirements before downloading and using Qustodio to ensure optimal performance and functionality.
Storage Space to Download App
To ensure that the app functions correctly on your device, it's crucial to have enough storage space available. The amount of storage space required may vary depending on the device and operating system you're using. For iOS devices, it requires approximately 67.7 MB of storage space. This means you'll need at least 70 MB of free space on your iPhone or iPad to install the app properly. On the other hand, the app requires approximately 21 MB of storage space or more, depending on the device model and version of the Android operating system you're using.
It's essential to make sure that your device has enough free storage space to accommodate the parental control app. If your device doesn't have enough space, you may need to delete some files or uninstall some apps to free up space before installing this app. By ensuring that you have enough storage space on your device, you'll be able to use the app efficiently and without any problems.
| | iOS | Android |
| --- | --- | --- |
| Storage Space | 67.7 MB or more | 21 MB or more |
| Version | iOS 11 or later | Android 5.1 or later |
| Where to Download | App Store | Google Play |
Safeguard your child's digital experience – create a parental control account by signing up with this link:
Visit Qustodio