Relationships are all about trust, some people would say. However, for someone who has been cheated on or duped, being constantly afraid of being fooled again is a reality, and trust is nothing but a fancy word. It's only natural for paranoia to kick in. if you want to spy on someone's phone without them knowing, it doesn't necessarily mean that you don't trust the person you want to spy on, it just means that you want to be safe.
Don't worry if you feel that way. You're not alone!
A lot of people are willing to go to great lengths for their peace of mind. One of the best, and easiest things that you can do to feel safe, is to spy on the phone of your spouse or partner without them knowing. Keep on reading and we'll share the basics of how to spy on someone's phone.
If you know what device and operating system they use, you can check out our guide forBest Spying Apps for Android or iPhone.
If you're just looking to keep your kids safe in today's online world, check out the list for Best Parental Control Apps.
Use a Phone Spying App: 100% Discreet and Undetectable
I'll be very straightforward with the answer to the question this article wishes to address. Whether you are trying to spy on your boyfriend's or girlfriend's phone, your business partner, your kids, or even your friend, the best thing you can do is to download a phone spying app. This app allows remote monitoring. In most cases, however, you will need physical access to their phone to install the app. After this, it will run quietly in the background. It is discreet, so it cannot be seen on the home screen or app folders.
However, not all mobile phone spying apps are the same. Some are so surprisingly good that it's even too good to be true. To help you decide, below is a quick look at five of the best options if you are wondering about how to spy on someone's phone without them knowing.
On the top of our list is how to spy on someone's phone without them knowing is a popular parental control software - mSpy. Nonetheless, it is not just used by parents for monitoring their kids. It can also be used by spouses for making sure that they are in the loop regarding their partner's actions and whereabouts. It is the most common app used by parents to decrease overexposure to dangerous content in their child's smartphones.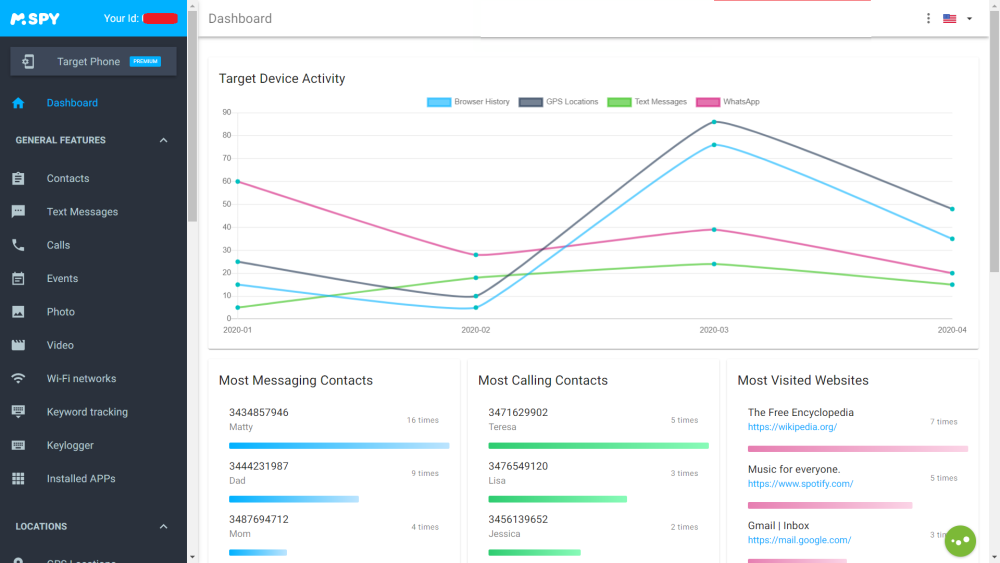 Aside from being feature-packed, mSpy is well-loved because of its ease of installation, which typically takes less than five minutes to complete. It also has incredible security, affordable subscriptions, and reliable customer service. Plus, the app is completely undetectable.
Below are just some of the things that you can do with mSpy:
First of all, you can get all the information about the target phone, such as operating system data, remaining battery life, phone model, memory space, if the phone is jailbroken or rooted, etc.
Monitor all incoming and outgoing calls, including contact numbers, date, time, and duration
Check incoming and outgoing messages even after they have been deleted from a device

Use GPS tracking to see real-time location and history
Check browsing history, even those that were done in incognito mode. Also, you can check which specific keywords are being searched in the browser and block some sites.
Remove all the logs and export logs in your control panel and reboot or lock the phone remotely.
See social media activities from popular platforms like Facebook and Instagram
Read chats from third-party messaging apps like WhatsApp, Telegram, and Viber
View pictures, videos, and other multimedia files on a device
Finally, you can also wipe the target phone if it gets lost somewhere and remotely disable the app on that phone. For restarting, all you have to do is send a text message.
*Grab an additional 30% discount with coupon code: PARENTALCONTROL
Try mSpy for Free!
Or read our mSpy Review
Powerful but non-intrusive – these are some of the things that you can anticipate in this parental control software, which can also be functional for spying on your partner without them knowing. It monitors both online and offline communication. The minimalist interface is also a plus, which makes it user-friendly.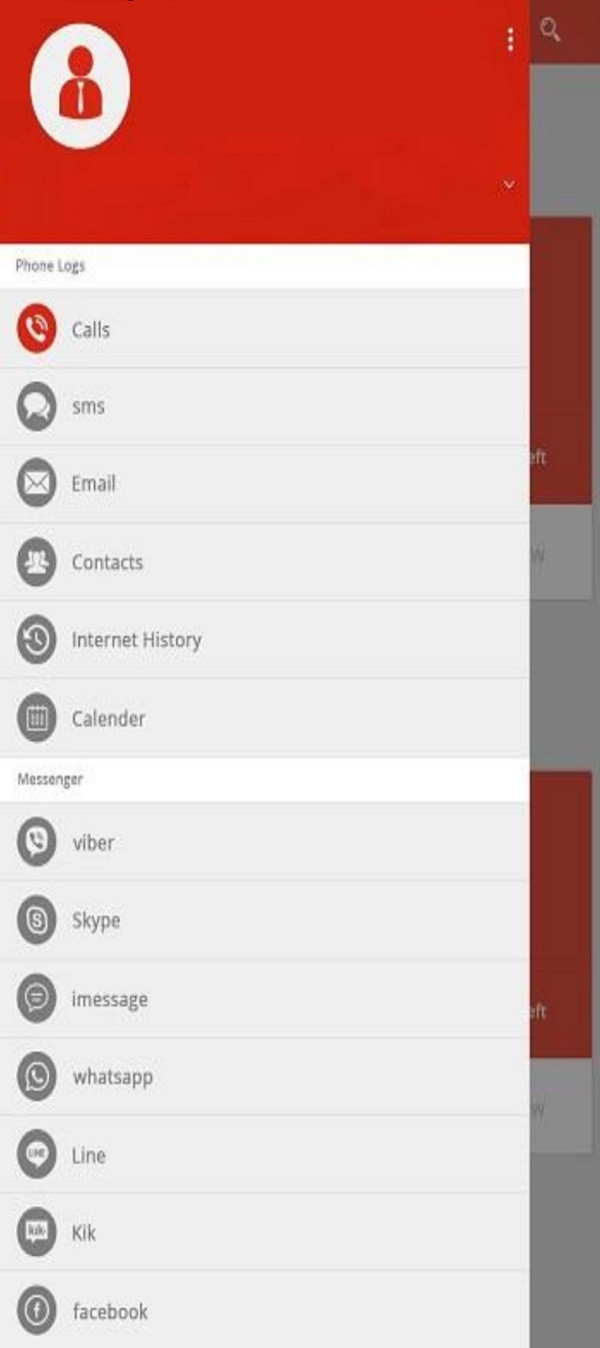 If you have been curious about how to find out if my husband is cheating or what your kids are doing with their smartphones, if they are getting exposed to some sense of harmful content, use XNSPY. The app packs a plethora of advanced monitoring capabilities, including the following:
Keep track of all incoming and outgoing texts. Instant Messaging screen recorder for real-time data on conversations your partner is having
Track emails and online activities, including websites that are visited
Track all the social media apps like Snapchat, Facebook, Whatsapp, Twitter, iMessage, Facebook messenger, Telegram, Instagram, and others
Track current GPS location.
Record phone calls as they happen, as well as the surroundings
Monitors data in the target phone such as photos and videos
Monitors keystrokes so that you will know what exactly they are typing
Check phone calls, contacts, and texts
Also, the app is compatible with Android and iPhone devices and receives an instant alert about watchlist phone calls, messages, or places.
Monitor everything – that is what SpyTrac claims it can do. This will be a big help if you are interested in apps that monitor children. It works on all Android devices and comes with a live control panel, providing the information that you need in real-time.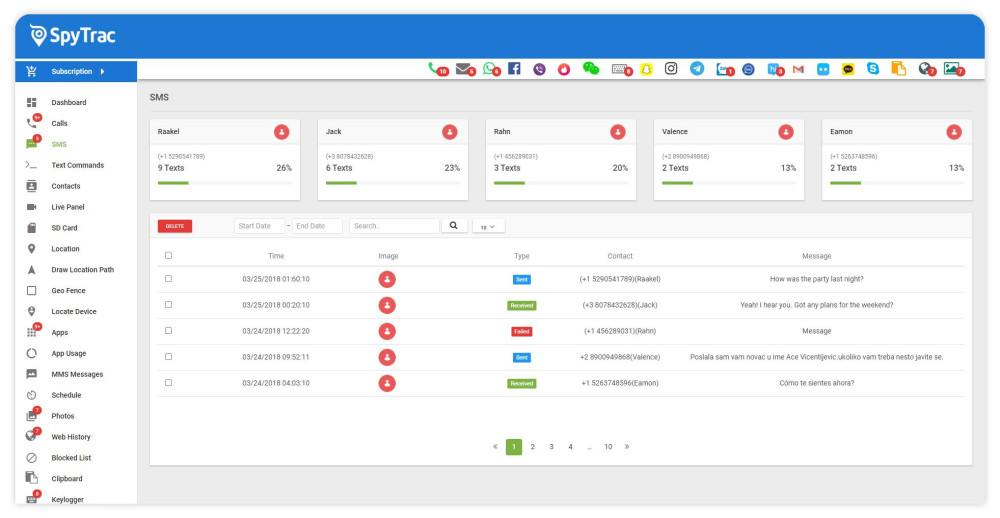 Here is a quick list of some of the most notable spying capabilities that you will enjoy when using SpyTrac:
See content of messages on their phone, even once they have been deleted
View incoming and outgoing calls, as well as information about the caller
Monitor social media activities like Facebook, Twitter, Snapchat, Instagram, Tinder, and your child's browser history
Block or limit applications usage in your child's device
Access chats from different messaging apps like Viber, WhatsApp, Snapchat, Messenger, Kik, and many more
Receive instant alerts about target mobile's activities
Monitor social media activities like Facebook and Twitter
Access GPS history and live location
Monitor photos and videos
4. mSee
This is another app that is being marketed as a parental control but will do well if you are wondering about how to spy on my husband's phone without him knowing. There is no need for rooting or jailbreaking the target phone, which makes its installation a breeze. The prices are also competitive and the company is even offering a money-back guarantee for 30 days.
Below are some of the things that are possible when you use mSee:
See call and text logs, including date and timestamps
Access device files, including photos and videos
Monitor calendar and notes
See location in real-time
Spy on browser history and app usage
Go to social apps and uncover their activities
5. MyCellSpy
If you have no idea about how to find out if my girlfriend is cheating or what your children are doing with their smartphones in the name of "School Work", MyCellSpy will help. With this app, you can monitor everything for free. It may not be as powerful as its more popular counterparts, but for those on a budget, it is worth a try.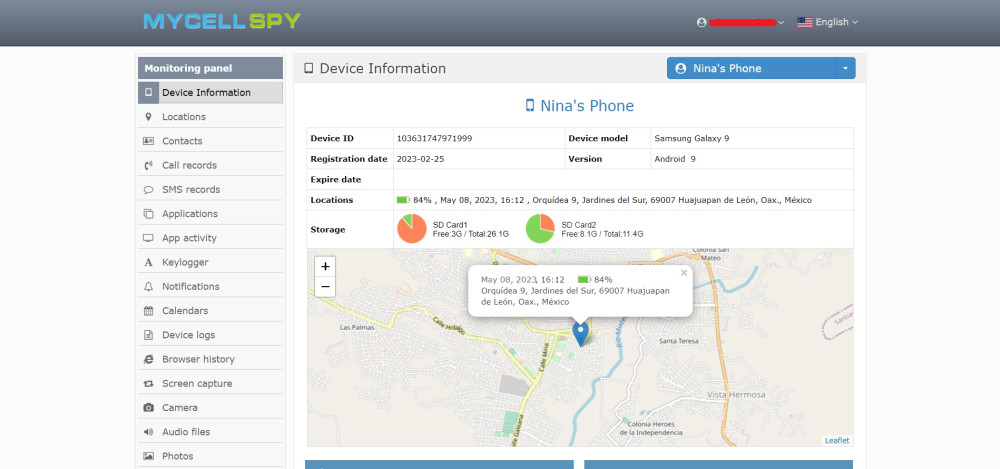 You will download this as an APK and you do not need any technical knowledge to complete the installation.
Using MyCellSpy, below are some of the things that you can do on how to protect kids from harmful content:
Monitor all incoming and outgoing text messages
Access call history and recordings, so you can hear what two people are talking about
Check social media usage, including activities and messages
Take photos randomly through a phone's camera
View multimedia files, including pictures and videos
Visit MyCellSpy
6. Bark
Bark is a one-stop solution for all your mobile spying requirements. It is more economical than the rest of the apps, and it lets you monitor all the activity on your kid's smartphones. In addition, it is a powerful tool that you can use to protect kids from harmful content.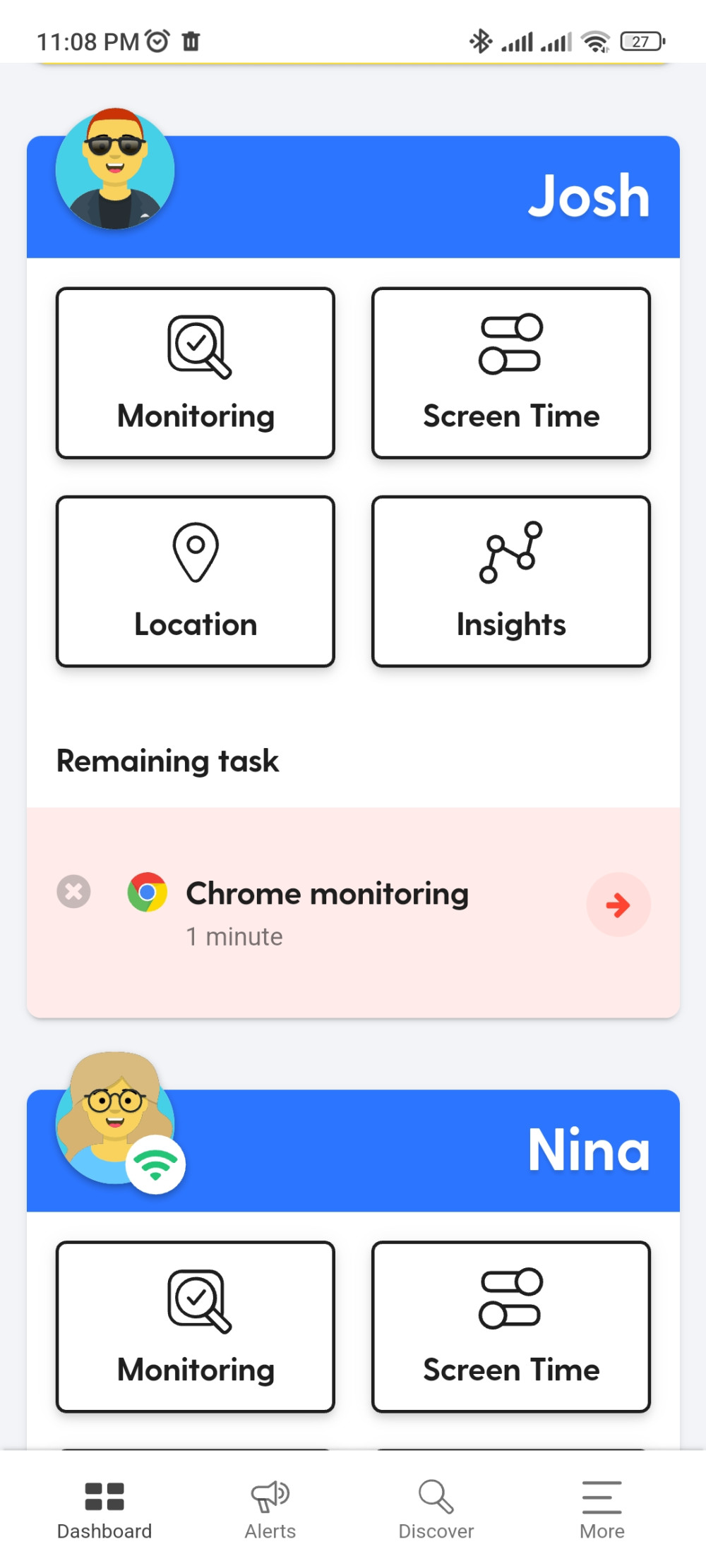 Also, it is a user-friendly application. Even if you don't have much experience using smart devices, you can easily access all the features and details about your child's digital activities.
Here are some of the features that you can access with Bark:
Social media monitoring – track chats or content shared on social media apps like Snapchat, Instagram, YouTube, Facebook, Twitter, Pinterest, GroupMe, and more.
It works on iOS and Android devices and allows you to monitor texts, emails, photos, and videos shared or stored on your target phone.
Monitor screen time when your kids access the internet and filter their content. You can block websites that you don't want your child to access.
You get a 24×7 detection feature that constantly looks for any harmful activity on your child's phone, such as online predators, adult content, sexting, cyberbullying, drug use, suicidal thoughts, etc.
Receive automatic alerts about potential threats and expert advice from child psychologists.
Automatic detection features save your time from manually tracking all the activities and taking care of your child's privacy by detecting any harmful concerns.
Try Bark for Free!
Conclusion
Would you like to sleep peacefully at night knowing what your partner is doing on his or her phone? Looking for the best solutions on how to find out if your boyfriend is cheating? Then use a spying app, including those that we have briefly talked about above. Some might call you paranoid, but do not mind them. It can help you monitor texts, social media activities, and multimedia files, among other things. Plus, they ensure you that your children are safe from the harmful effects of the digital world.
I recommend mSpy. It has a free trial, packs plenty of features and comes with a seamless interface, making it effortless to install and use.
*Grab an additional 30% discount with coupon code: PARENTALCONTROL
Try mSpy for Free!
Or read our mSpy Review
How Can I Make Sure the App Is Discreet?
Most spy apps are hidden but if they are not then they will directly appear on the menu of the phone or the homepage. Some apps also have notifications that show. So, check these common areas for signs of the app before handing it to the person you want to monitor?
Is There a Free Version of These Apps?
Many spy apps come with a free trial or version that allows you to experience the app before committing to a full subscription. Keep in mind, though, that most of the features of the app will not be available in this free version and may be locked until you get the paid version.
What Can I Track with These Apps?
All of these spy apps have many functions and features that can help you keep a close eye on someone who is being suspicious. Some of the common features among them include location tracking, message checking, photos and videos checking, checking social media accounts and much more.
How to Install These Apps?
The installation process of these spy apps is very simple although the process may vary slightly depending on the app you choose. You primarily need a main controlling device and a device to be controlled. Install the app on both the phones and use the controller phone to monitor your device of choice.
Which Is the Best Spy App for Me?
Each of these spy apps has a different set of features and functions. So, to find the best one for you, you need to understand which monitoring function is the most important for you. After you narrow that down, you can settle on an app that specializes in that function or feature.