Last Updated: December 1, 2023
ESET Parental Control for Android Review
The ESET Parental Control software is the ultimate parenting control software you need to have. If you want to have control over what websites your children visit, or what games and programs they use, then this is an effective tool that has got you covered.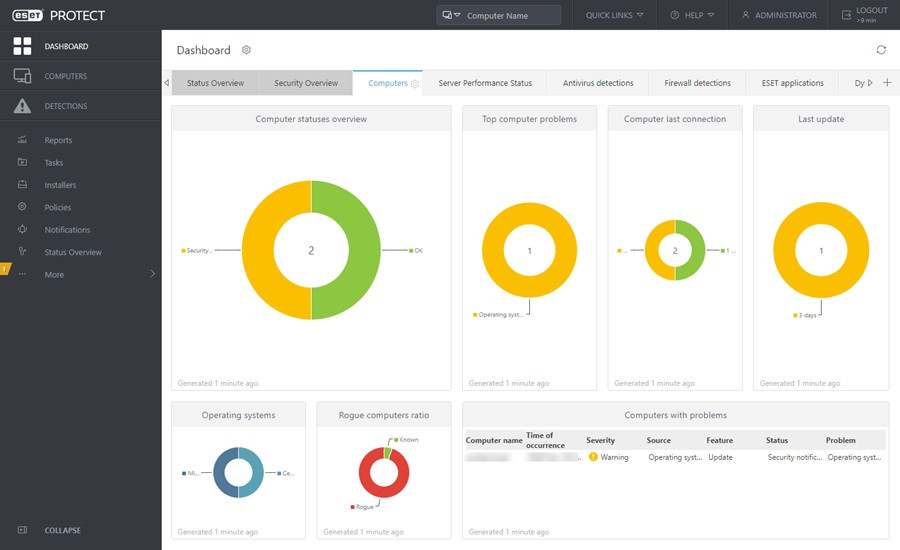 This software covers more than one device including smartphones and helps the parents monitor their kids' activity. Therefore, without further ado, let's delve deeper into the details about ESET Parental Control App.
Explore ESET
Reporting and Notification
The ESET parental control provides a detailed overview of various websites and apps that your child has visited along with their recent browsing history. It also sends you reports if your child tried to access blocked websites and apps.
Additionally, the software also reports you the overall time your kid or child has spent on the internet during that specific day, or even the day before, or even the month earlier. It also reports you regarding the time or hours your child was active – thereby providing you with all the necessary details.
The parental control software also gives you reports regarding the most used apps or the most visited apps, thereby letting you know about your child's interests as well.
If you want to receive straight notifications instead of keeping an eye over the ESET dashboard, all you need to do is enable notifications from the app, and everything will be notified instantly to you. In this way, you will always keep yourself updated with your child's actions.
Filtering, Blocking, and Monitoring
There are two ways through which you can filter, block and monitor your child's activities online.
Web Guard helps in filtering and blocking various kinds of websites within 35 different categories. This feature will set the standard amount of rules, which are currently appropriate for your child's age. If you want further control, or if you want any other set of websites that you may want to block, Web Guard helps you in this regard as well.
App Guard takes care of the apps and games your kid uses. You get a standard set of pre-applied filter, which you can customize on your own. This gives you full control over what your child is using. You can also define the limit under which your child can access certain apps and websites.
Regarding monitoring, apart from these features, you can also monitor your child's location as well and see the current position of your child. It gives an estimate within 10 meters radius. The tracking is quite accurate, and even tells you the building in where your child is.
You can also choose to get notified with a pre configured set of email alerts, which will help you to review all new apps, games, and websites that your child has installed on their device.
However, the software is known for providing limited social media monitoring though.
Time Supervision
As mentioned above, there is a special section called as, Limit Fun and Games, which will help you to define the duration for which your child can access the internet. You can set limits on how much time your kid is allowed to spend on playing various types of apps and games. The apps and games that have been manually specified as "fun", will fall into this special category.
This is a very important feature when you know what your child likes to play. You can also set up specific day and times as well.
Location Tracking
The ESET Parental Controls tool will also help you to track your child's exact location and know where they are. This feature is known as the Child Locator. This feature will let you know the location at any moment. The tracking is very much on point, as mentioned earlier.
The estimation is within 10 meters radius, and therefore, that is indeed a very good accuracy. It cannot tell you about the apartment where he or she is but can tell you about the building, and that will really be enough for most parents out there.
It doesn't keep a log of the location history though. So, that means, you cannot look up where you kids have been a day before. You'll just only find them where your child is currently. Also, if your child turns off the phone, any kind of tracking will not work.
ESET Parental Control for Android
The Android app is very much easy to use, and packs in all the features of the other variants as well. You just have to download and install the app, and you are done. There is both a free basic version and a paid full version.
ESET Parental Control For iPhone
The iPhone app is very much similar to the Android app, and also packs in the same feature set as well. There are both free and paid versions here as well. Therefore, the experience on both Android and iPhone related services is both the same.
Pricing
The basic version of the service comes at free of cost, on all platforms. If you want more parental controls feature, like location tracking and parental messages, then you are required to pay an annual fee of $29.99.
ESET: Pros and Cons
Pros:
The web filters and the time limit provided is very robust.
The software is compatible with a range of platforms and devices
The location tracking is very fast.
Cons:
There is no such location log history.
There is no monitoring for social networking, texts or calls.
There is not much precise control over the time limit feature you can use.
Installation and Customer Support
Installation is pretty straightforward. To begin with, you are required to setup your own account on the main parent device. Once done, you can log into your child's device and continue as your child's device. Then once you have selected the profile or created a new profile, you can start monitoring your child's device.
There is also a Parental Control feature, by which you can control your child's activity remotely. It also tells your child, regarding what you want him or her to be allowed as well.
Regarding customer support, you can email the customer care. You can even tweet them on twitter, or even live chat with them too.
Final Verdict
The ESET Parental Control service, even though has some limitations, is still a great option for most parents. The pricing is fairly competitive and offers a good variety of features as well. However, if you are looking for more advanced features which other parental control software are capable of providing, ESET parental control might not be the right fit.
Explore ESET