Last Updated: December 1, 2023
eyeZy Review 2023
Pros & Cons
Pros:
Rich in features
AI-powered alerts and notifications
Budget-friendly long-term plans
Available for both iOS and Android devices
24×7 Customer support
Cons:
Rooting required for Android devices
Customer support services incur additional charges
Dashboard only available via browser
Visit eyeZy
Introduction
You may be one among millions of parents who are concerned about their children's use of technology, especially social media. You might also be concerned about the company they keep and the places they visit.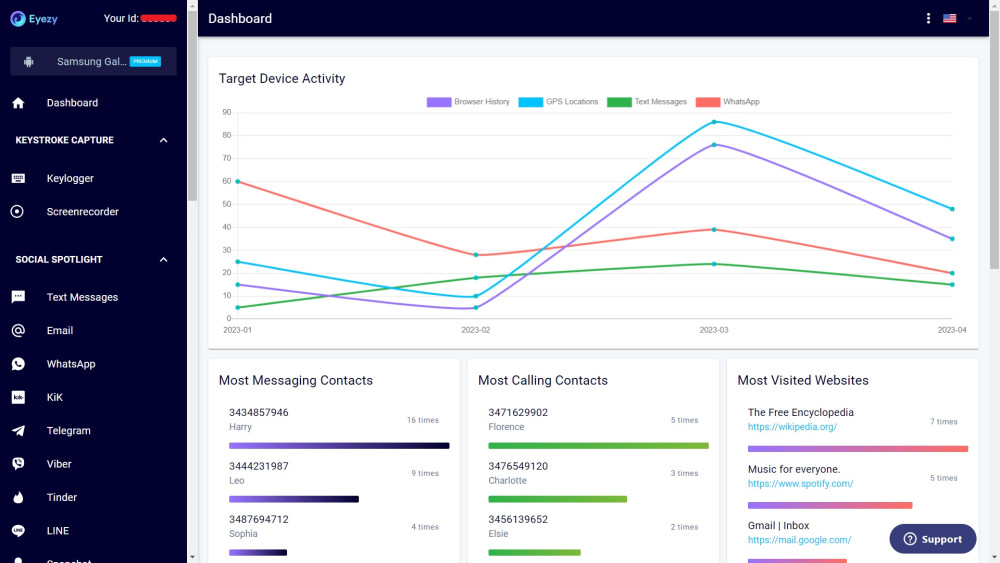 In that case, you should definitely consider using a phone monitoring app. There are many for you to choose from including eyeZy. In this article, we do a comprehensive review of the eyeZy platform and unpack every aspect to aid you in your choice.
What Makes eyeZy Unique
The phone monitoring apps market is getting quite crowded. As a concerned parent going about your research, you might come across dozens of providers.
Among all of them, why choose eyeZy? Are there things that make eyeZy better and more unique? These are the questions we will address in our eyeZy review.
Features
Let us start with a detailed breakdown of their features. Because ultimately those are the most fundamental aspects that you should care about the most.
Social Media Surveillance
eyeZy offers a complete phone surveillance solution. That cannot be complete without social media monitoring. You can monitor your children's activities across a multitude of social media and private messaging apps. WhatsApp, Viber, Instagram, Facebook, Tinder, and Snapchat are just a few notable names from the long list of apps that you can monitor using eyeZy.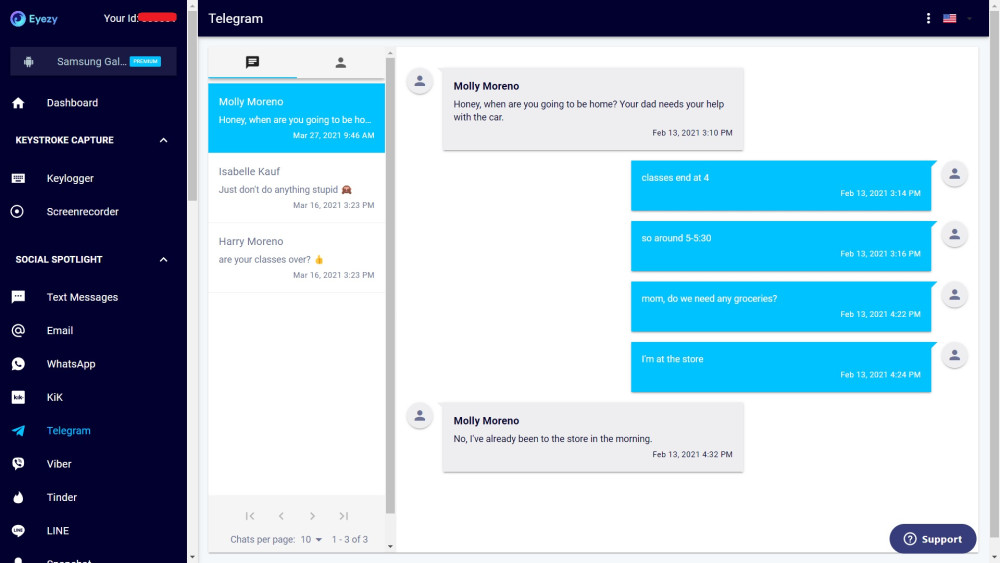 You not only get access to messages sent and received on those platforms, but can see deleted messages too. They eliminate any possibility of your kids outsmarting you in any way.
Monitor Calls and Messages
In addition to monitoring your children's social media, you can also see who they are calling and messaging. You can also see who is calling and messaging them.
Your children cannot fool you by deleting their call records. Once these have been captured by the eyeZy app, there is no going back. You will always have access to it.
Needless to say, the feature lets you access your child's contacts list. You can see the names of the people they are in touch with. You can easily identify contacts with unidentified numbers.
You are also notified when a new contact has been added.
Location Tracking
Perhaps the most important information that you need to know about your child is their location, especially if they are out and about on their own.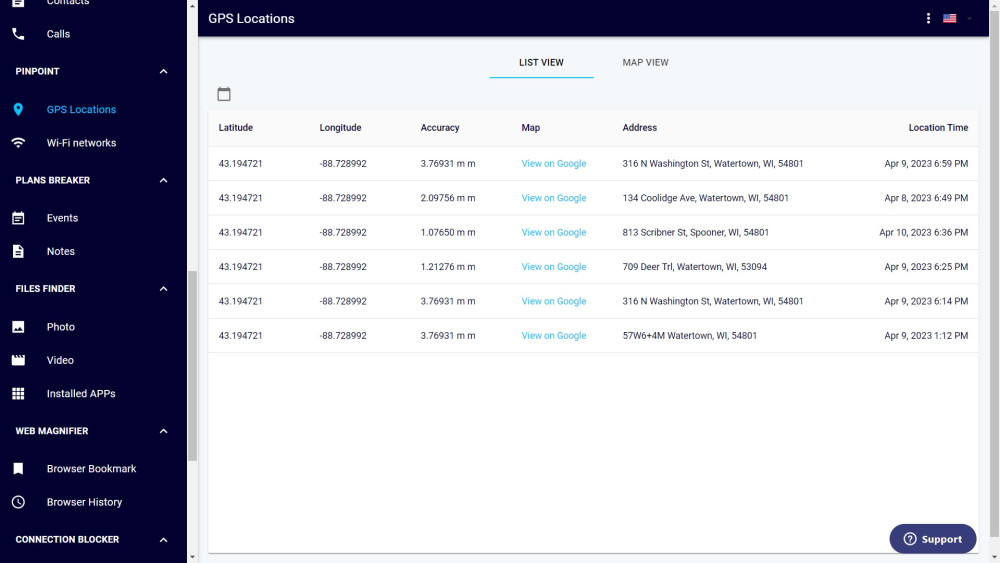 eyeZy enables you to monitor your children's location through GPS and WIFI networks in real-time. Using both methods ensures that your child cannot simply turn off the GPS and get away with it.
Location data is quite accurate and is updated regularly, so you always know where your children are.
Calendars, Notes, and To-Do Lists
Using the eyeZy dashboard, you can access your children's plans through their calendars and to-do lists.
You can stop them from attending events that you think they should not be attending. You can stop them from going out with friends who you think are a bad influence.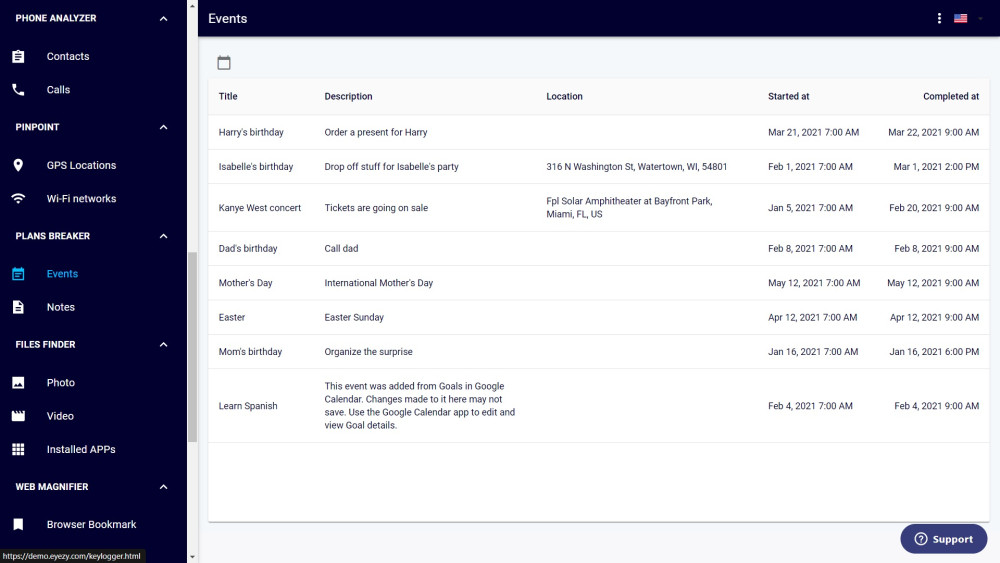 Furthermore, you can see their notes and to-do lists to gain insights into what kind of things they are spending time on. This can be a great way to make sure whether your kids are giving enough time and attention to their studies.
If your kids have a habit of journaling or writing down their thoughts, you can check their notes to get a glimpse inside their heads. You can identify signs of bullying, depression, etc and take timely and effective steps to curb their harmful effects.
File Manager
You also get access to the files saved on your children's device. The eyeZy dashboard brings together all the files on their device in one place.
You can see pictures, videos, documents, and the apps they have installed on their phone.
This is a good addition to all the other features because access to offline files is essential for getting a complete picture of your children's activities.
For instance, they may be storing detrimental content on their phone instead of accessing them through apps or websites. In that case, you will stay in the dark if you only have access to their online activities.
Browsing Activity
eyeZy also tracks your children's browsing patterns and gives you insights into their online activity and interests. You can see the sites they visit and the pages they bookmark.
This feature lets you protect your children from visiting harmful sites like pornographic sites or sites with violent content. But it also lets you discover your children's interests, which you can use to encourage them in a positive direction.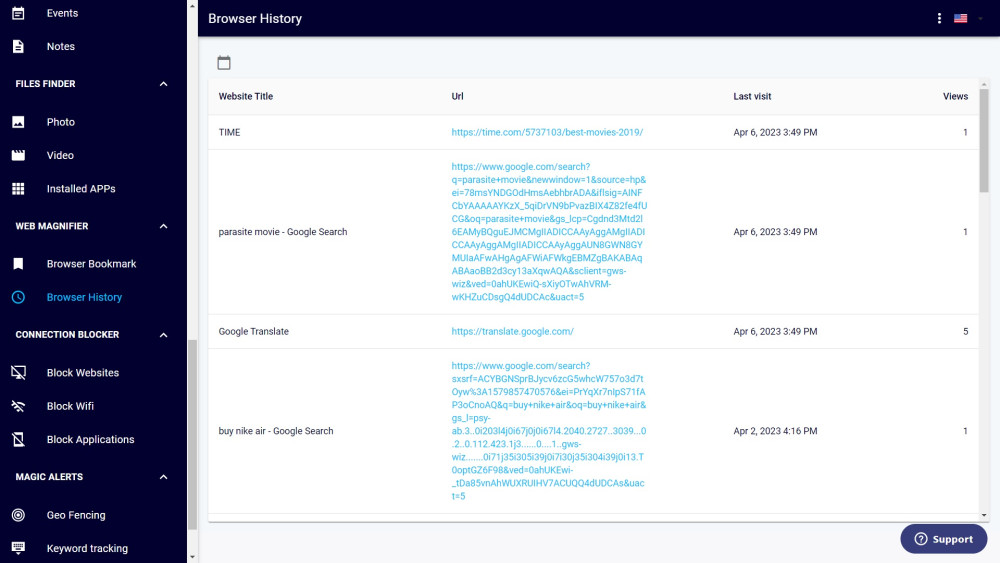 You can see their browsing history across multiple browsers. Even when they browse using incognito or private mode. You can see which sites they visit, the number of times they visit each site, and the timestamps of each of their activities.
Visit eyeZy
Screen Recorder
All your children's activities are recorded in the form of screenshots on the eyeZy dashboard.
In truth, this feature does not necessarily add a lot of unique value. The data that you get from the screenshots is also available in text form.
But, from a preference point of view, this can be a valuable feature for you. You may prefer going through screenshots instead of reading through hundreds of texts.
Additionally, you may find it easier and faster to scan through a series of screenshots than going into every chat box and checking the messages.
Keylogger
The eyeZy phone monitoring app comes with a keylogger feature that captures and records everything your child types into their phone or tablet.
You can see the messages they have written, their search queries, their notes, etc.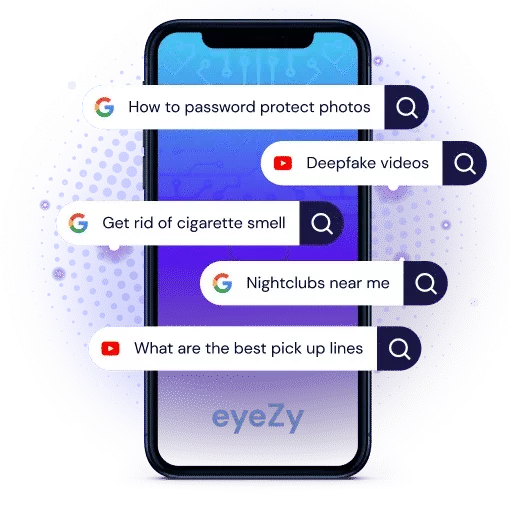 You can even see things they have deleted or drafted. You may not be able to access notes or emails they have drafted using other features but this feature lets you see those things.
Some of the other features let you see messages that have been deleted after being sent. But what about the times when your child has written a message or search query and deleted them before sending?
The keylogger feature will come in handy during those situations.
Block and/or Restrict Apps
The eyeZy app is not merely about tracking and monitoring. It allows you as a parent to take concrete steps to block activities that you do not approve of.
You can completely block their access to certain apps and sites. If you want to limit their access instead of completely blocking it, you can also set time limits for specific apps and sites.
Moreover, you can choose to be notified when your children type in certain keywords. Then you will be notified whenever your children type in those words or phrases on social media or on a browser.
This feature is not limited to online activities only. You can even set digital restrictions on your children's physical movements. You can designate certain areas as no-go zones. The system will alert you every time your child is in or near those places.
AI-Powered Notifications
This is perhaps the best feature of the eyeZy phone monitoring app. Their system tracks, records, and monitors all of your children's activity and generates reports on their behavioral patterns.
You can also set preferences regarding activities you approve of and activities that you disapprove of.
Using all that data and its AI capabilities, the eyeZy app alerts you to all sorts of unusual or objectionable activities.
This frees you up from the need to constantly log in to the eyeZy dashboard and monitor your children's activity.
Interactive Dashboard
All the eyeZy features come together in an interactive dashboard that is easy to use and understand. In order to access this, always need to remember your eyeZy login credentials in case you want to view it in another device.
Some of the basic information is presented in tabbed format. You can see your child's most visited locations, their most recently visited locations, most visited websites/apps, most contacted people, etc. on the dashboard homepage.
Moreover, you can see your child's level of activity across multiple categories in graphical format.
These combine to give you a quick snapshot of your child's activity. They free you from the need to check every single activity individually unless there is a reason for suspicion.
Pricing
eyeZy has 3 packages for you to choose from. You can choose from its 1-month, 3-month, and 12-month plans. These are priced at $68.56, $39.98, and $14.27 per month, respectively.
The great thing about eyeZy is that they often have discounts and promotions going on. So, you may be able to get a subscription for much cheaper than the eyeZy price quoted above.
Here's the deal
If you are willing to shell out an entire year's worth of subscription fees in advance, the eyeZy 12-month plan will be one of the most affordable options in the market.
The pricing remains the same for both iOS and Android. That sets them apart from many of their competitors who charge slightly higher for iOS devices.
However, all the standard plans cover only one device. If you want to monitor more than one device, there are more expensive plans that you can choose.
Moreover, there is no eyeZy free trial for you to test the platform before you pay for a subscription. But they do let you access a demo version of their dashboard as a way to experience their platform.
Compatibility
The eyeZy app is compatible with all devices that run on either Android or iOS. So, you can monitor your children's activities on their phones as well as their iPads or tablets.
The platform is also available in some languages other than English for customers from non-English speaking backgrounds. For example, you can use the eyeZy dashboard in German, French, and Spanish among other languages.
However, there is no coverage for PCs and laptop computers. That can leave a huge gap in your knowledge of your children's activities.
For instance, you will remain ignorant about your children accessing harmful sites if they do it using their (unprotected) computer.
Furthermore, the eyeZy parental dashboard is not available as an app. You have to access it using a browser which is best done using a computer.
Thus, checking up on your children while you are traveling or away from home can be a bit challenging.
App Setup & Functionality
The eyeZy app is incredibly easy to set up and takes only a few minutes.
Here's a tip:
No jailbreak or root is required on iOS. Physical access to the device may also not be needed unless 2FA (2-factor authentication) is enabled. The only thing that you need to do is provide the iCloud account credentials of the device you want to target. That will link your eyeZy account with the iCloud account and start the monitoring process.
However, rooting may be required on Android to enjoy many of the eyeZy premium features. Physical access to the device is also required because you need to download and install the app on the device itself.
If you need help rooting your Android device, eyeZy customer support offers assistance in this regard, though additional charges may apply.
Customer Support
eyeZy offers both free as well as paid customer service options. You can always reach their customer support team via email and live chat without incurring any additional charges.
However, if you want more personalized and dedicated support, they have paid phone support as well as paid VIP support.
The VIP package, called mAssistance, promises personalized assistance starting from app set-up to 24×7 ongoing assistance through phone, email, and live chat.
Though we feel that the VIP package justifies a price tag, customer support through phone should have remained in the free category.
Final Verdict
The eyeZy phone monitoring app is a complete solution for you as a parent to monitor and influence your children's activities. It comes packed with extensive features and an affordable price tag.
Though there are some shortcomings in regards to their pricing, compatibility, and customer support, the app is robust enough in terms of features to overcome those.
In short, this is a great product to ensure your children's safety and wellbeing in a world where their phone has become central to their lives.
Visit eyeZy