FamilyTime Review 2023
Introduction
FamilyTime has the makings of a great product but it is a bit rough around the edges, making us somewhat hesitant to unreservedly give our recommendation. It offers a lot of excellent features for both Android and iOS – but it does not currently offer Windows support. It's application monitoring and blocking is arguably the best out there – but on iOS it is difficult to block applications granularly, you can only block apps in groups. You can actually block videos based on their ratings, which is very impressive – but standard search and web filtering is not yet launched for iOS.
And finally, the user interface is all a bit mixed up and confusing. It is difficult to tell when something is enabled or disabled. It sometimes feels like there are buttons that don't actually do anything. And if you ask support about it – live chat support, which is great! – they might simply refer you to a features guide that does not really address the particular question at hand. And don't get me started on the strange spellings and grammar evident here and there across the site.
However, there is no arguing that the product offers a number of very good mobile monitoring features, better than average on iOS and pretty excellent on Android. We believe FamilyTime when they say many of the missing features are currently under development, and for mobile-only monitoring, Family Time is well worth the $2.25 per month.
Additional 20% discount for ParentalControlNow visitors
Visit FamilyTime
How to configure Family Time
Note that we set up Family Time for an iPhone, and so some of the features will vary, but the general concept is the same, iOS or Android.

After you have opened your account and installed the app and profile on your child's device, navigate to My Kids and then Settings from the dashboard to configure the device rules.
You will find the following sections: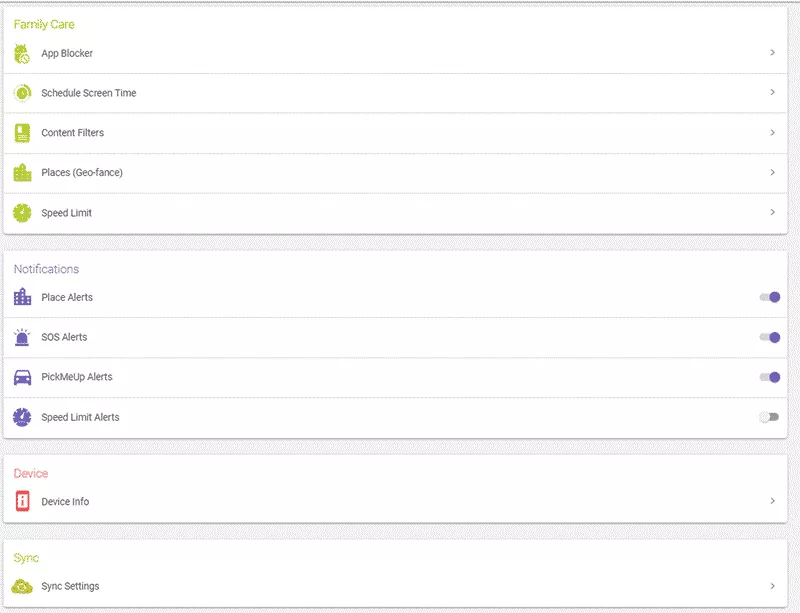 Content Filters
Family time separates content into a few different categories including films, TV Programs, and Apps.
Parents may restrict a child's viewing choices based on the age appropriate ratings. If you would like to restrict, for instance, a child to viewing movies PG-13 and below, for instance, click on PG-13, and all older rating categories will be restricted.
Parents may also disallow iTunes and iBooks from being used.One big omission is website and search monitoring and blocking on iOS. According to Family Time, this is currently being developed, and will be rolled out shortly. Android currently has full functionality.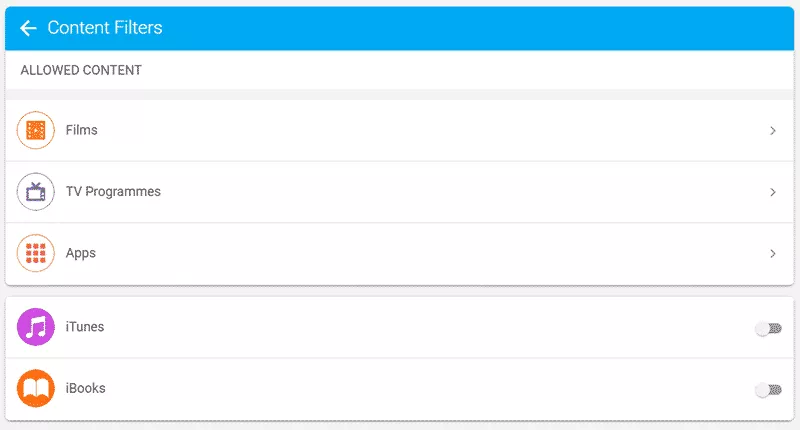 Application Management
The App blocking functionality works as advertised – the rules, once enabled, immediately take effect on your child's mobile device.. The only issue is that blocking is somewhat all or nothing.
There is no obvious way to pick and choose which particular app you would like to block; rather, you can disallow "other apps", which seems to be all applications that are not bundled with the device.
We also had quite a difficult time undoing the effects of the app blocker, which might get a bit uncomfortable, particularly with an angry child screaming about the injustice of it all.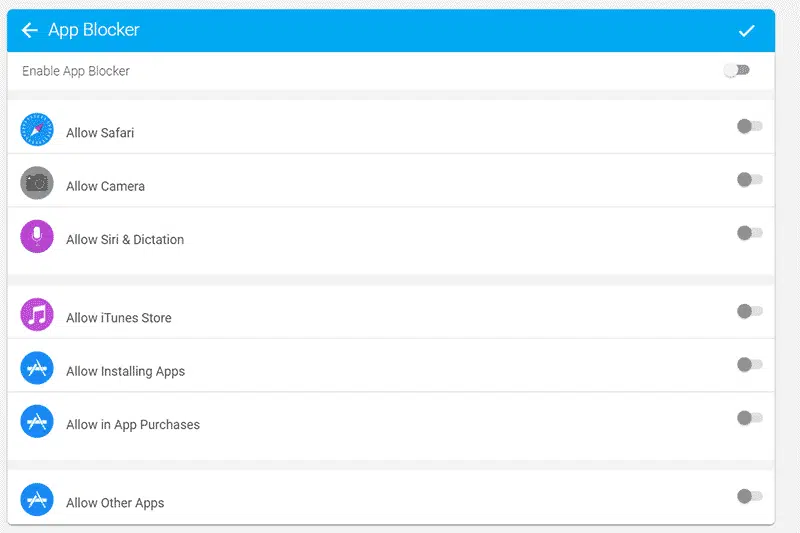 Time Management
On iOS devices, screen time works by setting blocks of times, configurable by day, during which device access is prohibited – they set up as standard Bedtime, Dinner Time, and Homework Time.
This definitely does the trick, but we do very much like the option of setting a daily time cap for overall device usage, which is available only on Android.

Activity Record
SMS and Call Monitoring
All contacts are mirrored on the parents application, to monitor who your child is communicating with and new contacts added.
The Android product is much more robust. Parents have the ability to monitor text messaging, and can even set up particular phrases which will trigger a notification. Call history is also monitored, allowing parents insight into who a child is speaking with.
Social Media Monitoring
One of the down points of FamilyTime is that it lacks any kind of social media monitoring. Neither does it have video tracking capabilities. The only solution here is to prevent your kid from using such apps by blocking them completely which doesn't seem like a permanent fix.
Location Tracking
Family Time has a very robust location monitoring system, which offers a few cool features like SOS alerts, a pick me up button, and a place alert, which lets you know if your child has wandered away from his or her permitted location, i.e. from school.
One nice and unique offering is the safe driving feature, which sends a warning if your child is driving above a particular speed.
Family Time for Android
FamilyTime comes with two separate versions – one for parents and other for kids. Although the installation and configuration process for both the apps is straightforward and simple, having a single version for both parents and kids could have streamlined the experience better.
Family Time for iOS
Just like android, FamilyTime for iOS also comes in separate versions for child and parent. The apps are almost identical when it comes to design but the iOS version is more stable.
However, there are various features that are missing on iOS. These include text and call monitoring. Further, iOS app would not allow you to block the content too.
Although the software allows you to disable camera app, Safari, and Siri. Apart from this, you can choose to restrict access to the iTunes store and disable in-app purchases and prevent a child from installing app.
That said, iOS version does come with a few amazing features that are not found on android and these include the content filters section, unique speed limit feature and so on.
Pros:
Easy to install and configure
Comes equipped with amazing features like geofencing, location tracking, all logging, web time scheduling, app blocker, and others
Can monitor SMS
Great customer support
Cons:
Relatively expensive
Geofencing alerts are only activated with cellular connection
Separate versions for parents and kids
Can be easily disabled
Customer Support
You can find most solutions to your problems on their FAQ section or can choose to contact them via email or have a live chat with them.
Pricing
Familytime breaks its offers per child device per month. For 2 devices you will pay $1.46 per month which amounts to $35 annually. for 3 devices you will be paying $45 annually and for 5 devices the price is $69 a year. See the FamilyTime full price options below: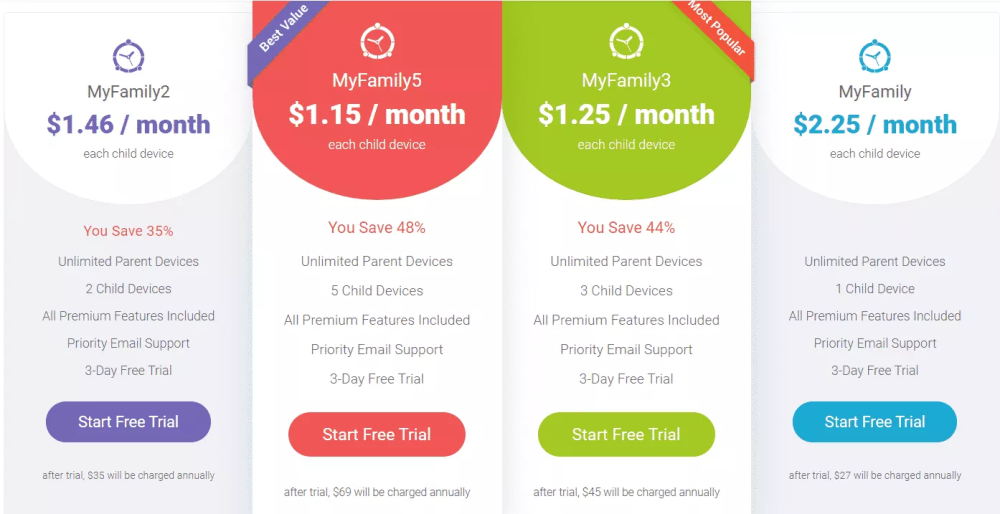 Conclusion
FamilyTime offers very good features for mobile devices, recently they added web filtering options and new screen time management for Android. Two main things hold the app from being a top choice, the confused interface and lack of windows support.
If you are not super concerned about iOS app blocking, you can try other best parental control apps, which are reviewed here and can offer you different set of features like social networks monitoring or web search recordings. However, for iOS families who would like some robust user friendly, with excellent reporting, web monitoring, and time management capabilities in addition to location management services with a timely reports, family time is a reasonable option.
Additional 20% discount for ParentalControlNow visitors
Visit FamilyTime