Last Updated: December 1, 2023
FlexiSPY Review 2023
Introduction
From smartphones to computers, kids are exposed to age-inappropriate content. Not to mention, they can talk to strangers and become a victim of sexual abuse, identity theft, and cyberbullying, among other threats. Using the right parental control app or software can you fight these threats. While there are many options, in this short review, our focus is on FlexiSPY.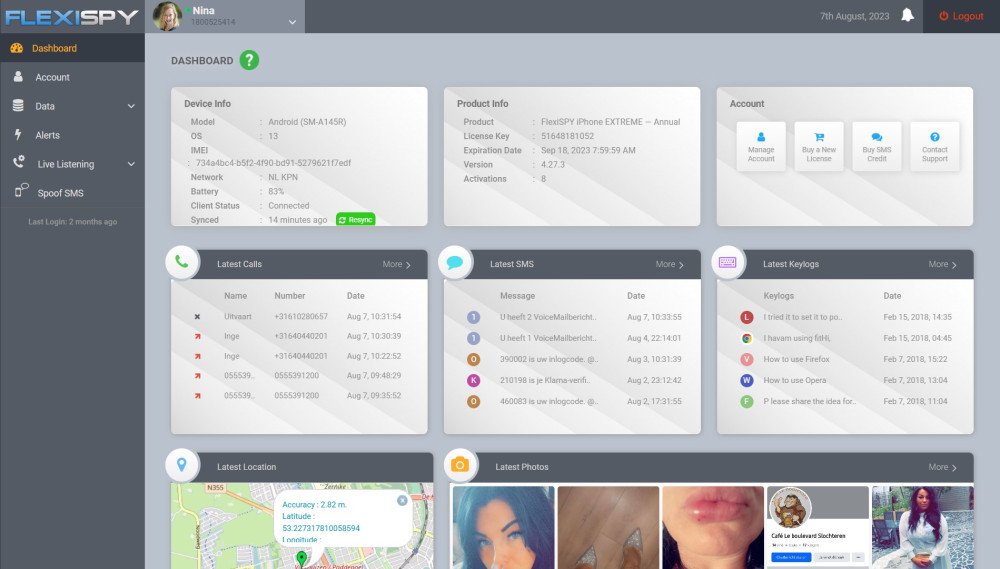 With FlexiSPY, you will stay aware of your kid's online activities even when you are away. For as low as $29.95, you can start monitoring calls, chats, and social media. You can listen in on live calls, take a photo remotely, read emails, track their locations etc. This is honestly one of the most feature-packed monitoring software currently available.
Is FlexiSPY an excellent choice as a parental control software? Keep on reading and learn from the insights we'll share in this short review.
Visit FlexiSPY
How to Set Up FlexiSPY
To start this FlexiSPY review, let's talk about how you can install the app in a compatible device. Fortunately, the process is straightforward. Like in other parental control software, the first thing to do is to download the app. Unlike with several other alternatives where you can install remotely through a cloud, you will need to have access to the physical device.
After installation, you will proceed to the activation. From here, data gets captured and stored in a secure server. Through a web account, you can see the information that has been stored. From here, you will gain insights about the behavior of your kids and you can implement the necessary intervention method.

If there's one thing that makes the set-up complicated, however, it would be that if you are installing it in an iOS device, jailbreaking is necessary.

Flexi Spy Filtering, Blocking
Unfortunately, one of the biggest drawbacks of Flexi Spy is that it does not have features for filtering and blocking. This means that you cannot block specific URLs. Also, you cannot specify a list of keywords to restrict the access to age-inappropriate content.
Instead of filtering and blocking websites and apps, what you can use as an alternative is the keylogger. This way, you can remotely identify what someone is typing even without being next to him or her. You can also add alerts so that you will receive instant alerts when kids type critical words or phrases. Once you are alerted, you can act accordingly and talk to your kids. This is a proactive approach to helping define a safer and more responsible online behavior.
Flexi Spy Supported Platforms
Flexi-Spy is exceptional because it comes with multi-platform support. This means that from smartphones to computers, you can use the app without any problem. For Android, it is compatible for versions 4 to 11. For iPhone and iPad users, on the other hand, it is compatible with iOS 6.0 to 13.x. For computers, it works with Windows 7, 8, 8.1, and 10. For MacOS, it is compatible with Mavericks, Yosemite, El Capitan, Sierra, High Sierra, Mojave, and Catalina.
Flexi Spy Activity Recorder
With Flexi Spy mobile app, you can access a record of your kid's online activities. Among others, one of the best is its ability to record phone calls. You can record incoming and outgoing calls remotely. After being recorded, it will be uploaded to your dashboard and you can listen to the calls anytime.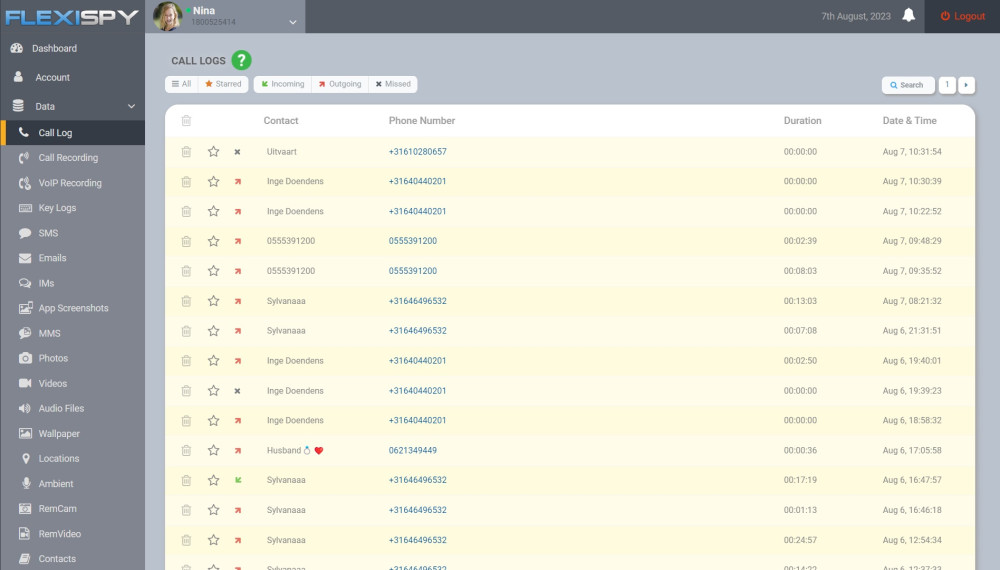 Another good feature that you will find in this product is environment recording. This will allow you to listen to ambient recording. This is a good way to have an idea on what they are doing or their location.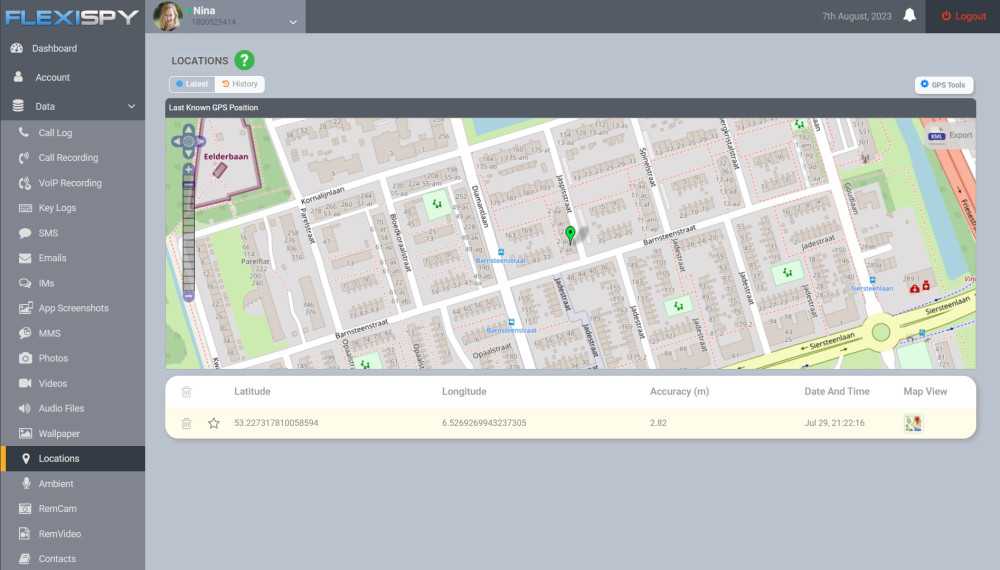 You can also access recording of social media platforms and third-party chat apps. Some of the most popular include:
With Flexi-Spy software, you can also record remote photos and videos. This is one of the app's best spy features. It can use both the front and back cameras.

Ease of Use
Flexi Spy software is known for being user-friendly. The installation will only take a few minutes and is pretty straightforward. You will need physical access to the device, but the procedure is quick. More so, there is a seamless web interface. This means that using the app and doing the essential monitoring will not require too much on your end.
Flexi Spy Pricing
With Flexi Spy software, you have different options for a subscription plan depending on your budget and the things that you want. The prices will vary depending on the device that you have.
Android: The cheapest option is the Lite Plan, which costs $29.95 per month. The Premium Plan, on the other hand, costs $68 for one month, $99 for three months, and $149 for 12 months. For the most demanding users, the Extreme Plan costs $199 for three months and $349 for 12 months. The latter is the best option if you want the full features.
iPhone: If you are using an iPhone, the prices are similar to that of Android, but the main difference is that there is a plan for only one week, which costs $9.99, which will let you enjoy all the premium features.
iPad and Computer: The cheapest plan costs $68 per month, $99 for 3 months, and $149 for 12 months.
Nonetheless, one of the biggest drawbacks is that there is no Flexi Spy free trial. Despite this, there is a generous refund policy. You can request for a refund at any given time. However, take note that there are some conditions for the refund. For instance, there is a handling charge of $9.99.
Conclusion
As noted in this Flexi Spy review, this is an exceptional app. As the name implies, this app is a great spy that allows you to record pretty much anything your kids does online and offline which can provide parents with the desired peace of mind. It has powerful features that will let you monitor calls, texts, social media accounts, and emails, among others. It even has remote recording. The app offers plenty of ways to understand kids and make sure that they are safe when online.
Visit FlexiSPY