Last Updated: December 1, 2023
iKeyMonitor Review 2023: Is iKeyMonitor Enough to Protect Your Kids?
Introduction
iKeyMonitor claims to be the ultimate monitoring app for parental control. But is it really enough to protect your kids? I decided to dig deep into its abilities and features in order to find the answer.
Visit iKeyMonitor
How Does it Work?
iKeyMonitor by Easemon is used by over 400,000 parents all over the world. Since it was released in 2012, iKeyMonitor has been a leading parental monitoring app.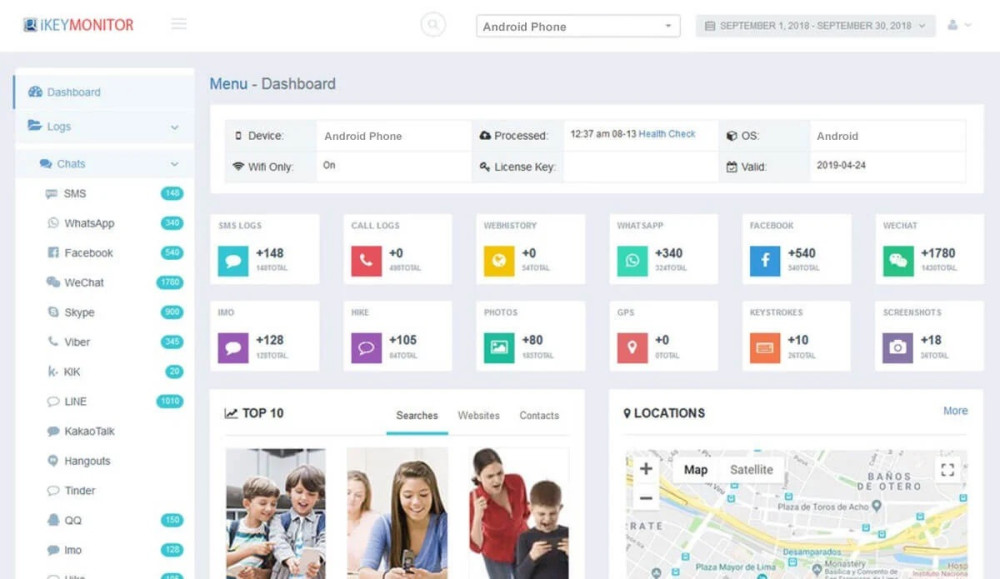 As a monitoring app, it must be installed discreetly into your child's phone. Once installed, it stays hidden and cannot be detected. It will work in the background to give you all the information you could possibly need.
It can record phone calls, read text messages and images, monitor social media, etc. From my studies, most of the dangers to a child come from using the phone to communicate and browse online. This app will monitor all of that and alert parents.
Features You Should Know About
iKeyMonitor has numerous features that cover different types of activities.
Monitoring phone calls, text messages, social media and messaging apps
Screen time limits and scheduling
Block and filter websites with inappropriate content
Detect inappropriate content in images and videos stored on phone
Automatic alerts for parents when keywords are detected in chat or mails
Location Tracking and Geofencing
I believe these core features are what you need to reassure yourself. You can detect any instances of stalking, harassment or cyberbullying through monitoring and filtering. And if your child is trying to sneak a peep at adult or dangerous content, you could block that as well.
If they are too distracted by social media or gaming on their phones, app time limits can be set as well.
What You Need to Know to Protect your Kids
In my estimation, iKeyMonitor has all the features necessary to protect your kids.
Consider the case of online harassment or cyberbullying. Nearly two-thirds of all teenagers are either victims or perpetrators. Monitoring texts, messages and emails will let you detect cyberbullying and take preemptive action.
This also goes for other forms of dangerous online activity. For instance, sexual predators and groomers also use the same social media and messaging apps. Monitoring chats will let you catch them quickly.
It also keeps them safe physically. Parents can keep track of their child's location at all times. If they leave home, school, or another safe area, Geofencing alerts will inform you immediately.
Unfortunately, all the features are not available on the latest iPhones. For instance, Call Recording and Location tracking are not. So, if your child uses an iPhone, I suggest you stay alert and rely less on this app.
Can iKeyMonitor Really Keep your Children Safe?
Ultimately, iKeyMonitor has all the features you need to keep your children safe from online activities. If you use iKeyMonitor, you can rest assured that they are safe during their sojourns on the internet. You could read every single message and view every single image or video sent or received.
I recommend iKeyMonitor to all parents who are concerned for their child's safety.
Visit iKeyMonitor