iKeyMonitor Review 2023
Introduction
From social media to text messages, the right parental control app is useful in more ways than one. Not all options, however, will deliver the same performance. Among others, one worth considering is IKeyMonitor, which is what we will be talking about in this short review. With the iKeyMonitor spy app, you will have eyes even when you are not next to your kids. Consider this as a digital parent. This gives you an idea of what your kid is up to. You can monitor, control, and protect. It has tons of features that can provide you with peace of mind.
Keep on reading to know more about the app. Keep on reading the rest of this iKeyMonitor review and we'll help you decide if this is a good choice or if you should look up other monitoring apps.
Visit iKeyMonitor
iKeyMonitor Set Up
One of the best things about iKeyMonitor is that the set-up is a breeze. You are done within minutes! There is no need to jailbreak an iOS device or root an Android gadget. This means that you can install it directly, eliminating any complication.
To set-up iKeyMonitor, here's what you should do:
Log-in to the Online Cloud Panel.
Look for the Download button and click.
Follow the on-screen instructions to complete the installation.
For iKeyMonitor iOS, you will need to enter your iCloud credentials.
Wait until the installation is complete. Make sure to delete download installer files in Android so that there will be no traces.
Filtering, Blocking, and Monitoring
In many IKeyMonitor reviews that you will find online, this app has been given words of praises because of its exceptional filtering and blocking features. This assures parents that kids will not access age-inappropriate content. It also lessens problems like sexual harassment, identity theft, and cyberbullying, among others.
App and Game Blocker
One of the most powerful features of iKeyMonitor is its ability to block specific apps and games. There is an option to always block a specific list of apps or games. If you are looking for flexibility, however, you will be happy to know that you can set different rules at different times. For instance, you can block apps only during bedtime or study time. You can have flexible rules when setting a screen time limit.
Keyword Alerts and Notifications
Before using IKeyMonitor, take note that it does not directly block keywords and websites. Instead, what you can do is to monitor the keywords that are being typed by kids. You will receive an alert by email when specific keywords are triggered. The app also automatically captures a screenshot of the device. The Cloud Panel will show these keyword and screenshots. This way, you can understand your child better and you can manually block websites that can lead them to dangerous keywords.
Activity Record
In this section, we'll talk about some of the records that the app keeps so you can monitor your kids remotely.
Keylogger
This is a useful feature as it records the keystrokes, including the texts pasted and words typed. From chat apps to texts, this is a great monitoring tool, especially in the case of messages that have been previously deleted.
Call and Text Logs
With its feature-rich call history, the app will let you see details of incoming and outgoing calls. You will also see the call duration, as well as the date and time. You can also see text messages, including details of the sender and the exact message. The best thing is that even if they have been deleted, the app will let you recover them.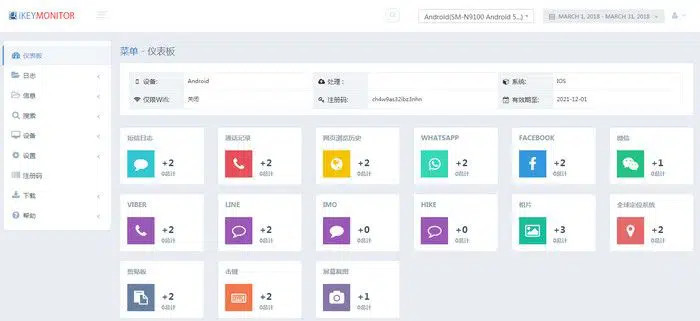 Social Media and Chats
Using iKeyMonitor will also let you monitor social media and chats. Some of the platforms that it supports include Facebook, Instagram, Viber, Telegram, Kik, Line, Skype, and WhatsApp.
Mobile Support
This parental control app is available for both iOS and Android users. For iOS, there is no jailbreak needed as long as the software version of the device is iOS 9 to 14. iCloud credentials will be needed, as well as a two-factor authentication. Meanwhile, if you are an Android user, it works for OS 2.3 and above, even without the need for rooting.
Location Tracking
Like any top-notch parental control app, using iKeyMonitor allows storage of location information. It keeps a record of where your child has been. You can see pins on the map to let you know the specific location. There is also a date and time stamp.
Time Limits
The app lets parents limit the time their kids spend on their phone. In the dashboard you can set up the time limits for bed or homework time. You can also set the device to lock after a certain period of time and set daily limits.
Ease of Use
Another thing that we would like to highlight in this iKeyMonitor review is its ease of use. It is a user-friendly app, so that alone is already a compelling reason to choose it over others. The installation is pretty much straightforward without the need for jailbreaking and rooting. There is an intuitive dashboard, making it effortless to tweak the settings as desired depending on the extent of monitoring that you would like to do. They also have a detailed Knowledge Base and FAQ section on their website.
Pricing
There is an iKeyMonitor free trial, which is perfect for those who do not want to spend. This is good if you want to try the app and later on, you can decide if you would like to continue with a paid subscription. You will enjoy basic features. There is also an option to pay $9.99 for a three-day access to some premium features.
To unlock the full benefits of the app, however, we recommend that you sign-up to one of their paid plans. They have a simple pricing scheme, which is $29.16 per month. You can enjoy all of the app's features with this subscription. Best of all, you have 30 days to try the app. If you are unhappy in any way, let them know and they will issue an unconditional refund.
If you are on a budget, make sure to check other available and more affordable parental control apps on the market.
If these are expensive solutions check out our selection of free parental control apps and their reviews.
Conclusion
As noted in this iKeyMonitor review, this is a notable option for a parental control app. It may not be as popular as others, but it packs plenty of features that can provide you with peace of mind. From screen time management to location monitoring, it has the things you will need to monitor your child. It also has a flexible monthly plan with a 30-day satisfaction guarantee. If you are still undecided, sign-up for the free trial and see what the app can do.
Visit iKeyMonitor