Kaspersky Safe Kids Review 2023
There are three important things to know about Kaspersky Safe Kids. It is a very good parental control solution, particularly on iOS devices where it offers a number of features that are surprisingly unavailable from the other big names in the market. Namely, after setting up Kaspersky on your child's device, it will automatically enable age-appropriate settings from the app store to block or allow all apps on the child's phone. We also find very helpful Kaspersky's expert tips from a professional child psychologist alongside every feature and decision you will need to make on how to monitor your child's activity. Next, it is very competitively priced, at $14.95 coming in at a much lower price point than the competition.
And last, and no doubt a good part of the reason for the low cost, Kaspersky has been accused of stealing classified information from the US government at the behest of Russian intelligence services. The allegations are credible enough that the US government has forbidden any Kaspersky software usage amongst any public agencies, US-focused stores have ceased offering Kaspersky, and many major web advertisers have chosen to disallow them from advertising.
Kaspersky has worked to distance itself from the Russian government, but as the saying goes – spy on me once on behest of the Russian intelligence agencies shame on you, spy on me twice on behest of the Russian intelligence agencies shame on me.
However, if you can look past the alleged Russian-orchestrated subterfuge, you will be rewarded with excellent value for a very good product…comrade.
Visit Kaspersky Safe Kids
Content Filtering
Kaspersky utilizes 14 different website categorizations, and then sets default restriction suggestions based on your child's age.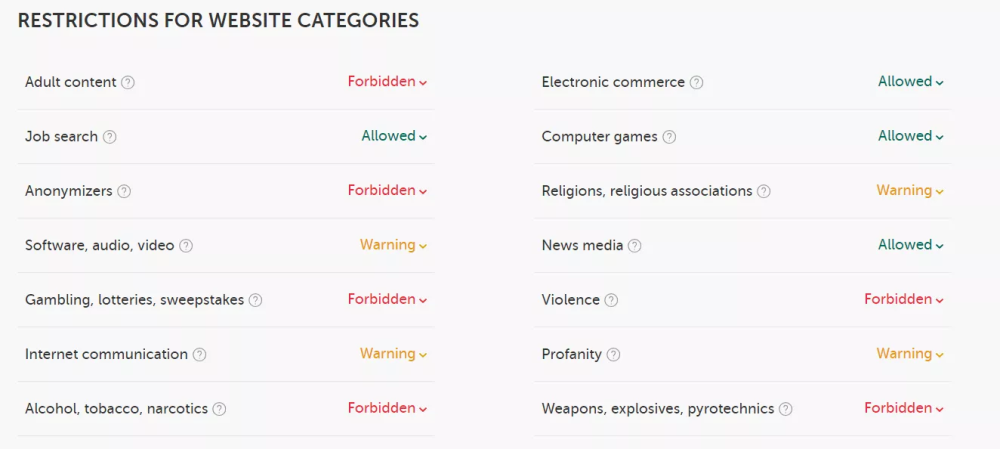 Each different category is marked allowed, forbidden, or warning. A warning simply notifies your child that visiting the website "is not advised", and gives them the option to proceed anyway. See below – a blocked pornography site on the left versus a warning for a social networking site.
Parents are notified via email if children attempt to visit forbidden sites, or proceed to past the warning screen, to the site.
Kaspersky offers a safe search function, which enables age-appropriate results from many different search engines. On iOS and Android, require your child to use the Kaspersky Safe Kids app as a browser to ensure all settings properly take effect.
Lastly, Kaspersky also offers also content filtering options and categories based on individual browsers such as chrome, safari, and firefox.
Visit Kaspersky Safe Kids
iOS and Android Web and Application Monitoring
Speaking of iOS and Android, Kaspersky really does an excellent job monitoring search and restricting web sites, and is better at restricting applications on iOS than most any of the competition – definitely better than Norton and Qustodio.
On Android, applications are separated into 17 categories which are categorized as allowed, warning, or forbidden.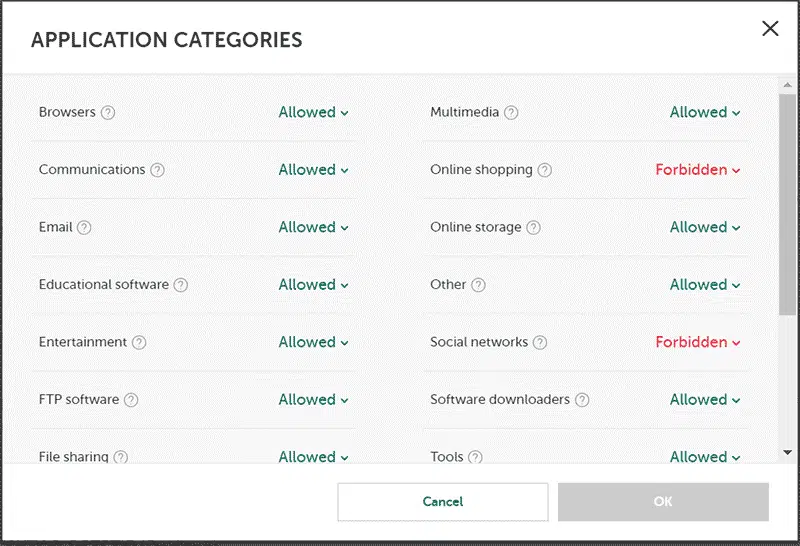 On iOS devices, Kasperspky uses the age-appropriate ratings from the app store to determine which applications are permissible based on your child's age.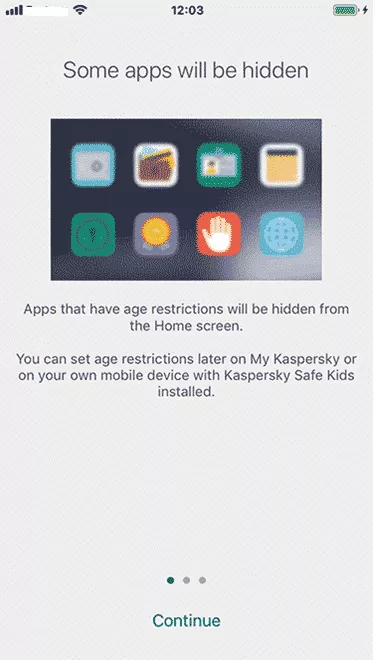 After enabling age restrictions, apps meant for ages older than your child will disappear. Note that Kaspersky is not able to facilitate app-specific blocking; of special significance, most social applications are 12+, and so if your child is perhaps a bit older but you prefer that he/she does not yet use Facebook, for instance, set their age as 11.
Kaspersky, like most parental control apps, works using a VPN. Kaspersky is one of the only parental control apps to actually prevent children from turning the VPN off – an additional pin is required automatically when attempted. Many other parental control apps have no such pin requirement, and so children are able to turn off the VPN and thus disable all filtering, though of course their parents will be notified.
Based on Kaspersky's integrated age-appropriate app blocking on iOS, and their pin restriction for disabling the software, we give Kaspersky very high marks for their mobile product.
Visit Kaspersky Safe Kids
Social Network Control
Kaspersky offers the ability to monitor your child's activities on Facebook or VK (a social network popular in Russia). After enabling the feature on Kaspersky, your child will need to connect his account. Assuming your child does this, you will be able to see your child's activity feed, monitor friends, and see what pictures are being shared. You will not be able to read private messages.
How does the process work?
In order to enable it, Kaspersky sends an email to the children. Once your child accepts the link, the parental control app for social media is integrated into their accounts. Then, every time your kids are active on their social media pages and there is something inappropriate, you will be notified.
This of course, also allows the kids to turn the feature off, but once again, the parents will be sent an alert in this aspect. Important to note that the use of inappropriate words and profanity on social media platforms is also a matter of concern and parents can be notified of this immediately.
SMS and Calls/h2>
You can monitor your child's calls and SMS messaging on Android only. Any numbers may be blocked, inbound or outbound.
Time Management
Kaspersky's time management features are in line with what one would expect from a parental control application. Configure the amount of hours per day your child can use each device: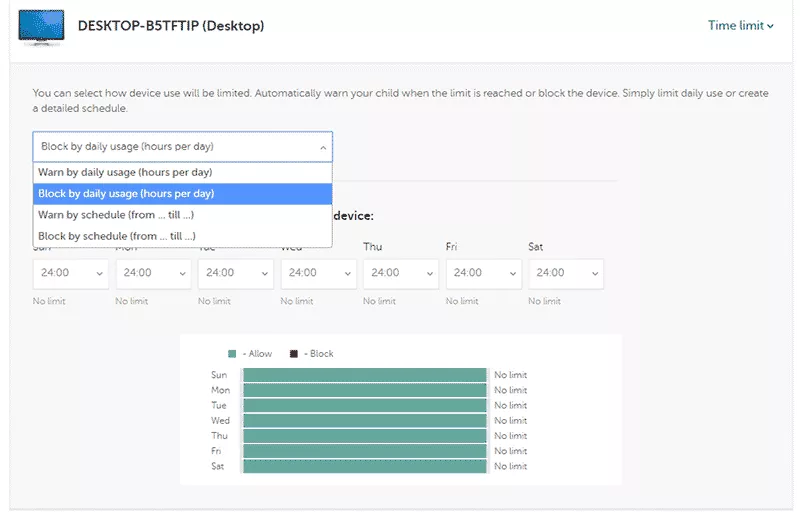 And specify daily down times: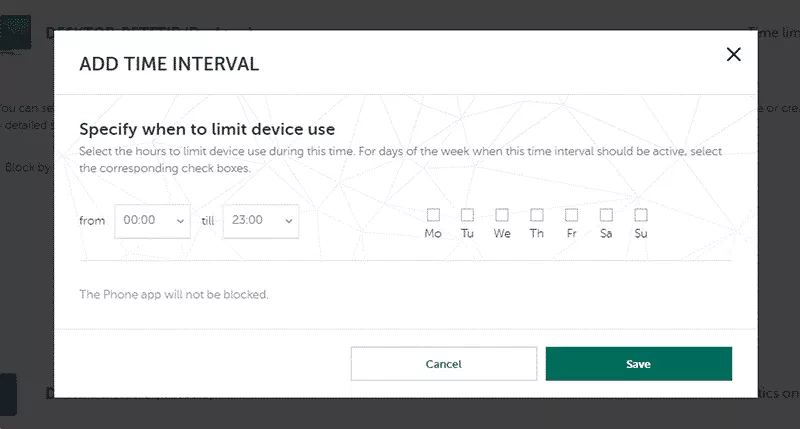 The dashboard is very comfortable and user-friendly. Parents can make changes directly from there. For instance, if you want to limit the number of hours you would allow your child to spend on the internet, you can simply adjust it from the slider on the dashboard.
What happens when the time limit on your child's activities is exceeded? Kaspersky offers two options; The child could either be given a warning to wrap up or the sites and internet access could just be blocked.
A strange shortcoming is the inability to block access to iOS devices when the time threshold is met; pretty surprising, considering the relative robustness of application management on iPhones and iPads when compared to the competition.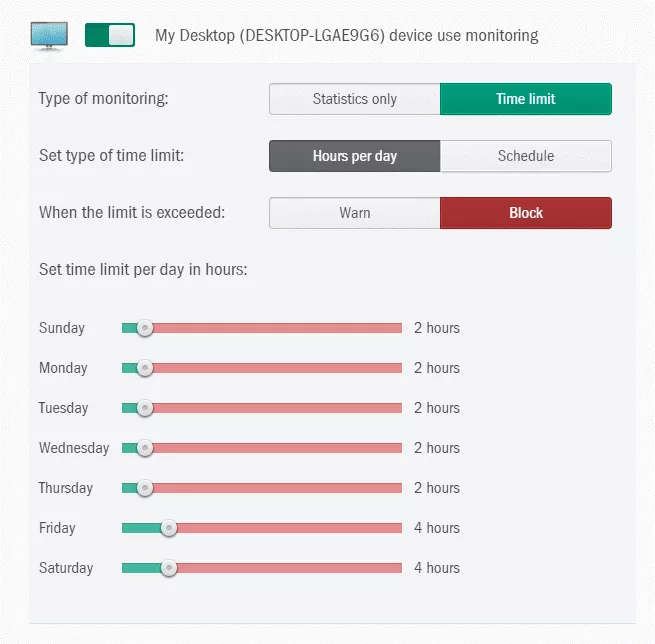 Kaspersky on Android and iOS
Safe Kids from Kaspersky has been tried and tested on a variety of Android and iOS devices. It can be concluded from here that this software is safe for use on mobiles as well. The parent mode of the software comes secured with a pin. This is to ensure that no one can access your application and no one can make changes to the settings.
In general, as a parent, you will have access to five broad categories of settings on the dashboard. This would include a Summary tab that jots down the child's activity summary, a 'Where is my child' function that gives you an idea of your kid's location and two other tables with Settings and Additional.
On the child version of this app, you can have access to what comments and replies to your requests for access on various websites. Overall, this software tends to work well on both the desktop and the mobile platforms.
In the iOS platform, as we mentioned above, you cannot block a site after the child has gone past their browsing time. Instead, your child will only be warned about this. But the good part here is that if the child tries to uninstall the app on the iPhone, they would need a code that is available only on the parent's version of the software.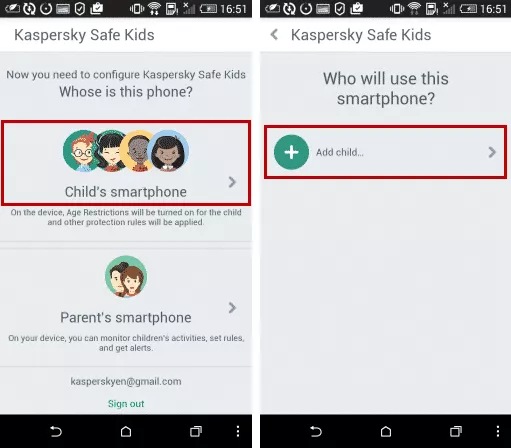 Remote Notification
Real time notification and location alerts are some of the features that set Kaspersky Safe Kids apart in this category. Notifications come in the form of email alerts, push notifications, SMS alerts and the likes.
For instance, if you are travelling and your child accesses a restricted website, you will be immediately notified over your preferred platform. Once you receive this alert, you will have access to a geofencing alert whereby you can check the location of your child.
This particular feature works pretty well for parents who want to keep track of their kids' location as they use the internet.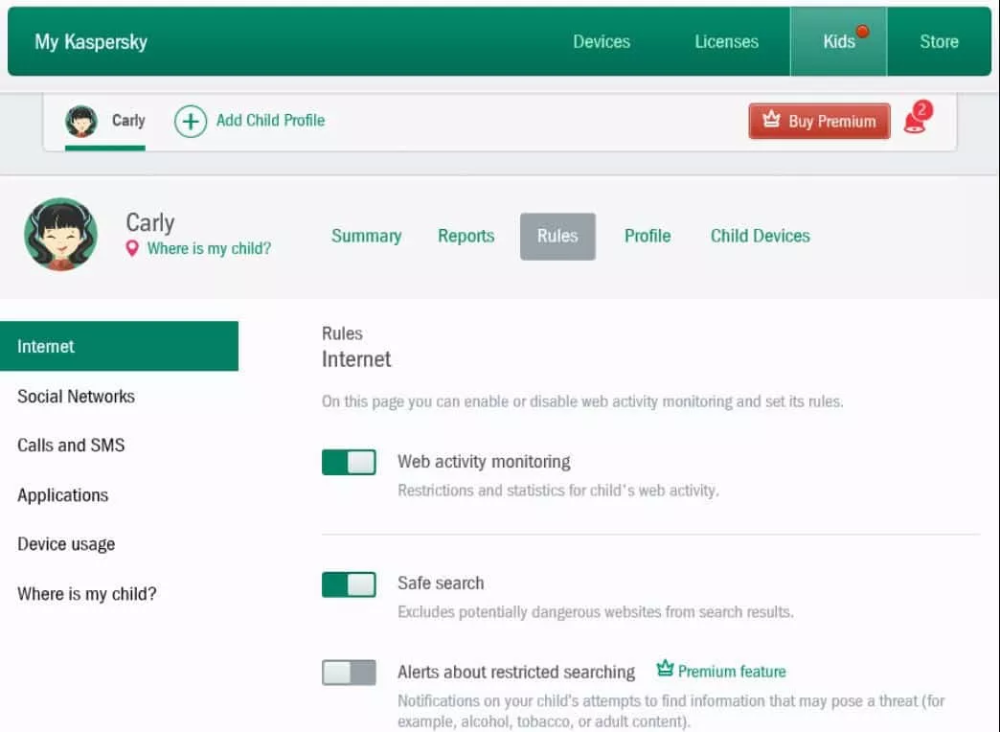 Location Tracking
Kaspersky offers a feature-rich location tracking solution, which not only informs where you child is at all times, but allows geo-fencing – designating an allowable geographic area your child is meant to be in – at any time. For instance, you might set up a parameter around the school during school hours, and change the location to the sites of various extracurricular activities after school.
If your child exits these designated parameters during the designated hours, you will be immediately notified.
Setup and Installation
Installing Kaspersky Safe Kids on your system is a fairly simple task. All you need to do is log in to your Kaspersky account and you would be set to go. Thereafter, you insert your children's names to the site in order to notify the software of their individual profiles.
Once that is done, you could set up the restrictions and rules for each of your child separately. Using the application on your Android and iOS device is also simple. The app is the same for both the child and the parent; they only have to log in with different credentials.
Customer Support
One of the most important aspects of any software is the quality of customer care and service offered. The company, in general, offers three modes of support. You could get in touch with them over emails, over the phone or by using the live chat option.
The phone support is especially helpful since it is available on all days from 7 AM to 11 PM EST.
Pricing
There are quite a few parental control software available in the market. However, Safe Kids stands out with regards to its advance features and its affordable pricing. With an annual price of $14.99, you could add multiple child profiles to your account and track their activities.
This is considerably less than the other names in the market. You also have the chance to use this software for free, but that would restrict some features like location tracking, social media activity records, SMS records and the likes. The premium features are available at a very reasonable price.
Pros:
There is no limit of the number of child accounts that can be added or the number of devices
Geofencing helps the parents know about their child's location
The pricing is very comfortable and reasonable
Time management gives you the option to warn your child or completely block the site
Cons:
Monitoring the child's calls and SMS is limited to Android devices only and does not extend to iOS devices
Application control on iOS proves to be a little difficult
Final Verdict
Kaspersky offers excellent value for money, in part due, no doubt, to the reputational damage suffered by their alleged espionage cooperation with Russian intelligence. If you are able to look past that, Kaspersky's product can go toe to toe with most anyone in the market, and surpasses many, particularly on iOS devices.
Visit Kaspersky Safe Kids