Last Updated: September 1, 2023
Mobicip Review 2023
Introduction
Mobicip is a pioneer in the parental control software space, having put in more than a decade of work in making the internet safe for our children. It has spent that decade building some excellent, unique features. We are particularly impressed with Mobicip's ability to control all applications on iOS and Android devices. This is very rare, particularly when it comes to iOS which makes it very difficult for third-party software to penetrate their operating systems.
Visit Mobicip
Video monitoring is also tops; not only can particular video apps or websites simply be blocked, all videos your child watches will be display right in the parental control dashboard.
There are, however, some downsides to the product as well, perhaps also due to it's decade plus of operation. The user interface is pretty clunky and should be updated. We are not fans of the screen time methodology, which allows only downtime scheduling and a instant "block screen time" feature. We think Mobicip should also add important daily time limits capabilities. Mobicip does a pretty good job cauterizing searches through it's own app, but does not enable safe search across multiple browsers. They also have not integrated SMS or call monitoring, which is important to some families.
Mobicip charges $34.99 to cover five devices, a reasonable price for a very good parental control product.
Mobicip Parental Software
After setting up your child's profile and linking his or her devices, head over to the "family"tab and begin the configuration process.
Mobicip offers suggested parental control settings based on your child's age, but it is worthwhile navigating through the different sections to customize. When we initially set up our account, Ryan's age-appropriate setting control was listed as strict; at some point it changed to custom, which made customization a bit more of a chore. After that you can navigate to "family" to start.

Mobicip breaks the entire world wide web into 29 categories for blocking, and a 30th called uncategorized that contains all the sites that don't quite fit.
Specific websites may be blocked or allowed, circumventing the wider classifications associated with the sites category.
We are big fans of Mobicip's video monitoring solution. Links to all videos watched by your child populate on the dashboard, and with a click you may watch what they have been watching.
Application Management
Mobicip divvies up applications into three separate categories, social, video, and apps, all of which can be blocked or allowed via Mobicip on your child's phone.
The ability to block apps requires syncing up your child's device and your computer, which then remotely controls the phone. This is a unique and quite a handy feature; most parental control systems are unable to remotely block apps, particularly on iOS, and Mobicip's development of this remote management concept deserves praise.
Note that all applications your child has actually downloaded will appear in this app section.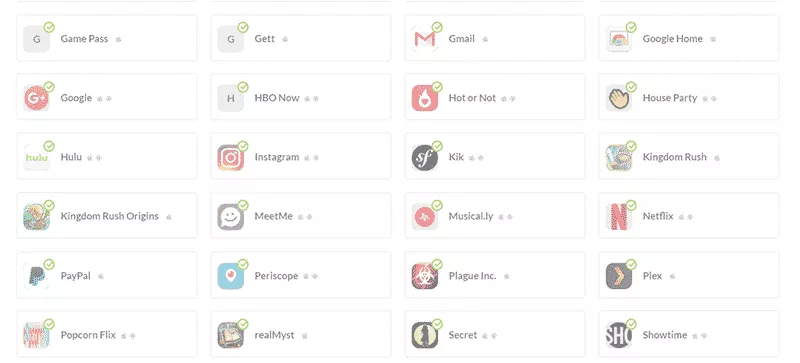 Time Management
There are no screen time limitations established as default, so we needed to set up the permissible and disallowed hours per day. We have agreed as a family that all screens are down from 7 pm until 7 am during the week, 9 pm until 7 am weekends, and we set things up accordingly.
Strangely, you are unable to set a limit on permissible screen hours per day, which is pretty standard for parental control apps. However, Mobicip does allow parents the ability to block screen time at a whim, and there is also a nifty – block all screens, it's family time button. Both perhaps useful depending, though if we had to choose we would pick the standard daily limit capability. Oh well, this can be done directly from your child's mobile device anyway.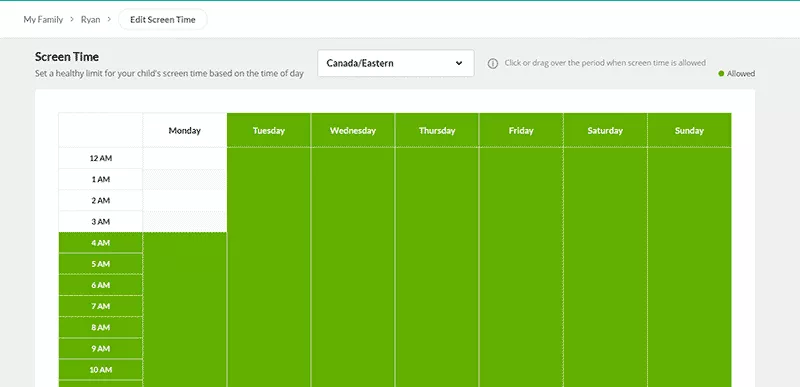 Searching Safely
Parents may also block search phrases, which is to us a pretty useless feature. Mobicip has not done a great job integrating safe search functionalities, which makes it extremely difficult to establish comprehensive search filtering.
On mobile, you can set up the Mobicip app in "safe browser mode" as opposed to "VPN mode", which does seem to have some standard safe browsing features. (For instance, pornography sites are no longer displayed when searched for).
Make sure to disable other web browsers in conjunction with this mode, otherwise your child will simply be able to use Chrome or some other app to browse unimpeded.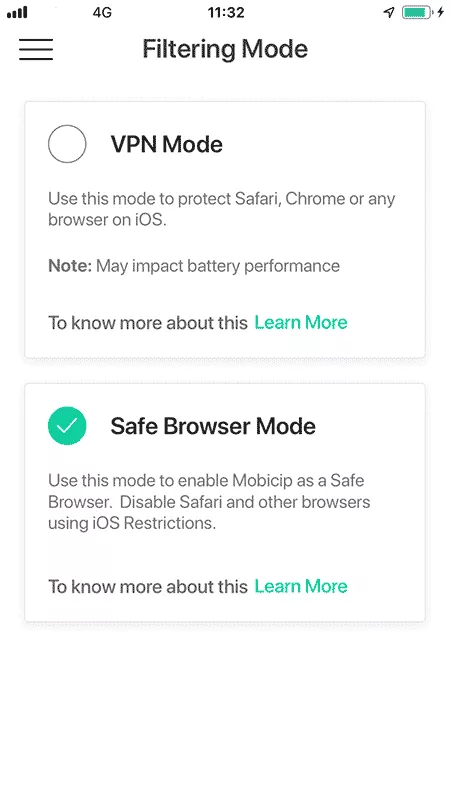 Communication Monitoring
Mobicip does not offer any SMS or call monitoring.
Social Media Monitoring
Mobicip allows parents to block any social app altogether, or to monitor how much any given social app is being used. Parents will be unable to monitor a child's wall or friends, as some competition might allow.
Location Tracking
Mobicip provides basic location tracking. To set up location tracking, you must download the supervise app on your computer. Most will want to download supervise because it provides excellent application monitoring and control capabilities; however, usually parental control apps provide location monitoring without having to go through an additional, somewhat cumbersome process.
Windows Setup
Mobicip's Windows installation is simple. You can simply install 32-bit or 64-bit software (most software identify your system automatically) follow the installation steps, and give the user account to a supervisor. You can install Mobicip's monitoring software on a non-admin Windows user profile to prevent a kid from downloading any other software that will evade Mobicip's restrictions. However, needing to enter your password for every admin-level activity may get tiresome.
iOS Set up
Installing Mobicip on an iOS device is even more complex and difficult. Mobicip prompts you to scan an account QR code and then download and install an MDM profile (through Settings > General > Profile) to implement limitations once you download the app and select the kid mode. Return to the app, and Mobicip will complete the registration of your device. Any authorization requests that appear must be granted. At this stage, your child's iOS device is set up so that you can monitor internet usage, screen time, and location.
Mobicip Android Set up
To use Mobicip in kid mode on Android, first, install the Mobicip app from the Google Play Store and then choose the child mode. Next, scanning your account's related QR code (seen on the online dashboard) will allow you to choose or create a child profile. Then it's simply a question of approving all of Mobicip's permissions.
Communication Monitoring
People often ask, does Mobicip monitor text messages? The answer is no. Mobicip does not offer any SMS or call monitoring. Mobicip provides you a range of solutions and features that gives you a decent level of control over your child's device but not explicit control over text messages.
Blocking Unwanted Keywords and Phrases
The Phrases section allows you to add terms that you wish to be banned to a list. What does Mobicip do? It summarily bans any website, article, page (or video with accompanying text) that contains the term you enter.
We recommend making terms as detailed as possible to avoid any wanted actions. Mobicip can also explain to youngsters why a site is banned by giving clarity and understanding of the banned sites.
Mobicip Parental Software- A Good Choice for You
Mobicip is intended for the modern multi-device family, and the platforms it supports are extensive. Its online interface has been much enhanced, and Mobicip now delivers real-time alerts of requests and activities. Although it can be a little tricky to set up on iOS devices, it is one of the few pieces of software that can penetrate the Apple device's operating system to give parental controls to parents.
Is Mobicip Free?
Mobicip is not free, but it is worth your money. Mobicip's parental controls for Android and iOS allow you to monitor your children's activity and set limits on any of their devices. The software looks nice, and the navigation is easy. The primary screen looks like the web dashboard, with all the same data and sorting options. You can access areas for limiting screen time, seeing locations, and banning apps via a hidden left-hand menu. You may also examine account details such as your family, connected devices, profile, and membership data in the My Mobicip section.
Pricing
Mobicip offers a basic version that covers up to five devices for $39.99 a year. There is a very attractive plan that is available now for 10 devices at $59.99 a year. If more devices are needed you can upgrade your version up to 20 devices. Mobicip also offers an enterprise version for schools and businesses.

Conclusion
Mobicip offers really excellent video and app monitoring capabilities, thanks to Mobicip Supervise. We are less enthralled with the time management capabilities, though we do appreciate the unique ability to block all screens at once for family time.
It would improve the product were Mobicip to integrate daily time limits, though most families will be able to create the same effect simply by establishing specific time windows during which screen time is allowed.
Visit Mobicip