Last Updated: December 1, 2023
Mycellspy Review 2023
Introduction
Mycellspy is a mobile phone tracking app covering a wide range of features. This app allows you to monitor messages, record calls, and track the location of your loved ones – all from a safe distance.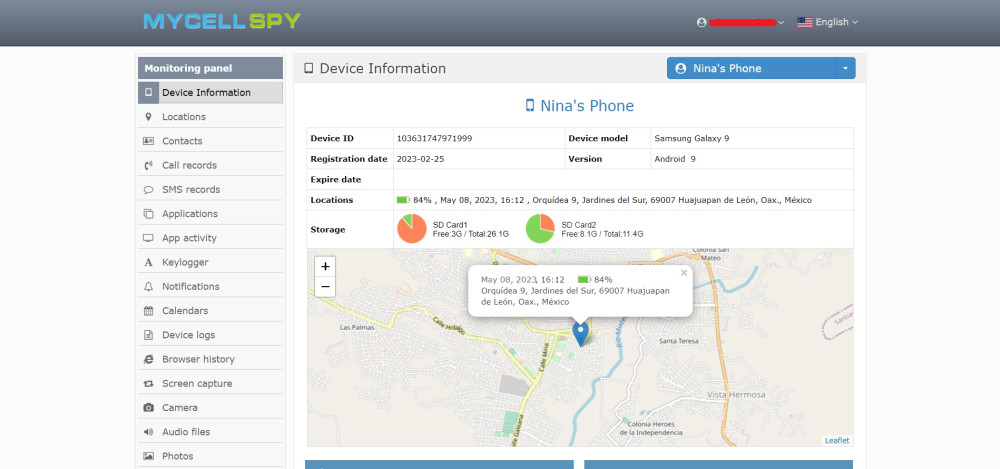 Additionally, if you are an employer, this app can also be used to track information on your employee's devices. By using the incredible features this application has to offer, you can ensure whether or not your company's Internet is being used to access suspicious websites or if any employee is misusing your company's information by exchanging it with rival firms.
Visit Mycellspy
Social Networks Monitoring
If your child's use of smartphones for very long periods of time has ever caused any type of suspicion in your mind, then it is important for you to use this app. This app has several features, tracking calls being one of the most important one. By using Mycellspy, you can access the call history of your child's phone. This app also allows you to remotely hear your kid's calls without being detected and keeps track of the ingoing and outgoing calls as well as calls that are being made to specific contacts.
You can also monitor the apps that they are using and determine for how long the device was used. It is also possible to view the chats, dates, and receivers of each communication. Currently, the use of WhatsApp, Facebook, Instagram, and Snapchat has been on the rise, making your child's online phone activity all the more bothersome due to a great deal of cyberbullying and harassment cases. It is important that you are able to view the people that your child is chatting and hanging out with to confirm their safety and security.
How to Set Up Mycellspy?
Using Mycellspy is completely hassle-free and simple. All you have to do is follow the steps listed below:
Visit the site.

Click on the 'download' option on the panel.

Begin the installation of this app and start your mobile monitoring journey!

You can also sign up on the website to make use of its features.
As a user of this application, I can confirm that the setup procedure is very simple and easy to use. I have installed the APK of this app for free on my Android phone by simply visiting the site and following the steps mentioned above. Acquiring this app is hassle-free, which makes it all the more appealing and user-friendly.
Live Recording, Management Contacts, and Automatic Photo-taking
For parents who are on the lookout for their children's whereabouts and are unsure if their kids are at their known location, this feature is perfect. The hidden GPS trackers which Mycellspy has developed are both convenient and functional to monitor devices without any worry. Parents can track the location of their child's phone and have it displayed on the app to trace the current locations as well as the historical ones.
Mycellspy environment recording is a strong tool to record compatible device environments. The audio files may be uploaded to the Internet user site for easy hearing, and their spy voice recorder will automatically upload them to the online portal. By using this feature, it has become possible to save the phone's ambient recordings without physical access, to modify the spy voice recorder length, and save the ambient recording. So, you can listen to the environmental recording, later on, all while remaining entirely undetected. You may monitor all of your child's or employee's phone or tablet contacts remotely with the app.
Check each contact's details saved on your device that include name, telephone number, and other data instantly with its management contacts option. The Mycellspy's cell phone tracking program collects all contacts that the target device user has saved. It can also track phone contacts with an Internet connection from any device and make it possible to view messages, calls as well as screenshots. Automatic photo-taking is a unique feature that can only be attributed to this software since no other rival parental control providers offer it to their customers.
The internet monitoring telephone tracker snaps a picture when a user opens the Android phone or tablet screen. You can now control the targeted device's camera anywhere and at any time. The great advantage of automatic photo taking is that it can also assist you in locating your child or employee.
However, unlike other apps such as NetNanny, Mycellspy does not send alerts to your phone when your child is at a certain location or is making a call to a specific caller. This software also does not enable you to customize the filters for certain applications and websites, but the lack of these features is compensated by its other great qualities.
Overall, Mycellspy is one of the best parental controlling apps. But it can also be used for monitoring your employees. This software has great attributes that make mobile monitoring reliable and convenient. Its user-friendly interface is straightforward and to the point. What makes this software even better is its unique photo-taking feature which isn't available in most competitor apps in this domain.
Pros and Cons
Like any other tracking software, Mycellspy has its upsides and downsides. They are:
Pros:
Free to use

Operating for several years

Verified SSL certificate

Offers a number of payment methods that feature a "money-back" option
Cons:
The owner of the software's identity is unknown, making it less credible

Has quite a few negative reviews
Mobile Compatibility
A downside of this application is that it is not available for iOS users. However, those having Android devices can easily use this app without having to root their smartphones or going through any other kind of inconvenience. So, you can access Mycellspy on any Android phone or tablet and begin monitoring devices.
Pricing
The best part about Mycellspy is that it's free! That's right. You can download this incredible application on your phone free of any cost. While there is a ton of parental control app software available in the market which charges a dime, you have the option of accessing all of Mycellspy's features that competitors offer without having to worry about any expensive charges.
Most of such software on the market tends to be subscription-based with basic and premium editions that provide you access to certain features, making users hesitate before downloading them. But with this software, you don't have to worry about any sort of investments and can easily spy on any targeted device.
Free Plan
Instead of having a free plan, this application is completely free. In addition to this, you can also go on the website and try out the free demo to assess whether or not you want to use this app. The monitoring panel in the demo enables you to access the complete set of features this application delivers.
Bottom line
Mycellspy is essential for your phone. With the rapid increase in different types of scary online incidents, you have to be incredibly vigilant when it comes to the safety of your child. Furthermore, this software makes it very easy to manage your business by tracking the online activity of your employees.
The key features of mobile monitoring, tracking various activities while remaining undetectable, as well as a free download and easy installation, make Mycellspy an excellent app in the mobile monitoring market. As a tracking software, this application is safe and reliable and delivers the maximum features without charging any subscription fees. It is undoubtedly one of the best applications in the market and one that you don't want to be missing out on!
Visit Mycellspy