Last Updated: December 1, 2023
Net Nanny Review 2023
Introduction
If you are a vigilant parent and want to keep a close eye on the online activities of your child, a right parental control software like Net Nanny is all that you need.
With the internet providing unlimited access to everything, it is imperative that you, as a parent, monitor and track your child's online activities just to protect them from cyberbullying and any type of harassment.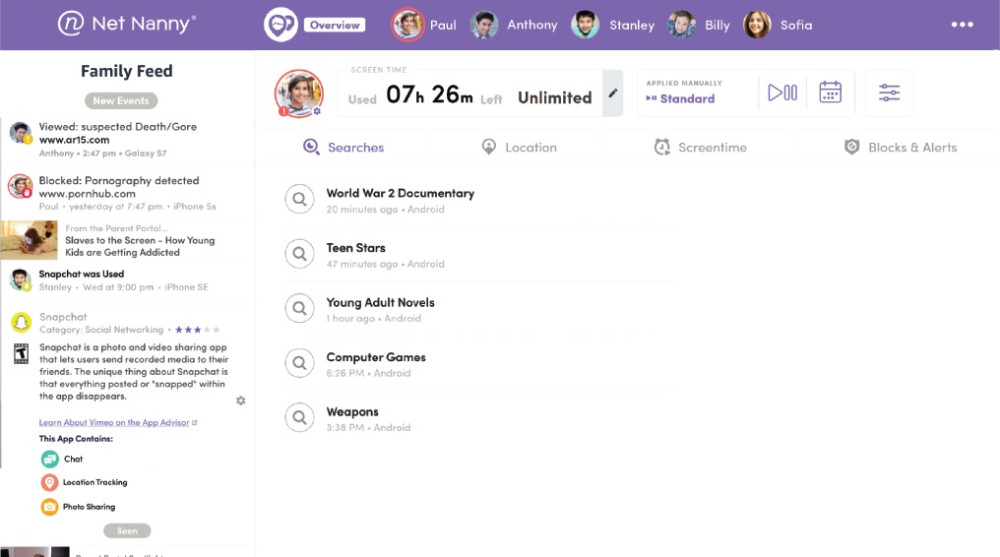 Thankfully, Net Nanny is here at your rescue. Right from monitoring the social media presence to tracking the online website browsing history of your child, this utility software does it all. With effective reporting functions, you can rest assured that your child is in safe hands.
In this article, we will have an in-depth look at the various features provided by Net Nanny and would determine if it is worth buying or not.
Let's get started.
Visit Net Nanny
Reporting and Notifications
Net Nanny provides the perfect activity report for whatever your child is doing online. Be it visiting different websites, requesting to unblock a website or using social media excessively, Net Nanny makes you aware of whatever is happening.
Since the whole admin console of Net Nanny is cloud based, you can access it from any remote location and pull up activity records. Net Nanny's email notifications ensure that you are always aware of what is going on with the system. For instance, if somebody requests to unblock a site, you will be intimated via email. Also, you could set different email addresses for different activities and be notified accordingly. In addition, you could also opt for an SMS notification system to stay updated.
Even though Net Nanny sends regular updates and notifications, it will also go on to send you weekly or monthly summary reports of the activities of your child. In fact, you would be presented with a pie chart describing all the activities.
Chat reports of your child on the computer's IM program or on any social media platform would also be presented in the report. However, this feature comes at an extra cost. To make the report more authentic and specific, relevant screenshots are also added to it. This includes all the snapshots taken chronologically. What this does is basically ensure that there is no questionable content present on any of the safe websites, including the advertisements and pop-ups.
Filtering and Blocking
You can filter the content your child views online, in advance. There are different ways in which you could carry out this function. There are a number of different filter categories available. Based on your choices, specific content can be blocked for view for your child.
For instance, if you want to block violence, most of the popular websites will still be visible, but Net Nanny would only screen content related to violence. This does the same to other offensive and objectionable content like pornography, drug use, and the likes. All you have to do is set the filters and this software will take care of the rest.
Here are some additional aspects where Net Nanny proves to be effective:
Websites: Your child has access to a number of websites on the internet. Through Net Nanny, you would be able to track their online movement and searches. You could also block some objectionable websites. All you have to do is add the main URL. At times, you would need to add all the URLs apart from the one of the landing page.

Additionally, Net Nanny also blocks certain websites which are expected to have offensive content in them by reading the website URL. However, if you want to whitelist a certain website, you are allowed to do so.


Social Media: Net Nanny tracks your child's social media activity as well. This would include monitoring all the posts made by your children, and tracking if someone made profane comments on their posts or the like.

Along with that, the tool also keeps the chat records just to help you gauge if there is anything wrong.


Tracking Emails: Net Nanny goes on to track the emails sent and received by your child in your absence. Any email sent from the system or received on the system will be captured by Net Nanny in the form of screenshots. If an attachment was included in the email, it will report the details to you as well.


Online Searches: This particular feature acts more like an internet search filter for your child. Whatever words or keywords are been used in the searches will be reported to you.

Use this filter to ensure that no objectionable content is even looked for on any browser on Google or any other sites.


Cyberbullying: Your child can often turn out to be a victim of cyberbullying. Net Nanny is a great way to protect them from this act. Whenever there is an attempt made, this software takes up three major steps. Firstly, it records such instances. Secondly, this data is reported to you. Thirdly, all future attempts by this offender are stopped in the first go.


Games: Games are the primary reason why your child loves to spend time online. With the help of Net Nanny, you can restrict playing and downloading games online without receiving prior approval from you. This has two advantages. Firstly, you prevent your child from having access to inappropriate content. Secondly, it also protects your PC from getting malware and related virus from the internet.


Pornography: In this regard, the pornography filter helps you keep your child away from all pornographic content. The websites related to this category are kept blocked and out of reach of your children. This, in fact, proves to be one of the most popular filters for parents.
Profanity Masking
How do you keep your child away from abusive language on the internet? Net Nanny solves the issue here. Whenever your child either comes across an abusive word on social media, forums or websites, this software replaces it with symbols such that the characters are not visible to them. Or, depending on your choice, it can block such a website completely.
Customized Restrictions
From the same parent account, you can manage multiple user profiles. For instance, if you have more than one child, you can set different restrictions for each of them. You could set the filter in a way such that the younger child has most access restrictions, the older one has fewer restrictions and the likes. This ensures that you do not have to change the parent control measures and restrictions with every new user profile.
Time Management
This is an interesting filter added which tracks the amount of time your child spends online. How does this work? If you set up a time limit when you don't want your children to be online and browse internet beyond a certain limit, Net Nanny would make sure that they will not be given access to the internet. It basically limits the time your child spends on the virtual platform.
Mobile Compatibility
Net Nanny is also suitable for use on mobile devices. There are specific app blocking features, time restricting filters and location tracking options that come in handy.
Android
It is easy to install the app on the android Once installed, launch it and log into Net Nanny.
Tell the app about the user the mobile belongs to, and Net Nanny would load the respective settings.
The internet schedule works great. Thus, if your child has reached the limit on PC, he cannot keep browsing on android.
The app also allows you to block the Play Store and prevents any change in Settings.
iPhone
Like Android, it is easy to install the app on iPhone as well. The entire interface is user-friendly.
As a matter of fact, the app misses mobile-specific features on iPhone and doesn't even interact with other apps.
Pros and Cons
We have learnt about the various features that are on offer for Net Nanny. Let us have a look at some of the advantages and disadvantages offered by this software.
Pros:
Net Nanny has a remote operation that allows you to access the data from any place. The web-based reporting system makes it easier for the parents.
Powerful filters ensure that only the allowed content is visible to the children.
The software supports various platforms and operating systems like Windows, Mac and Android devices.
The fact that notifications are sent to you in a timely manner and with detailed reports, helps you keep constant tabs on your child's activities.
Cons:
Net Nanny's hold on the social media platforms and websites has been curbed to a certain extent. It is not as effective as it used to be earlier.
On the mobile platform, Net Nanny does not have very effective support for iOS devices. This proves to be a challenge for the software.
Installation and Customer Support
First and foremost, Net Nanny provides you with a helpful installation wizard that takes you through the installation process. All in all, the entire interface is user-friendly. You would be introduced to all the steps here and be explained about the different programs and related features.
Apart from that, there is a knowledge base of information including FAQs, articles, and blogs that could help you solve any possible query in the installation process. If you still face difficulty in setting up the software, you could always resort to Net Nanny's telephone support and live chat support options for more help. You can call them at 1-801-508-3596.
Pricing
If you are setting up the software for one device, the price starts at $39.99 per device per year. This reduces to $59.99 for a 5-device package with each device costing around $12 per year. Finally, for a set of 10 devices to be tracked and monitored, the total price stands at $89.99 or simply, $9 per device per year.
Final Verdict
In general, Net Nanny proves to be a very effective internet safety tool, with a host of useful features to choose from. The software itself is easy to use and comes with good customer support properties. If you are planning to support Windows, Mac or Android systems, this would be the ideal choice, at affordable prices. However, it is best to avoid this software for iOS devices.
Visit Net Nanny