Last Updated: September 1, 2023
Parentaler Review 2023
As digitalization continues to shape our world, ensuring children's online safety has become a paramount concern for parents. Parentaler, a new entrant in the parental control app market, aims to provide a comprehensive solution to this challenge.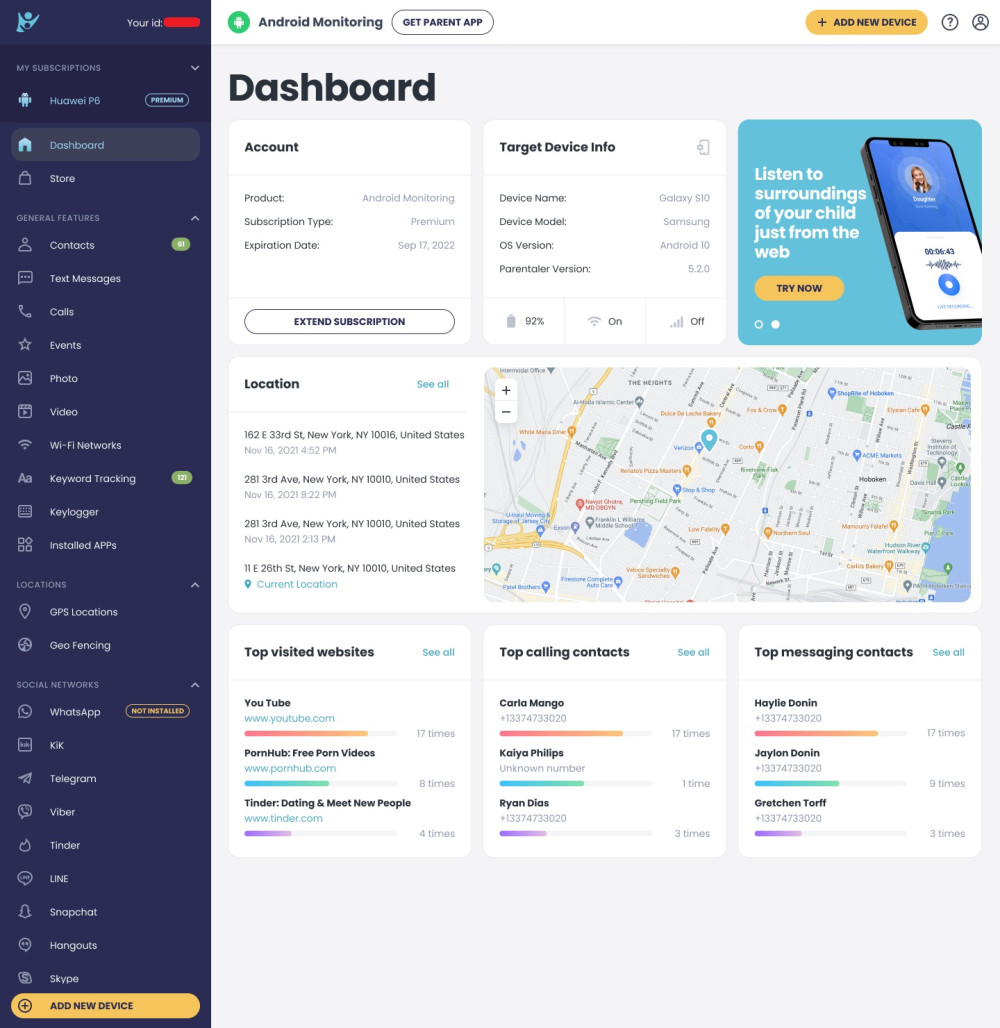 This all-in-one app is designed to track both online and offline data, offering a 360-degree view of a child's activities. Compatible with most Android and iOS devices, Parentaler is a versatile tool for modern parenting.
Eager to protect your child in the digital realm? Establish your parental control account here:
Try Parentaler
Feature Set
Parentaler offers a robust set of features that take digital monitoring to a new level. Unlike many parental control apps that focus on non-intrusive monitoring, Parentaler provides access to the content of chats and search queries, addressing the reality that most digital threats come from private communications. The app's features include location tracking, internet filtering, app blocking, and smart alerts, providing parents with a comprehensive toolkit for monitoring their children's digital activities.
Social Media Monitoring
What's great about this parental control app us that it really excels at monitoring social media, messaging apps, and default messengers. The application links to various platforms, including the following:
What is does is that it allows parents to read both sent and received texts, view calls, see contact information, and view shared media across these platforms.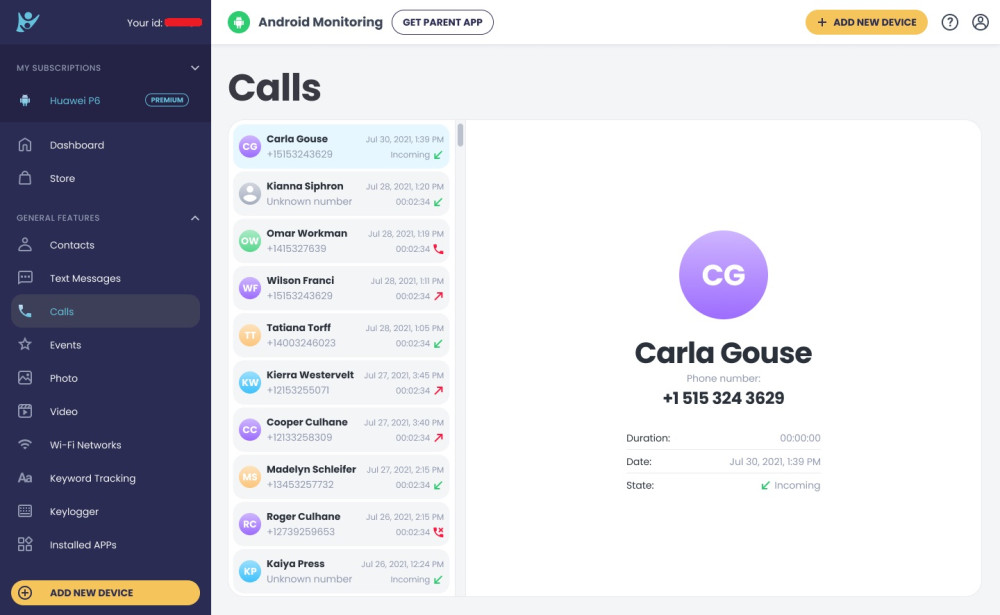 Location Tracking
As an essential part of modern parenting, its advanced GPS tracking offers a dynamic solution to ensure your child's safety at all times. The Parentaler location tracking feature assists parents in tracking their child's whereabouts accurately in real time. From parks to playgrounds, their GPS feature lets you monitor your child's movements seamlessly.
You can also review historical location data, making it easier to identify your child's frequent spots. This feature is highly beneficial in providing insight into their routines and patterns. By maintaining real-time updates and a history of locations, Parentaler empowers parents to keep their child's safety as a priority.
Parentaler's location tracking isn't limited to GPS monitoring. Its unique geofencing feature elevates child safety to the next level. As parents, you can define geographical boundaries, also known as 'safe zones.' You'll get instant alerts when your child enters or leaves these designated zones. Whether it's school, a friend's house, or a ballet class, you'll be able to set your desired boundaries with this geofencing feature.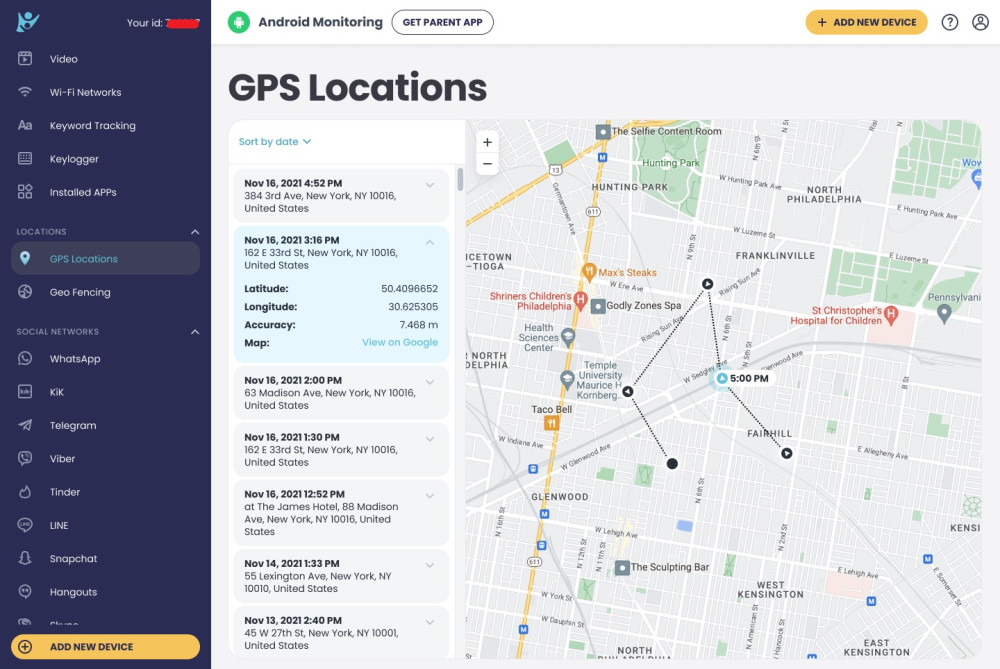 The user-friendly interface allows you to customize the geofencing feature to best suit your family's needs. You can create multiple safe zones for various locations and tweak them as necessary. With this proactive alert system, you're always one step ahead in ensuring your child's safety.
Internet Filtering and App Blocking
Parentaler tracks the websites visited from the target device and allows parents to restrict any harmful resources by adding the link to the blacklist. The app also comes with a Wi-Fi connection blocker, which can shut off Internet access when a child's screen time exceeds the limit. Additionally, Parentaler gives parents the power to limit access to any apps installed on the target device.
Smart Alerts
Parentaler's smart alert system notifies parents about specific text messages, changes in location, search queries, and other device activities. These alerts can be received even without being logged into the app, providing parents with real-time updates about their child's digital activities.
Pricing and Compatibility
There are 3 Parentaler price options to suit your needs and budget. Choose from three subscription plans: monthly ($42.69/mo), 3-month ($24.40/mo), and yearly ($10.17/mo, billed at $121.99 instead of $199.99). Their model requires subscription to access its features and services, which can be renewed after each term.
| Account Type | Price |
| --- | --- |
| 1 month | $42.69 per month |
| 3 months | $24.40 per month |
| 12 months | $10.17 per month |
Payment for a premium package can be made using Visa, MasterCard, Discover, or American Express. Although there's no coupon or discount code field at checkout, all plans are already priced at a discount, offering value without the need for extra codes.
Here's the deal
There are no hidden fees with Parentaler. The subscription rates are transparent, but be aware of potential external fees related to your location, payment method, or specific feature requests.
Looking to secure your child's online experiences? Initiate your parental control account here:
Join Parentaler
Installation and Setup
Setting up Parentaler is straightforward. The app uses a web-based algorithm, meaning you don't need to install it on your own device. You simply sign up for an account, select the type of device your child uses, and then proceed with the installation steps. For iOS devices, Parentaler offers a no-jailbreak solution that requires only your child's iCloud credentials for setup. For Android devices, one-time physical access is required.
Conclusion
Despite being a new player in the market, Parentaler has already demonstrated several advantages over similar apps. Its cross-platform compatibility, quick installation, quiet monitoring, and round-the-clock customer support make it a standout choice for parents. With its transparent pricing plans and a 14-day money-back guarantee, you can test the application risk-free. In summary, Parentaler is an exceptional remote monitoring app that combines high-end features and budget pricing to help ensure children's safety wherever you are.
Prepared to ensure your child's digital safety? Get started with your parental control account here:
Join Parentaler