Last Updated: December 1, 2023
Google Family Link Review 2023
Introduction
Smartphones can be educational and entertaining but also dangerous. Despite its many benefits, it can also pose hazards, and addictions especially among young kids. From excessive screen time to accessing age-inappropriate content, parents are not aware of what their kids are exposed to. There are few ways to know better what your kids are doing online, one of the best ways is to have a parental control app installed on your kids device which lets parents monitor what their online activity. Some of these apps cost money but some are free and provide parents with some good protection tools.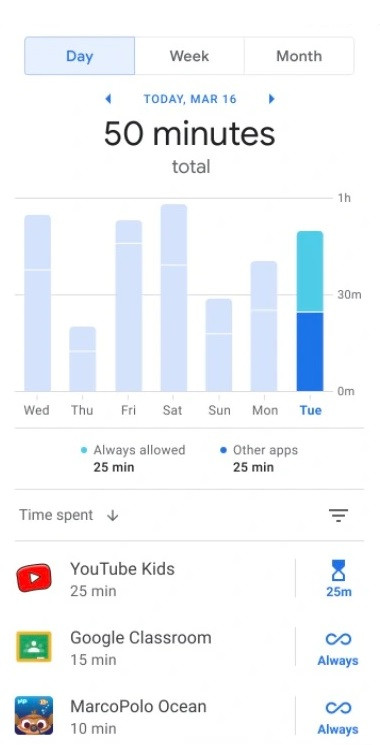 Google Family Link, which is part of Google's attempt to help parents to provide a safer environment for their child, is a great start. Developed by Google, the Family Link app has powerful parental control features. It will let you establish digital rules to manage screen time and protect your kids from the dangers of the online world. Keep on reading to learn more what is Google Family Link and how it can help you keep your kids safe online.
Visit Family Link
Google Family Set Up
Setting up Family Link is an easy process. Whether you have an iPhone or Android phone, here's what you should do.
Start by downloading the Family Link app.
Sign-in into the app. To do this, you need to have a Google account. If you do not have one yet, you will need to create one first.
After signing in as the parent, you can now create an account for your child. At the top right corner, look for the "+" sign. Follow the on-screen instructions.
Grab the phone that you will monitor. Sign-in to Family Link and follow the on-screen instructions. You can now configure the app depending on the restrictions that you would like to set.
Family Filtering, Blocking, and Monitoring
With Family Link, you can enjoy a wide array of features that will provide you with peace of mind. Below, we'll take a quick look at some of the things that you can do with the Google Family Link app.
Filtering
In any parental control app, one of the most important is to have web filtering features. This way, you can gain control over the online content that kids can access when they are online. Luckily, Family Link for children got you covered. Through the built-in filtering options, you can control what kids can search for. You can allow all sites, block sites with mature content, and allow only certain websites that you have approved. The app will prompt a warning saying that no app is perfect, which should be taken as a sign that it may not effectively filter all age-inappropriate content. This is quite disappointing, and one of the main weaknesses of Family Link.
Blocking
You also have the option to block content and apps. As noted above, you can block mature websites. You can also block downloads of apps on their phone. Plus, you can block in-app purchases. When they are downloading an app, you will receive a notification. Then you can choose to approve or reject the download.
Monitoring
Another way by which you can have peace of mind with the help of Family Link is by monitoring the online activities of kids. For instance, you can monitor their screen time. You can impose limits after a certain duration and let the device lock automatically. As we will be talking about later, you can also monitor their location.
Pros and Cons
Pros:
Free
Available for both Android and iOS
Works great both on iPhone and Android
Cons:
Does not log website activity or search history
No SMS and call monitoring
No messaging apps monitoring
Mobile Support
iPhone
While Family Link is an app created by Google, it is also compatible with iPhones. The minimum requirement is that the iPhone should have iOS 9 or higher. It has the same features as what you will find in the Android version of this parental control app. For additional reviews of the best parental control app for iPhone visit our review section.
Android
Since it is from Google, Family Link for children is guaranteed to work on Android. The minimum requirement is that the operating system should be Android 5.0 (Lollipop). The features are the same compared to Family Link for Chromebook, and even for iOS. For additional reviews of the best parental control app for Android visit our review section.
Location Tracking
One of the best features of the Family Link app is that you will stay in the know of where your kid is. For sure, there have been many times when you are trying to reach them and you cannot contact their phone. You do not have to run to the police every time you cannot reach your child. With apps like Family Link, you can determine their location.
Here's how you can set up the app to track the location of your kid.
Open the Family Link app.
Select the account/profile of your child.
Click Location, then tap Set Up.
Click Turn On. Once everything has been set up, it may take about half an hour before the app can start detecting where your child is.
Once this is enabled, you can see your child's location on a map. However, one of the weaknesses of the app is that it does not allow geo-fencing. This means that there is no option to set limits on locations wherein you will be notified if your child is beyond the radius specified.
Time Management
If you want to manage your kid's screen time, then you have another good reason to install Google Family Link. You can specify the limit as you wish and set a bedtime. There is also an option to lock their device remotely, such as when it is time to study or have dinner. This way, they won't be on their phone when they have to do something more important.
To set daily limits, here's what you should do:
Open Google Family Link.
Select the account/profile of your child.
Choose Daily Limit, then click Set Up or Edit Limits.
Save when you are done.
When it comes to setting limits, you can also set a bedtime. This means that the device will automatically lock so your kid will stop using the phone and go to sleep. There is also an option to add a bonus time.
Pricing
With all of the things mentioned above, you are now probably curious about the price of the Google Family Link App. It is FREE! Yes, you read that right! You don't need to pay even a cent to unlock its full potential. This is a great alternative for those who are on a budget. There's no reason why you should not give it a try! If you are unhappy, you can always uninstall and look for other parental control programs that suit your needs.
For more free parental control apps please visit our special free parental control apps review.
Conclusion
In sum, Google Family Link is a nice parental control app. It works on both Android and iOS. This is a great way to provide you with peace of mind regarding the online activities of your children. You can view their online activity, manage apps, and set limits. The best thing is that it is FREE!
Despite the many good things about Google Family Link, however, it does not come without issues. It has weak filtering and blocking capabilities. The features are also basic. Nonetheless, this is one thing that you should expect given the fact that it is free. If you want to enjoy more premium features, then settle for paid parental control apps.
Visit Family Link