Last Updated: September 1, 2023
Norton Family Premier Review 2023
Introduction
Norton Family Premier from Symantec is an excellent cross platform parental control product, allowing the monitoring of as many devices as required for $49.99. From a price to value perspective, $49.99 for Norton is excellent. Even better, for an extra $10 you can just get an annual antivirus package which includes Norton Family Premier.
IMPORTANT NOTE: SAVE $50 with

Norton 360 Deluxe

which is offering parental controls as well as part of the 5 device protection package for only $49.99. Grab it here.
Visit Norton Family Premier
We very much like the Norton dashboard, which provides intuitive reporting (highlights also delivered once daily to your inbox) as well as 'house rules' configured by age groups, which is conveniently preset according to the age of user on each particular device. Each category is presented separately, which allows for intuitive management of rules and monitoring.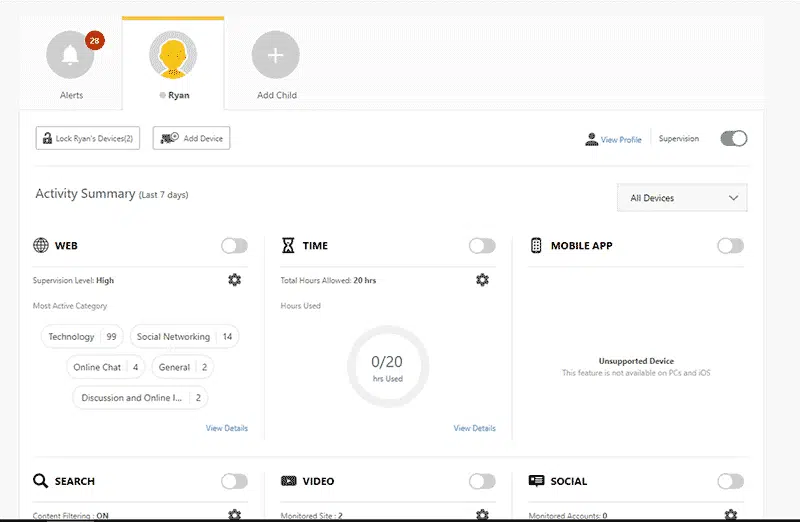 On desktop, Norton automatically enables the safe search mechanism across most browsers, search engines, and video networks, offers Facebook monitoring, and efficiently filters websites across browsers.
On mobile, Norton (and we) very much recommend requiring your child to utilize their application as the web browser. With the web browser, you can rest assured that Norton's robust monitoring and blocking capabilities are working properly. Most mainstream browsers are also covered – with the notable exception of Safari which is automatically disabled when Norton is set on iOS systems – but a truly dedicated child might be able to find ways to circumvent the rules.
How to Set up Norton Family?
Go to Norton Family and register for your free 30 day trial. You will then be asked to set up your child's profile.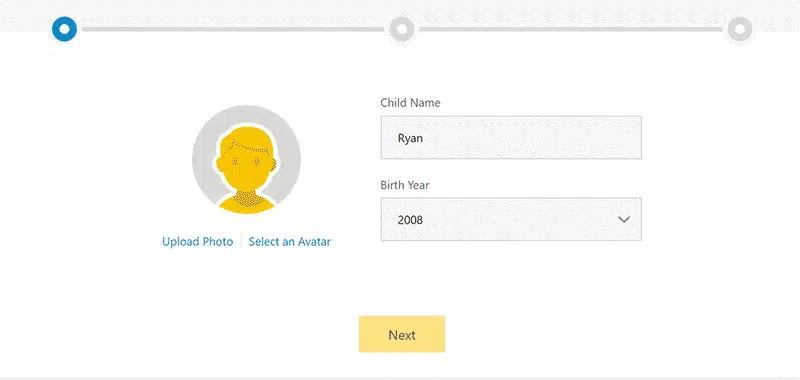 And then follow the instructions to download the client on your computer.

Associate your child with the computer. Make sure that your child has his own Norton Family login so that the settings do not apply when you are using the computer under your name.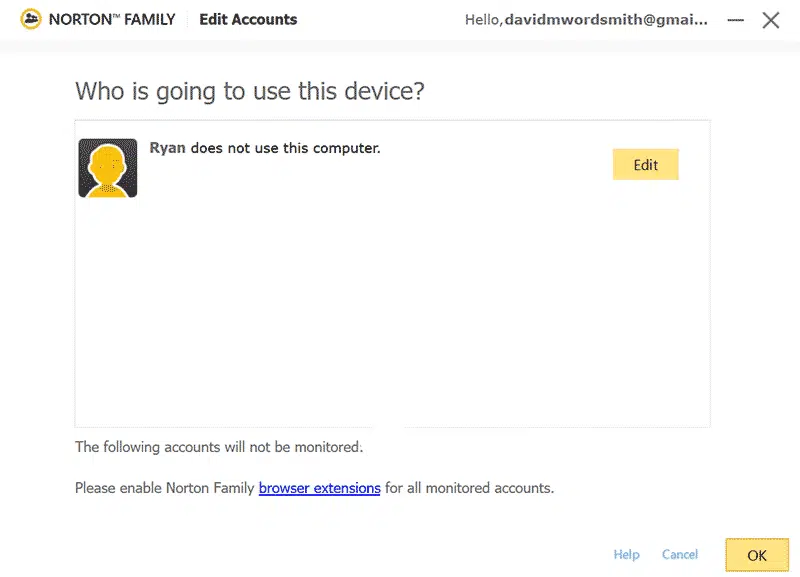 Next, install the Norton's application on your child's phone. Note that the application doubles as the web browser, and it is preferable that your child agreed to do all web searching through the app.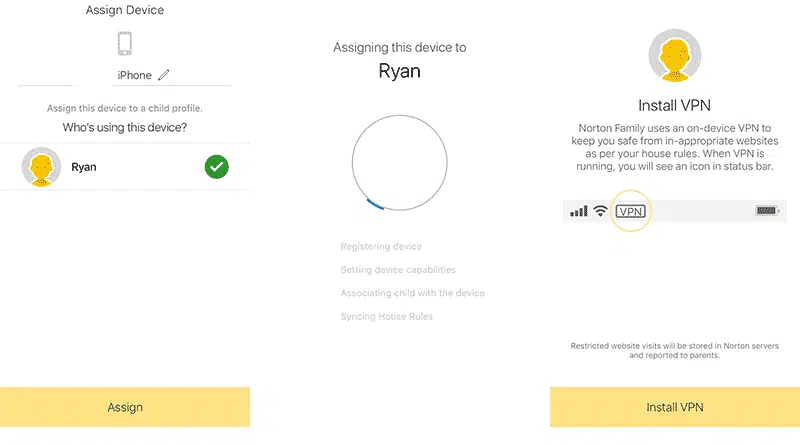 Notice that Norton sets up a VPN when you first register your child as the device owner. The VPN is a method by which all web query and site requests are made via Norton's servers, necessary to apply the rules set up from the Norton dashboard. This also requires enabling Norton's "profile", which basically tells the mobile device to run everything via the VPN.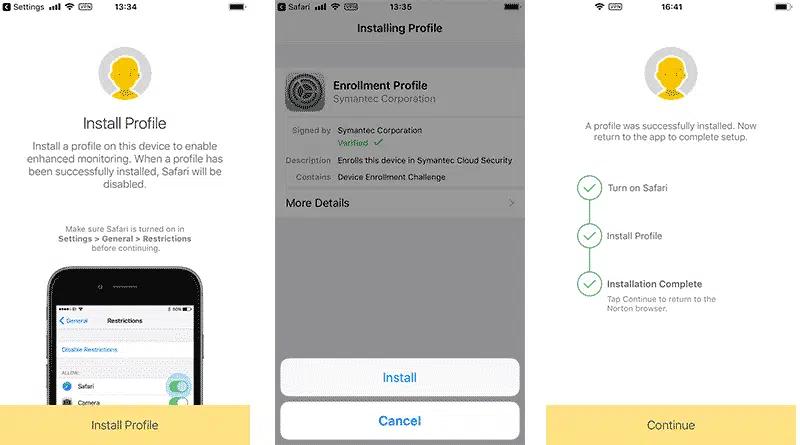 Norton Family Filtering, Blocking, and Monitoring
IMPORTANT NOTE: SAVE $50 with Norton 360 Deluxe which is offering parental controls as well as part of the 5 device protection package for only $49.99. Grab it here.
Web Filters
To keep your child and family safe and secure, Norton comes equipped with 47 filter categories including alcohol, violence, pornography, weapons and the like. In addition to these, some more advanced categories include suicide, crime, plagiarism, news and so on.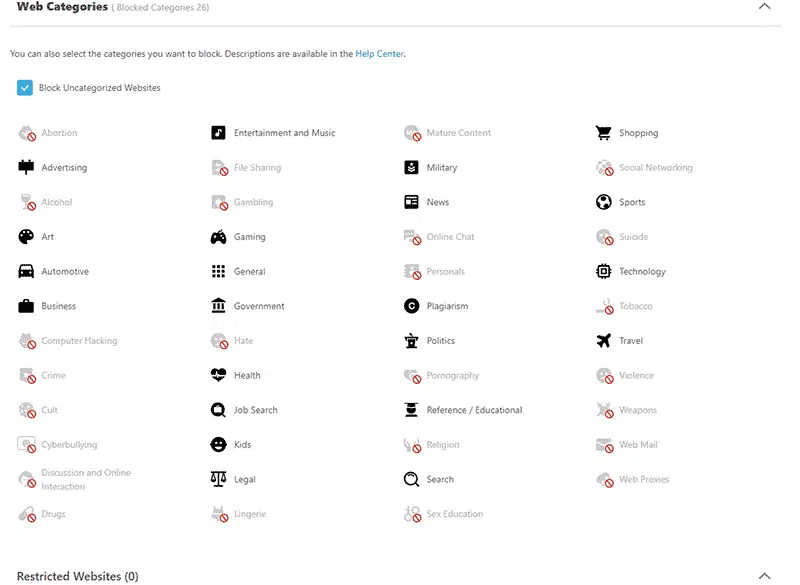 These Categories are pre-blocked according to the age of your child.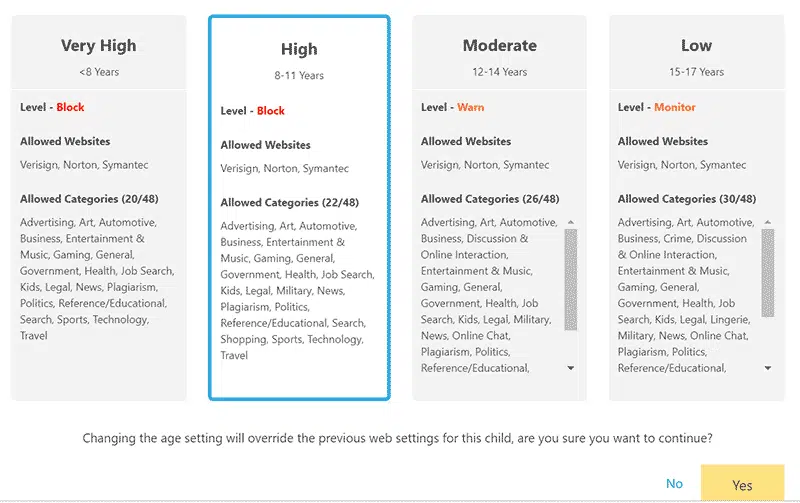 Block or unblock additional categories of websites with a click, choose whether to block all uncategorized sites, and exclude particular sites from their corresponding category filtering. You may also choose whether to block, warn, or monitor your child's web activity, though the choice cannot be set differently by category. All or nothing.
Parents are notified of all web activity in real time from within the dashboard.

More information is available under each site, and you may also allow the website or dispute it's categorization with a click. Once daily an email is sent detailing all the blocked sites your child visited during that day's allowed hours.
Unfortunately, you are currently unable to designate different categorizations by device.
Search
Norton enables the desktop filtering options available on Google, Bing, Yahoo, YouTube, and an assortment of other search engines, which prevent inappropriate content from appearing in search results.
When running Norton on mobile phones, it is highly recommended to use the Norton Family app as the web browser. This ensures that all the control configurations properly apply, that all the search engine age appropriate filterings are applied, and that all web content is properly filtered.
Note that Norton is unable to filter search results on Safari, the default browser on iOS. When the app is downloaded and installed on iOS products, Safari will automatically be disabled and the app hidden. Other search apps generally work fine, but requiring your child to use the Norton app for internet activities, will ensure their inability to circumvent restrictions.
Application Rules
Norton is much more effective on Android than iOS – as a matter of fact, Norton makes a good argument for being the best Android parental control software out there. A list of every installed Android app is located in the Mobile App section of the dashboard, updated with every new installation your child makes. Parents may block any app, on or offline, simply by checking its corresponding box.
Unfortunately, this feature is not possible on iOS, which is an issue market-wide, not simply with Norton. For app-level permissions, use the iPhone's Screen Time in conjunction with Norton.
| | |
| --- | --- |
| Allow/Disallow by App | ✅ |
| Prevent App Download | ❌ |
| Prevent In-app Purchase | ❌ |
| Limit Videos by Age Appropriate Rating | ❌ |
Social Media Monitoring
Facebook is a massive concern for parents, as it can be a playground for cyber bullies and predators. With Norton Family Premier, Facebook may only be monitored only on windows, the capabilities are not available on Android or iOS. There are a few ways for parents to manage this.
If your children use an iPhone, use Screen Time to block the Facebook app. Make sure that your child is using the Norton Family browser, and ensure that the social media category is blocked.
On Android, the idea is the same, but you will be able to block the social media category directly from the dashboard. Unfortunately, you will then need to unblock social media for your child to use Facebook on your home computer, where it is monitorable. Not only is this inconvenient, the need to switch monitoring on and off can serve as a continuing argument starter. Proceed with caution.
With YouTube and Hulu, the process is somewhat the same. You can get the related insights at the Activity page's Video tab along with the date, time of viewing and the category video belongs to.
However, this feature is only available for YouTube and Hulu, and it could have been better if they could monitor video streaming services like Amazon Prime Videos and Netflix.
Turn on search supervision under the search tab in the dashboard.

Ensure your child is using the Norton Web Browser.

Block video apps on Android and with Screen Time on iOS.
Age Filters
Norton Family allows you to set filters based on the age of your child. When you enter your child's age, the website would automatically block websites which are inappropriate keeping the age into consideration. You can review the settings, and whitelist certain URLs which have been blocked automatically by the software, and additionally, add more websites which you do not want your child to access.
Time Limits
Norton's 'House Rules' set the allowable screen time based on the age of your child. Restriction levels are broken down into four different age groups: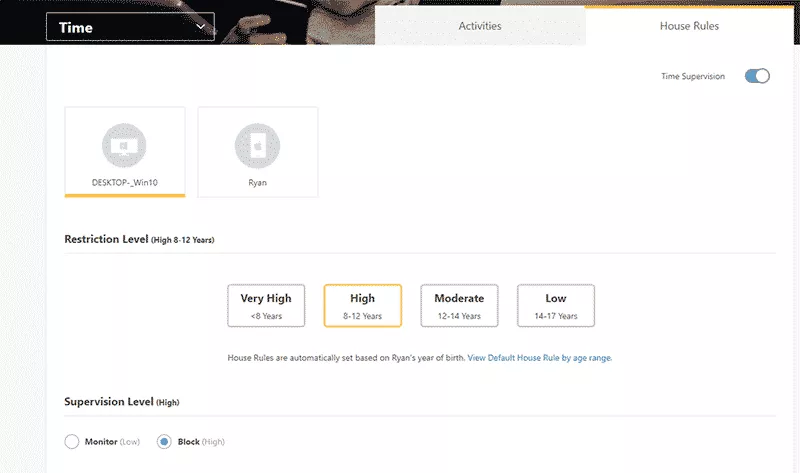 The age group determines how Norton sets blocked hours and daily screen allowance.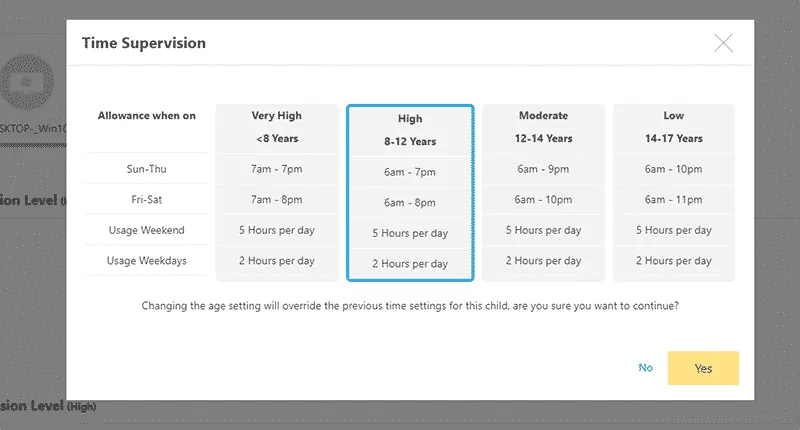 Parents may easily toggle between different supervision levels, either monitoring or blocking access to the computer entirely outside of allowable hours. Allowable and blocked hours, as well as daily hours allowed, are all easily configurable. And you may set a pin for emergency unlock.
Note that time allowance is set per device. The default settings allow two hours of screen time during the weekday, five hours (!) during weekend days. If you would like those hours to be cumulative across both a child's computer and smartphone, make sure to split the time, i.e. one hour per device is during weekdays.
Location Tracking
Norton offers standard location tracking on your child's Android or iOS device. Click on the location section for the most recent location of your child, and you may view detailed reports of comings and goings under "details". The child location feature should automatically set up once the app is installed on your child's device.
Like any parental control app, this service is available only in the US, UK, Japan, Australia, New Zealand, South Africa, Indonesia, and Hong Kong.
Norton Family for Android
Norton Family works quite wonderfully on Android phones as well. You can track the activity and set alerts for various devices that you monitor.
All in all, the app provides almost everything that a web console provides, however, the app interface is not that great. It is all a mix of white and grey elements, and the fonts are a bit small too.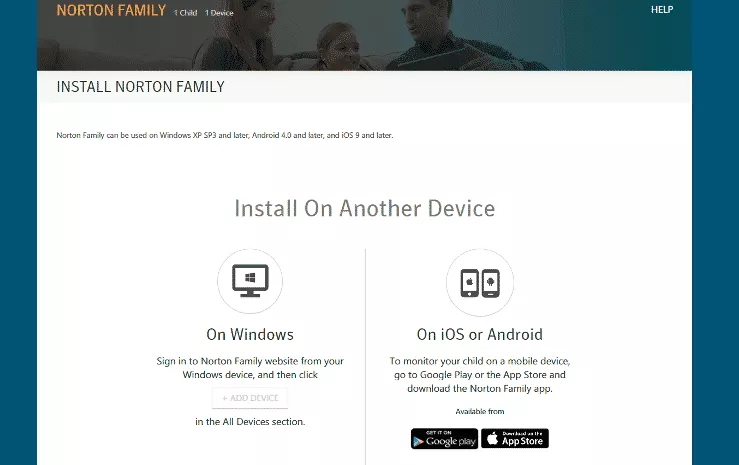 Norton Family for iPhone
Norton for iOS is not that great as it should have been. Features like text message supervision, social network and mobile app supervision and even the time supervision do not work fine.
Norton Family: Pros and Cons
Like everything in the market, Norton has its own share of pros and cons as well. Let's have a look:
Pros:
You get to track and monitor your child's activity on Windows, android and iOS devices
There is no specific limit on the number of devices that can be monitored
Flexible content blocking filtering as per the requirements
Also, helps you in tracking videos on YouTube and Hulu
Supervises contacts and SMS on Android
Allows you to track your child's location with the help of mobile devices
Cons:
Not compatible with Mac
Provides limited support on iOS
Social media tracking could have been better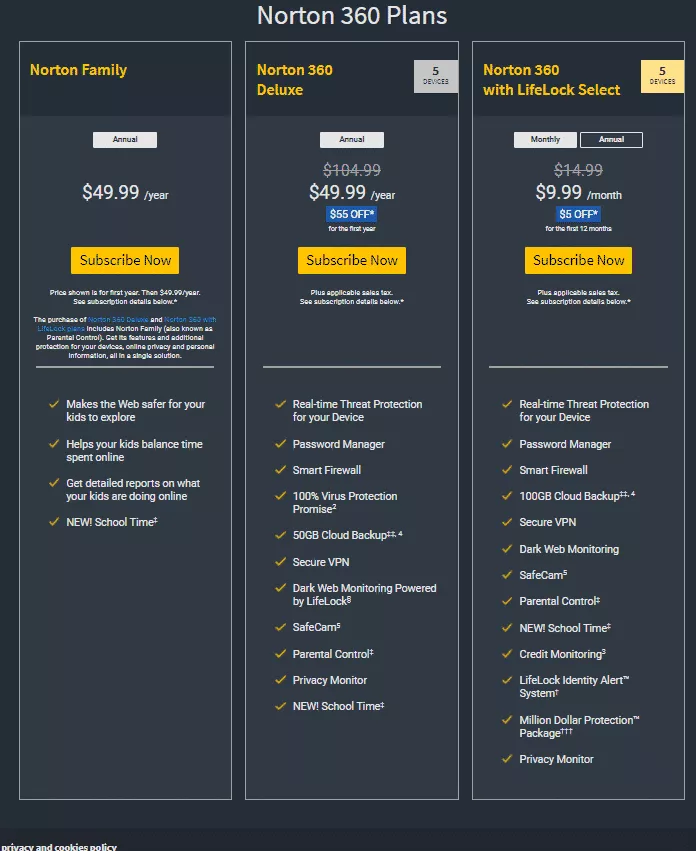 IMPORTANT NOTE: SAVE $50 with Norton 360 Deluxe which is offering parental controls as well as part of the 5 device protection package for only $49.99. Grab it here.
The Norton Family Premier is available as a standalone program, and can also be purchased as an add-on to the full Norton Premium security suite.
You can choose between two levels of subscription – Notion Family Premier for $49.99/year, and Norton Premium Security for $59.99/year. Norton Premium Security comes along with Norton Family Premier.
However, as mentioned above, you can purchase the tool as an add-on to the full Norton Premium Security by just paying $10 extra per year, which makes this option very economical.
If you are not sure about the utility and usefulness of the tool, you can try their free version for 30 days.
Interface For Parents
Originally, the web portal used to be a bit too complicated. Now, the interface has a minimal look, which is easier for parents to navigate. At the top, the profile of each child is available. Opening a tab of the child will display activities and House Rules of the child.
Keep in mind
While Norton seems to prefer its Android users over iOS users, even the parents who use Android don't have this put-together parental interface on the app. Instead, it's still a mess of toggles. It is best to use the web version if you want to access the parental feature. The iOS users are kind of dealt the worst hand in this regard, as they don't get the parental interface on their phone at all.
App Control
Other than allowing you to block any app your child might have on their device through Norton, the Android version of the app offers an instant lock feature. While they can't block kids from installing a device, an instant lock is placed on the phone when your child attempts to install an app. Unless you unlock the device, they won't be able to open it.
Contact Management
This is a feature specially made for Android and will show your child a list of six numbers they can call when their device is locked by the app. Of course, you can set the six contacts.
Request for Access
When your child uses the Norton Family Mobile App, they can send you a note on requesting access to a website or app that is blocked on their device. As your child can make a solid case in notes, this allows for easy conversation between you and them. A lot of children feel more comfortable talking about something in writing, so this is a unique feature of Norton they might love.
Categories of Content
Over 40 content types are blocked and filtered by the Norton Family App. This includes mature content, web proxies, cult, alcohol, drug, file sharing, etc. You can place the cursor on top of any of the categories and the tools related to the content will be explained to you. This allows you more flexibility when you want to customize the content.
For the web version, there's also an extra layer of protection on the new updates. In the event that a child tries to remove the Norton web extension, an additional layer of security will stop them from doing so.
Final Verdict
Norton provides a complete parental control solution, allowing robust search and site age appropriateness filters, excellent screen time management, cross device support, and the tools needed to protect your child against cyberbullying or web predators. At $49.99 for unlimited device coverage, or free with a $59.99 annual antivirus package, Norton's offers one of the best, most competitively priced solutions on the market.
Visit Norton Family Premier