Last Updated: December 1, 2023
SpyFone Review 2023
Introduction
Monitor Everything – this is what the creators of SpyFone claims. Staying true to their tagline, this is indeed an intelligent smartphone monitoring application, which is a great way to have peace of mind. While there are many situations when it can be useful, our focus is its use for parents when monitoring their kids.
From cellphone messages to social media accounts, SpyFone promises to extend a helping hand if you want to monitor your children. They have multiple packages available and are accessible through a variety of devices.
Want to know more about this software? Is this powerful enough to know what your kids have been up to? Read the rest of this short SpyFone review to find out!
Visit SpyFone
App Set-Up
The installation of SpyFone is an easy and straightforward process. However, you will need to have a physical access to the mobile phone where you will install the application. You can't do it over the cloud.
First, you need to go to the website where you will buy the app. Choose the package that suits your needs. You will then have to enter your email address.
Check your email and you will receive a registration code. Click the link that comes with the email. It also contains information about your username and password. Downloading and installing the app on the target device will take less than one minute. Within 15 minutes, meanwhile, you can already start monitoring.
Once the app is downloaded, you can now have it configured as you wish. You can select the features that you want to activate, including those that we'll be talking about in the rest of this short review.
Web Filters
Parental control apps must be able to offer a function where you can filter web content, making sure that they will be inaccessible to kids. SpyFone can do so.
One of the shortcomings of SpyFone is that there is no option to block websites based on keywords or categories. We have reviewed other apps in the past wherein you can easily set specific keywords and it will make websites related to such keywords inaccessible to the target device. With SpyFone, you have to individually input the URL of the website.
Blocked List
If you want to block a certain website, go to the dashboard and choose Blocked List. You will see the photo above. Next, input the exact website URL, choose Block, and click on Submit. Below, you will see a list of all the blocked websites.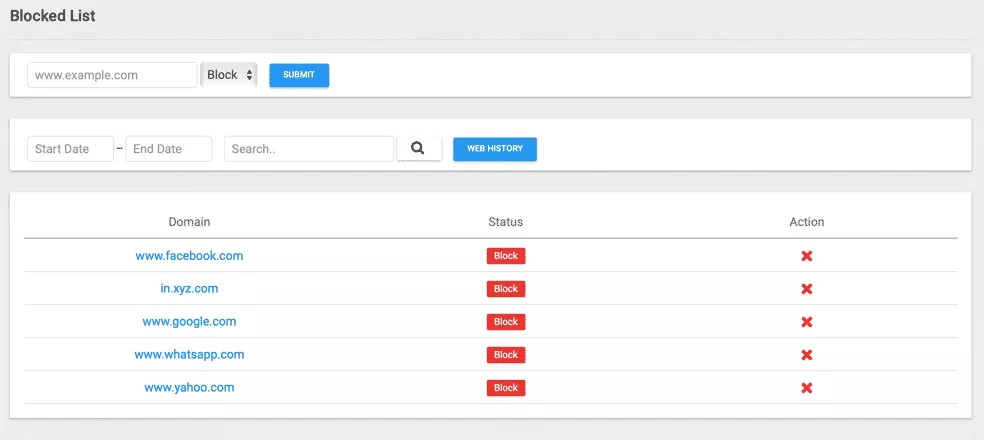 Activity Record
Like other top-rated options for the best parental control software, SpyFone keeps a long list of records, which will keep you in the know with regards to what your kid has been up to.
Calls and Texts
At the most basic, SpyFone will keep a record of the texts and calls your child has been receiving. On the dashboard, click on calls, and you will see the last people your child has been in contact with, including the time and date of the call, as well as its duration.
Like most of the parental control apps you will see in the market, you can also monitor text messages. Click SMS from the dashboard and you will see a quick snapshot of all received and sent messages, even those that have failed to send.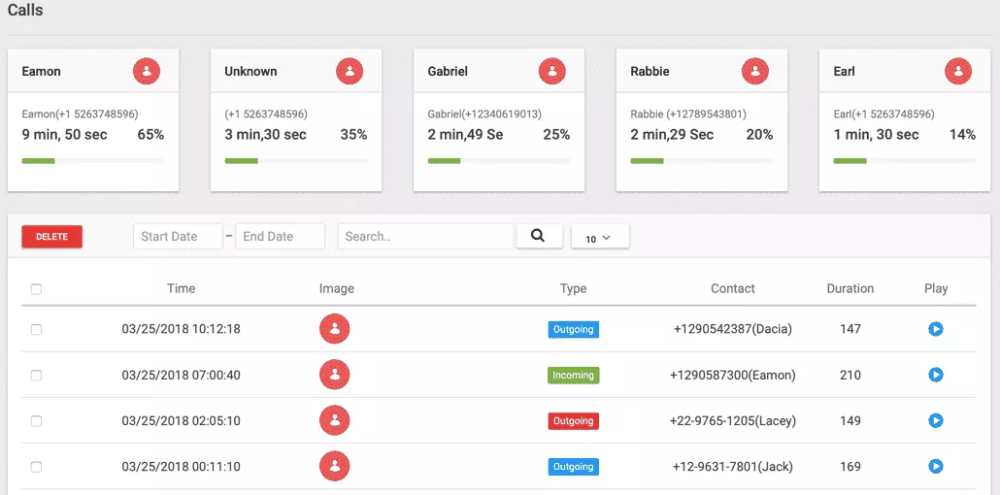 Web History
As it is typical of any other parental control software, activity records also include details about web browsing history. You will know the specific websites your kids have been visiting, as well as the time and the date.
Instant Messaging
Facebook Messenger, WhatsApp, Skype, Viber, KakaoTalk, Kik, Line, and Hangouts are some of the instant messaging applications that you can also monitor. Nowadays, texting seems like a forgotten art because of the numerous online messaging apps. With SpyFone, you can monitor these apps and you can act accordingly.
SD Card
With the use of Spyfone, you can also access the SD card of the target devices. There's no need to deal with wires. Through a remote connection, you can see the files in the memory card. You will have complete knowledge of the files that are stored in your child's phone.
Location Tracking
If you want to have peace of mind about the whereabouts of your kids, this is one feature that you will appreciate, it provides real time information about where your child is. You can see the exact address or coordinates.
Real-Time Tracking
Is your kid not answering his or her phone? Do you want to know if your child is telling the truth about his or her location? Then you can activate the real-time tracking feature of Spyfone.
From the dashboard, go to Location. After clicking, a map will open similar to the photo above. This is the current location of the device that you are monitoring. When you scroll down, you will also see the GPS position history, including date and time your child has been in a specific location.
Geo-Fencing
Aside from tracking, geo-fencing is another impressive feature that you will see in SpyFone. Scroll down the window and you will see a tab that says Create. From here, you can input a new restricted location. You will be instantly alerted once your child is beyond the fenced location.
Live Viewing
If it is not enough that you know the address where your kid is, the live viewing feature of SpyFone will also come handy. You can monitor your child's location in real-time through video and audio. Although, we would like to caution you when it comes to the use of this feature. It can be too much of an intrusion of privacy, so this may not be necessary.
Time Management
One of the biggest issues with SpyFone is that you won't have access to time management features. While you will have endless ways to monitor the smartphone of your child, you will not be able to set limits on its usage.
Unlike other parental control apps, you cannot specify a limit on screen time. For instance, there are some apps that automatically disable the phone after an hour of internet usage. Some apps can also allow users to set different limits during school days and off days. This is one big improvement that we would like SpyFone to offer in the near future.
Mobile Compatibility
SpyFone is compatible with both Android and iOS devices. At the minimum, your phone needs to have Android 4.0. Any older version will be incompatible.
On the other hand, it supports all iOS versions. If it is going to be installed in iPhones, you will need to have the iCloud log-in credentials.
Pricing
If you are looking for a reliable parental control software that does not cost a fortune, SpyFone is sure to fit the bill. This is one of the cheapest from the smartphone monitoring apps that we have reviewed, yet it does not disappoint. It is loaded with amazing features, so you can be confident that it will provide the best bang for the buck.

The prices will be different depending on the operating system of the target device.
For Android
Basic: $4.17 per month, billed annually for $49.98
Premium: As low as $8.33 per month, billed annually for $99.8, quarterly for $59.98, and monthly for $29.98
Extreme: As low as $12.50 per month, billed annually for $149.98 and quarterly for $89.98
For iOS
Premium: As low as $7.50 per month, billed annually for $89.98 and quarterly for $44.98
If you are not yet ready to opt for any of the paid plans that are offered by SpyFone, there's no need to worry. You can sign-up on their website to try it for free. This is a good opportunity for you to tr the features and functions before you decide on a subscription plan that works best for your needs.
Final Verdict
In sum, SpyFone is an amazing option for the best parental control software. Many of you will love how affordable the plans are. It is also packed with features that will make it highly functional. However, there are also a couple of things that we don't like. For instance, you cannot set keyword filters to limit websites that your kids can access. Despite the shortcomings, SpyFone is still a league of its own and can be promising.
Read additional reviews and compare with other parental control apps for iPhone and Android.
Visit SpyFone