Facebook has introduced a new feature on Messenger that allows users to hide their messages. The hidden messages will not show up on the popular texting app. If you want to monitor what your child has been up to recently and what sort of texts they have been hiding, good news! Deleted texts can be recovered. The secret conversation is a unique addition to Facebook Messenger, where the messages disappear after a given time, if not deleted. To learn how to find secret conversation history Messenger version, keep reading.
Messenger Secret Conversation and Its Dangers
Vanish Mode gained instant popularity the moment it was launched on Facebook Messenger. Social media users loved the superior security Facebook was offering, which is pretty ironic from the social media platform known for security breaches.
Secret conversations let users engage in a hidden, private conversation. Since the messages are end-to-end encrypted, they do not appear within regular texts. Therefore, no one but the two in the chat will be able to read what went on in the secret conversation. Messages in this feature can be 'vanished' by setting a timer.
Although secret conversation seems like a fine way to securely chat with someone, it can also be dangerous. Most importantly, the illusion of privacy and security is the main security concern to be worried about.
Can I View Deleted Secret Conversations on Messenger?
Let's say your child deleted their secret conversations from their account, but you still need to view them. There are two ways in which you can view deleted Messenger conversations. Firstly, launch the Messenger app and check if those chats were moved to spam or archived. If they are, restoring them is a click away.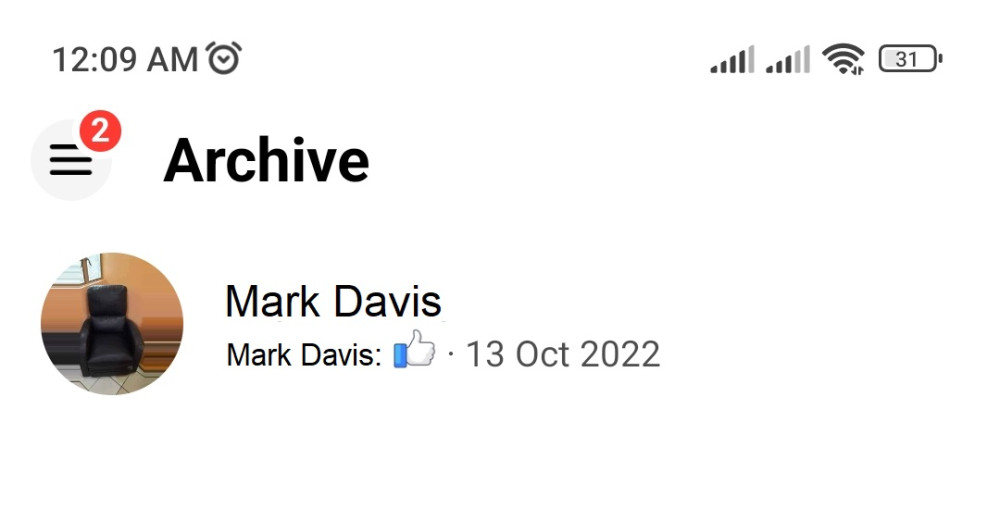 For a complete guide, follow the steps given below to restore deleted texts on Messenger:
Step 1: Open the Messenger app on your iOS or Android device.
Step 2: Then, choose the "Recent Conversation" option.
Step 3: Here you will find the conversation's messages that had previously been archived on Facebook; type in the name of the recipient you wish to find in the search bar.
Step 4: Once you find the conversations, tap on the 3-dot icon. It should be at the top right and then select "Hidden Chats" to restore the archived conversation.
Step 5: If the messages were in the spam folder, select the message request option and go into the spam section. Choose the conversation you wish to revive and send a message there. The message can be anything, actually. You will find that the conversation has been returned to the chatbox
Tip: If these steps seem too complicated, you could use a spy app like uMobix. Once it's installed on a phone, you can quietly watch Messenger chats and other messaging apps.
Test uMobix!
How to View Deleted Secret Conversations on Messenger via Android
Take note
You can find deleted secret conversations on Facebook Messenger using an Android device only if the conversations were recently moved to the spam folder.
Follow these simple steps to retrieve the conversations:
Step 1: First, launch the Messenger application on the target device and look for all the online conversations in the texting section.
Step 2: Look up the name of the person your child had initiated a secret conversation with in the past, or you suspect they still converse with.
Step 3: Make sure to check out the Message Request and Spam sections to ensure the chats aren't there.
How to See Secret Conversations on Messenger via iOS
Read this first
iPhone or iPad users can only start a secret conversation with each other if both phones have Messenger installed on them.
First, make sure who you are looking for is available in the chatbox. Text them if it's not there. Then you should be able to view their previous secret conversation; granted, they did not set a disappearing timer. Follow the steps mentioned below to see any secret conversation on an iOS device:
Step 1: First, start the Messenger app on the device and go to the messaging section.
Step 2: Once there, start looking for the person whose secret conversation you want to retrieve.
Step 3: After finding the targeted individual, select the icon and choose the "Go to Secret Conversation" option.
Step 4: All secret conversation chats come in a black theme to go with the hush-hush vibe of the feature.
How to View Secret Conversations on Messenger from Another Phone
At this point, you may wonder where the secret conversations can be accessed from another device. Well, the answer is YES. You can easily see those secret chats by opening Facebook on your PC browser. Check out the points mentioned below:
These chats are stored in a separate chatbox, not the one usually found in regular Messenger.
The two people chatting there can access their secret conversation from any device.
If those messages were ignored, archived, or removed, you can retrieve back easily.
The secret conversation features end-to-end encryption to secure the chats. *Applicable for every device.
How to See Secret Conversations of Others on Messenger?
As much as technology has opened children up to a vast world of endless knowledge and risks, it has also introduced ways for parents to keep tabs on their kids. Facebook has often developed its current app to make it safer and more secure.
To monitor what your kids are up to, you must use a third-party app. However, the app requires permission from the device you wish to spy on. You can simply follow your child's Facebook habits with these third-party applications if you are a parent. You may spy on someone's Facebook account using one of two ways: by signing in to their account or by using a third-party app.
To gain access to all of the chat heads' private talks, simply follow these easy steps:
Step 1: Firstly, launch the Messenger app on the selected device and log in.
Step 2: Choose the secret conversation you are doubtful of and check it without making the original owner suspicious.
Step 3: When you wish to track the messages of an account that isn't yours, you need to have their password and ID to access their device in the first place. Third-party apps like mSpy are the best in this case.
Try mSpy For Free!
Leveraging a Specialized App
When your goal is to uncover someone's secret chat history on Facebook Messenger or read their ongoing messages, you might find it beneficial to use a surveillance or spy app.
An exemplary choice for this purpose is mSpy. This combination of parental control and surveillance app boasts features that enable you to remotely view another individual's messages directly from your own phone.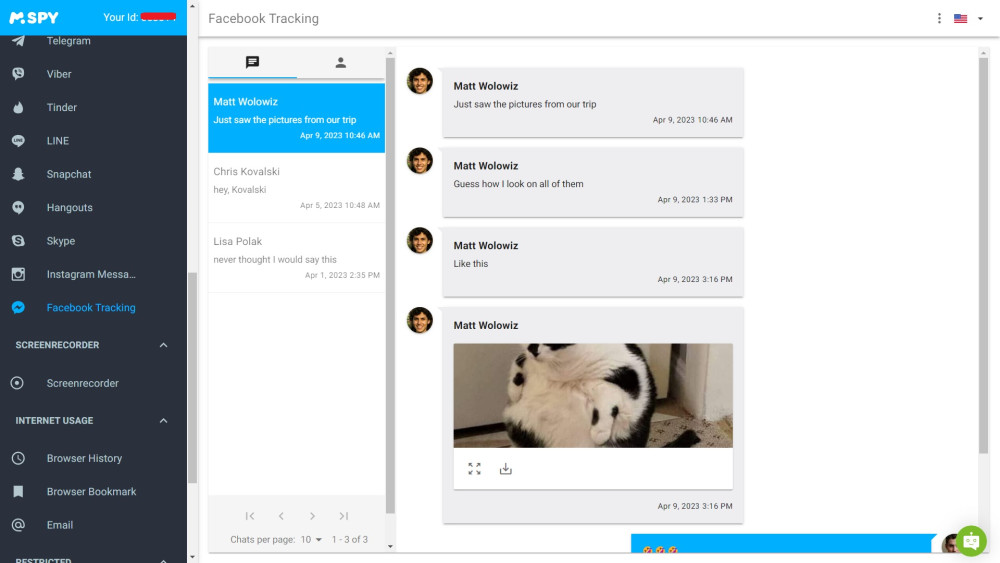 In addition, it not only allows monitoring of Facebook activities but also provides comprehensive visibility into their overall social media behavior, geolocation data, browsing history, and more.
Did you know?
This app, compatible with both iOS and Android platforms, requires only a minimal setup process. Unlike its counterparts, mSpy doesn't necessitate rooting an Android device or jailbreaking an iPhone. Moreover, the app provides various alternatives for installation on your device.
To activate this application, start by creating an mSpy account and selecting a subscription plan that aligns with your needs. Post-subscription, you'll receive a welcome email filled with step-by-step guidelines on installing the app on your devices. It's crucial to adhere to these instructions for the service to function seamlessly.
After successful installation on both your and the target's devices, simply navigate to the mSpy control panel. Allow it a few moments to accumulate data, and you can then initiate your surveillance activities - including viewing hidden conversations on Messenger.
Are There Other Apps That Can View Secret Conversations?
Certainly, it's reassuring to note that a multitude of third-party applications, falling under the categories of parental control and spy software, possess the ability to track covert conversations on Messenger:
How to Decrypt Secret Conversations on Messenger
Sometimes your children may send secret information to others on their Messenger in an unconventional language. If you wish to decrypt those messages, check out the simple guide below. The steps mentioned here will not expose your snooping around or harm the information:
Step 1: When you see an encrypted message, you have to decrypt it fast. Copy and paste the coded message into text.
Step 2: Once the previous step is done, you will receive a key from the sender. This key should help you decode the message. Therefore, you can retrieve the correct information from the coded messages.
Step 3: Take the message, input the key, and choose the decrypt option. Voila! You can now read the actual message.
How to Track a Secret Conversation on Facebook?
Monitoring your child's phone is not as difficult as it seems. As a worried parent, you might be forced to track their Facebook activities to make sure they are browsing the Internet safely. For that, you can either log into their Facebook account or use a third-party app. To track a secret conversation from the Facebook app:
Step 1: Open the Messenger app and log into Facebook.
Step 2: Choose the chat or secret conversation you need to track, and the software will display all their messages without notifying the other person. Thus, your inquiries remain undisclosed.
Take note
If the account's owner adjusts the secret messages' time, sadly, the messages will disappear after they have been seen. This is where a third-party app comes into play. A solid tool like that can help you track any conversation your child has, whether it is on Facebook, WhatsApp, Snapchat, or Instagram.
A Device Was Removed from the Secret Conversation: What Does This Mean?
When you are checking out secret conversations, you might hear a subtle notification that someone has exited from the conversation. No need to worry! This is simply a confirmation notification alerting you that the other party has either signed out or left the chat. In this case, the old private messages will not be available anymore and you cannot view them.
I Hear a Secret Conversation Notification, But There Is No Message
Chances are...
The notifications of your device are malfunctioning. Go to Settings and turn on Notifications. After a time, a notification will automatically be sent to you every time someone sends a message in a secret conversation.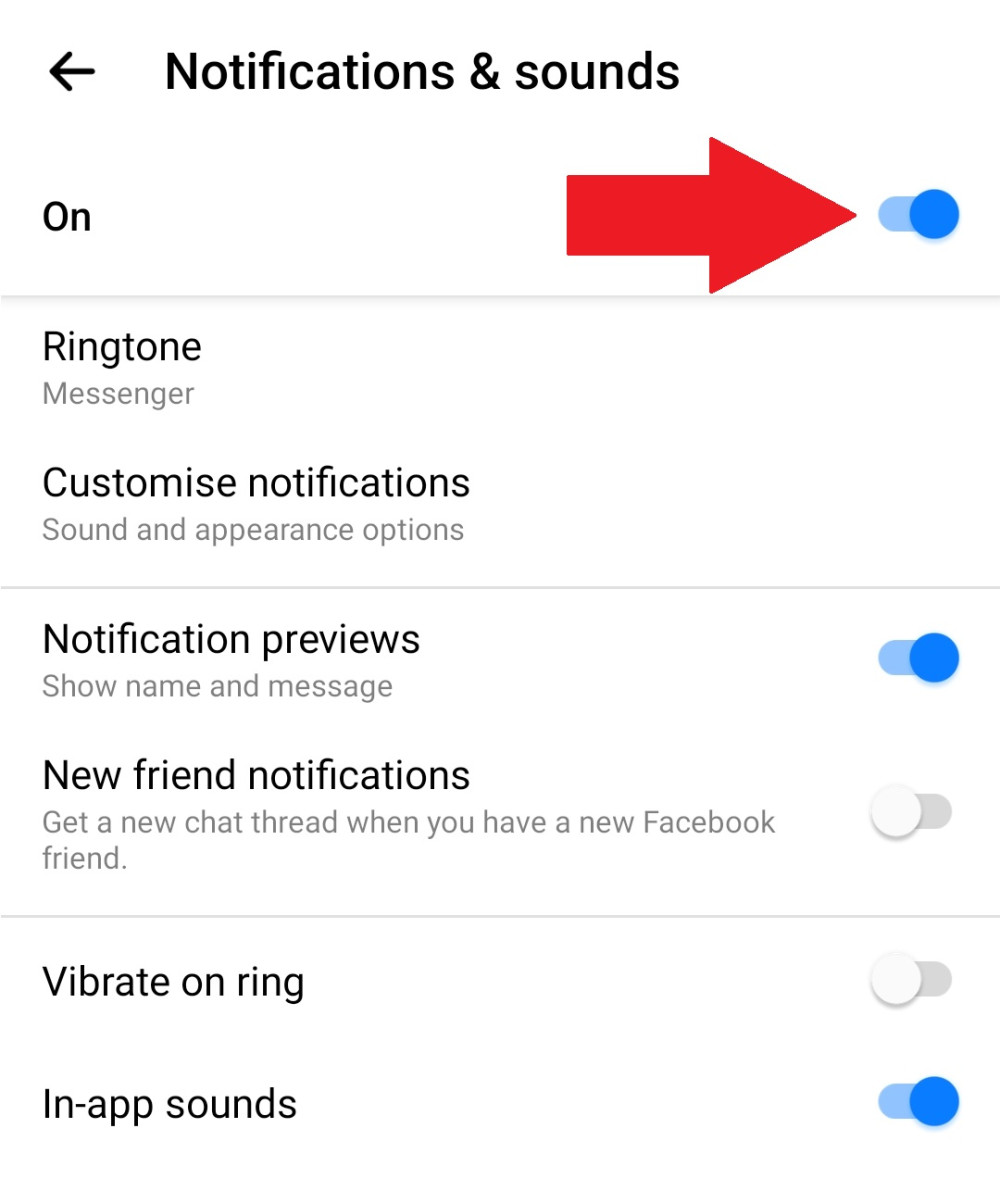 But keep in mind: The notification is a bit different in the case of private conversations. If the other party sends a message in the secret conversation, Messenger will alert you by saying you received a secret conversation.
In contrast to regular texts on Messenger, you will not be able to view any of the content of the text from the convenient notification panel. If there is still nothing in the inbox, it's possible that the sound was only generated because the person saw your last message.
What to Do When Secret Conversation Turns On By Itself?
The secret conversation has a lot of interesting new features that users should be aware of. That also means parents should know about it. Also, since they are encrypted, a secret conversation can only take place on a particular device and cannot be viewed by any other device.
Tip
When the secret conversation on your device is turning on by itself, touch the option from ON to OFF. To do this, long-press on the conversation chatbox and select 'Delete'.
Secret Conversation Key Codes Meaning
Secret conversations grant both parties a device key that can be used to make sure the texts are genuinely end-to-end encrypted. Account owners can see a device key on a specific device with secret conversations. Each of your devices are equipped with a unique device key. Thanks to this feature, the app can protect the chats of the two parties.
Reading Secret Conversation Key Codes
In order to view conversation key codes, a parent must do a few chats in the private conversation segment. First, start any normal chat and select the 'i' button. This stands for information.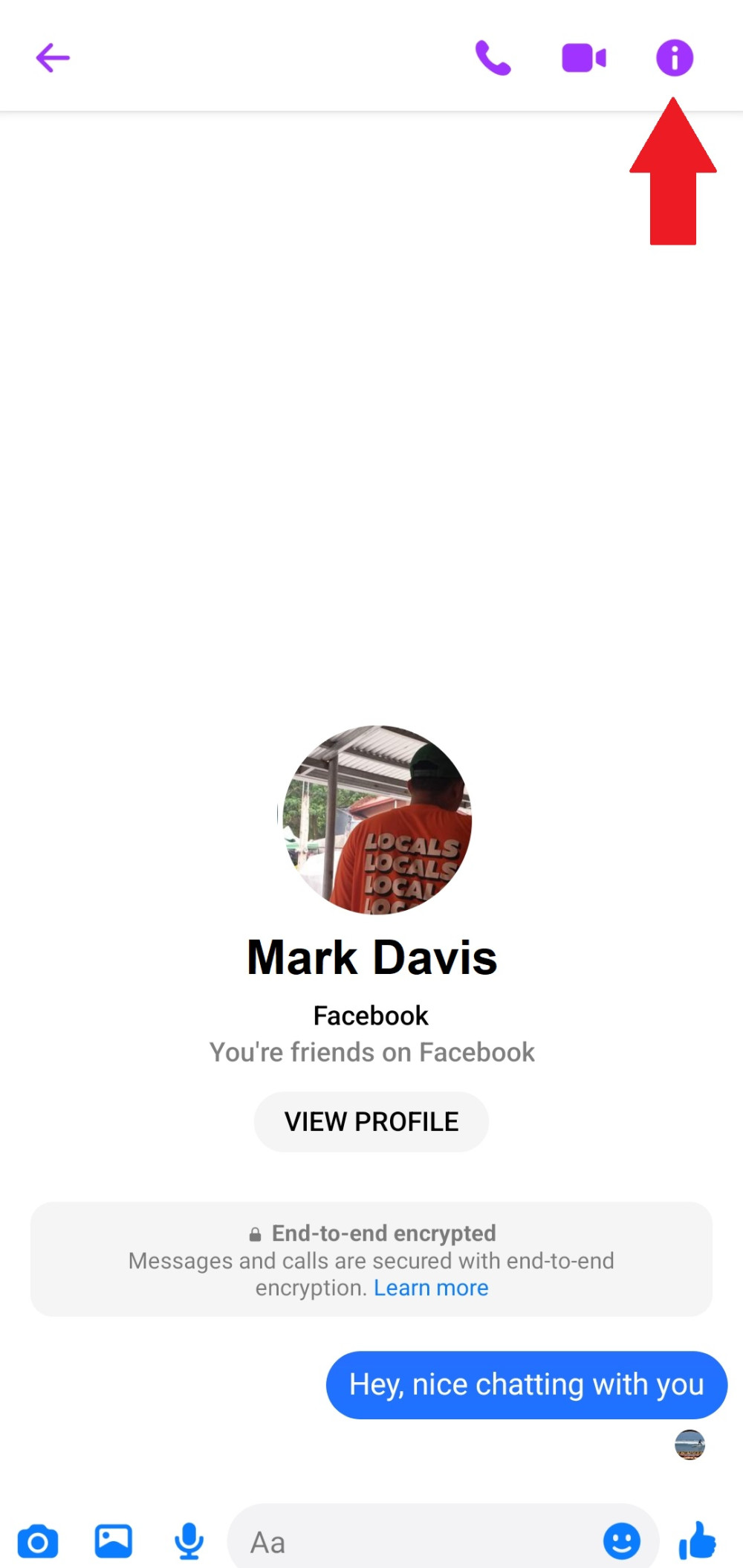 Choose the secret conversation option and now select the message there and press on the account owner's profile photo. There should now be two options at the top of the screen. One of them is that device's key, while the other is the other person's key.
When you click on these keys, you will be able to view that device's key along with the other's. Verify that the provided keys match and understand that the conversations are end-to-end encrypted. Key codes of this type fall under cryptography, a topic that discusses the encryption state of a specific line.
In Conclusion
Many people would say monitoring one's children's activities is wrong and unethical. But with the amount of exposure underage people have to the Internet these days, it's a parent's responsibility to ensure they are safe. That may be the way if that means being too included in their lives sometimes to the point of checking out their secret conversations.
Unlike what many people think, deleted secret conversations are not that difficult to find, especially if they have been archived or sent to the spam folder. This shows that the Internet is still not a safe place and we should all be aware of it.
FAQs
What does DM mean on Facebook?
DM is a pretty harmless abbreviation. It stands for "Direct Message," implying the personal chatbox of an individual.
What does 'Cap' mean as slang?
Cap is used to describe an event that is outright false or a lie. The most common use of this word is in the phrase, "No Cap." It means "no lie."
What does 'Catch these hands' stand for?
This has a rather violent meaning. When someone says, "Catch these hands," they are wishing to start a fight. This kind of fight is usually confrontational in nature.
What is 'Finesse' in Gen-Z vocabulary?
Finesse implies the act of getting one's way by manipulating or tricking someone.