Last Updated: September 1, 2023
Hoverwatch Review 2023
If you have been searching for parental control software, you may have come across Hoverwatch reviews before. But how can you really trust them? In this review, we go deep into evaluating every aspect of Hoverwatch viewer and break them down into easily digestible bites.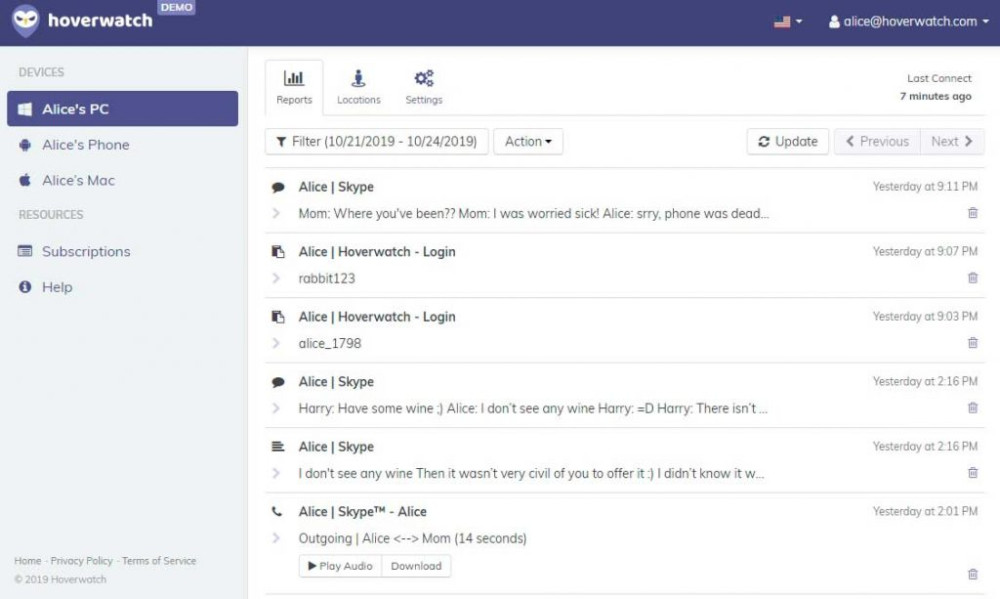 What Is a Parental Control Software?
Parental control software gives you control over what your children consume and do online.
You may already be familiar with child lock systems that many smart devices like Smart TVs have. Several individual apps also have child locks now.
However, a parental monitoring app like Hoverwatch is much more advanced than that. It does not merely let you restrict your children's activity. It lets you track everything.
Such software is not just about protecting your children from consuming objectionable content. They let you monitor and influence your children's movements more generally.
Visit Hoverwatch
Why Use a Monitoring Software?
Social media has become central to our lives. This is particularly true for children and young adults.
Therefore, if you are concerned about your children's lives, parental control software for their electronic devices is something that can help you.
Maybe your child is not communicating with you properly. And maybe they are also falling behind in school. Or maybe you are just concerned about your children's safety generally.
In all such cases, you might have thought that it would be great to be able to know what they are thinking and going through.
Well, thanks to parental control software like Hoverwatch, you can now do exactly that.
You can shape your children's lives more fruitfully by tracking their movements and communications via their electronic devices.
For example, your child may be bullied at school and become depressed as a result. Even if you perceive some problem, you will not be able to identify exactly what the issue is.
However, if you have tracking software installed on your child's phone, you will become aware of the issue immediately. Then you can take effective measures and solve the problem.
It goes without saying that monitoring your children's activities through their mobile phones can help you protect them from dangers in the real world too.
You can learn about your child's offline movements by using a Hoverwatch viewer or another equivalent software too. Their calls, messages, and calendar events will tell you who they are planning to meet, where they are planning to go, etc.
You can use that knowledge to prevent your child or children from going to places or associating with people you do not approve of.
Finally, you can prevent your children from accessing harmful content. You can limit their social media time.
These are just the most important uses of phone monitoring software. There is so much more you will discover when you start using a top-rated software like Hoverwatch viewer.
Where Does Hoverwatch Fit In?
The parental control software market is a rather crowded one. You may be confused by the presence of so many brands. You may be having difficulty deciding which one is best. That is why we have brought this complete review that is one of the best Hoverwatch reviews.
Features
There are several notable features that make Hoverwatch unique. Especially if you are an Android, Windows, or Mac user, Hoverwatch is one of the best monitoring apps money can buy.
Anonymous Tracking
First, the app tracks the target device(s) completely anonymously. The person being tracked will have no knowledge about it.
You just need to make sure that your child does not see you installing the software on their phone. If you can do that much without being noticed, they will never know that you are monitoring their activities.
Call Records
Hoverwatch viewer records all incoming and outgoing calls for you. Besides, you get access to a full record of all calls, text messages, and contact lists.
You will also be notified if your child changes the sim on their mobile.
While many similar apps give a call record or history, Hoverwatch for Windows, Android, and Mac OS that gives your recordings and sim change notifications.
Location Tracking
Hoverwatch uses GPS and cell phone towers to track the location of your child's device. Location data is tracked and sent to you in real-time.
Thus, you can have a clear knowledge of where your child is at all times. There will be no scope for them to sneak out of the window for a couple hours or anything of that kind.
Social Media Tracking
Most importantly, the Hoverwatch app comes packed with standard features like social media tracking.
Social media tracking is indispensable. There is no point in tracking someone's phone unless you can track their complete social media activities. None of the other features make sense without it.
In terms of the number of social media platforms that you can track, we would say that the more, the merrier. And Hoverwatch does not disappoint.
Using Hoverwatch, for instance, you can track your child's activities across several social media platforms. Facebook, WhatsApp, Snapchat, Viber, Telegram, etc. are among the sites that you can monitor.
Internet History Tracking
Furthermore, you can track your children's browser history. You can see what they are searching for, which websites they are visiting, etc.
You can use that information to block or restrict certain websites or keywords. You can do all of that using Hoverwatch on Android and Mac. And, of course, there is Hoverwatch for Windows as well.
iPhone Availability
Unfortunately, Hoverwatch for iPhone is not available as yet but there is a high possibility that it will be launched sometime in the future.
There are only 4 major operating systems in the world right now. In the world of smartphones, there is iOS and Android. On the other hand, there is Windows and Mac OS in the world of computers.
Hoverwatch is compatible with 3 out of those 4. There is just one gap and it is quite a substantial gap. But hopefully, they will rectify it soon. Because they can become a complete cross-platform monitoring app if they just add Hoverwatch for iPhone.
Strengths
Some of the biggest advantages of using Hoverwatch include:
Compatible across multiple operating systems like Android, Windows, and Mac OS.

Packed with all the necessary features such as social media tracking.

Comes with unique, hard-to-get features like call record.

Location data is tracked and logged in real-time.
Weaknesses
The advantages of Hoverwatch download are clear. However, the software lacks in certain areas compared to competitors. The biggest shortcomings include:
Mobile app monitoring is only available at higher price points.

Customer support needs major improvements.

Hoverwatch for iPhone is not available.
Pricing
The Hoverwatch free trial lets you test the effectiveness and ease of using the app. As far as paid options are concerned, the app has 3 price plans. They are personal, professional, and business.
The main difference between the plans is the number of devices you can track. For instance, you can track only 1 device on the personal plan. Whereas, you can track up to 5 devices with the professional plan and up to 25 devices with the business plan.
Moreover, you can access the Hoverwatch viewer dashboard using a mobile app if you are on a professional or a business plan. This feature is not available to personal plan subscribers.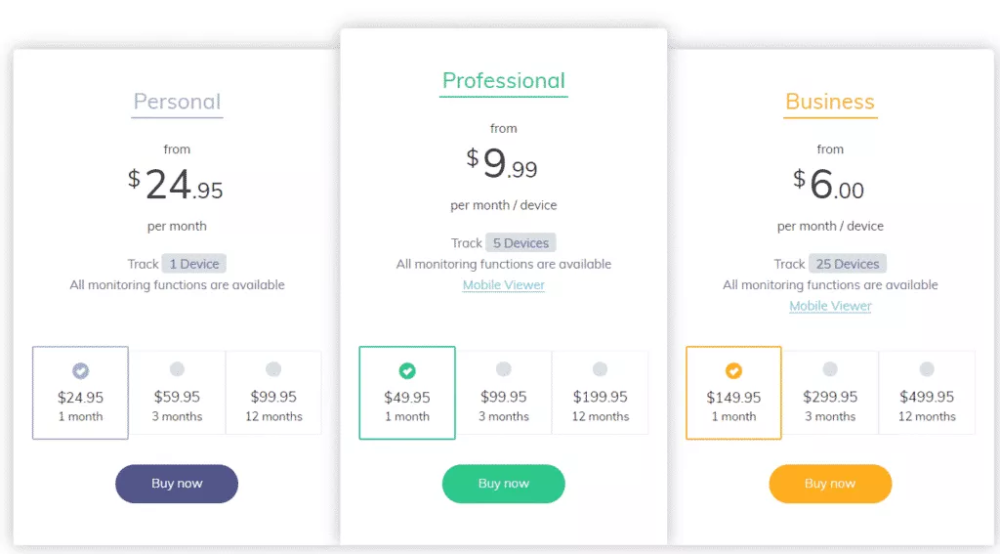 The pricing for each plan varies based on the length of your subscription. 12-month subscriptions incur the lowest monthly rates. If you subscribe on a month-to-month basis, on the other hand, the monthly rates are quite high.
For example, the personal plan will cost you $24.95 if you subscribe on a month-to-month basis. If you subscribe for 3 months, the price comes down to $19.98 per month. The price comes further down to $8.33 per month if you subscribe for a 12-month period.
The monthly rates for the business and professional plans on a 12-month subscription are $16.66 and $41.66, respectively.
You can pay for a Hoverwatch download using all major credit cards, PayPal, phone order, fax order, bank transfer, and other payment methods popular in your jurisdiction.
Customer Support
Customer support at Hoverwatch leaves a lot to be desired. You can only get in touch with their customer support team via one method. And that is by submitting an online request form.
The standard response timeframe is 24-48 hours. Needless to say, this method is unsuited to resolving urgent issues.
For example, imagine that your child is attending a party or gathering at a friend's house. And you have only allowed them because you know you can monitor them uninterruptedly. But the system crashes or freezes or stops updating during that time.
There will be no end to your anxiety and discomfort if you cannot contact support and resolve the issue immediately.
That said, the Hoverwatch com login website contains a lot of comprehensive how-to guides. You can refer to those to self-correct the issues.
Moreover, they maintain a FAQ section that contains answers to a wide-ranging set of questions. You can refer to that whenever you face an issue. There is a high possibility that the solution to your problem will be explained in one of the answers.
How Does Hoverwatch Work?
Hoverwatch signup, Hoverwatch com login, and Hoverwatch download procedures can be a bit complicated. Especially for those of you who are not well-versed in terms of technology.
But we will briefly and simply explain all the steps in our Hoverwatch reviews.
Signup Process
The signup process is one of the easiest you can find online. All you need to do is provide your email and set a password.
Make sure you save the password somewhere or write it down. You can easily reset it if you forget but that can log you out of the system for a while. That can be problematic if you need to urgently log in.
Once you signup, you will be redirected to the Hoverwatch viewer dashboard. You can then initiate Hoverwatch download.
You will be able to access step-by-step guides to downloading Hoverwatch for iPhone, Android, and Mac.
Login Process
The Hoverwatch login is as simple as the signup process. All you need to do is provide your login credentials, which in this case will be your email address and password.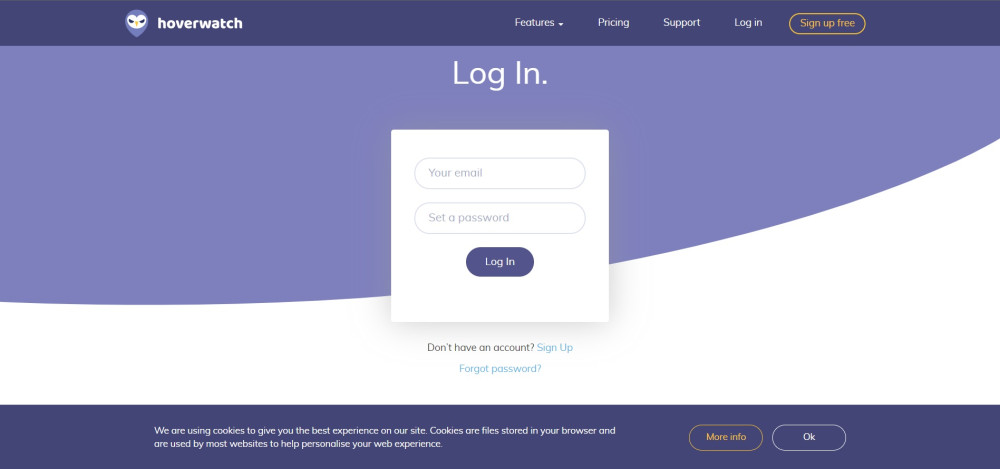 If you have forgotten your password, you can simply click the forgot password option during Hoverwatch com login.
A unique link will be sent to your registered email address. You can use that to reset your password.
Furthermore, you can log in using your desktop as well as the Hoverwatch app if you are on either the professional or the business plan.
That is actually essential, so you should consider shelling out a bit more money to get this additional feature. After all, one of the main reasons you may want to use a phone monitoring app is because you travel a lot or stay out of the house for a long time.
Installation Process
The Hoverwatch download and installation is not the most difficult part. The trickiest aspect is that you need physical access to the target device.
As you probably already know, children are inseparable from their phones and other gadgets. It is extremely hard to find their devices away from them.
That is the tricky bit. But, once you manage that, you can say goodbye to a lot of your worries.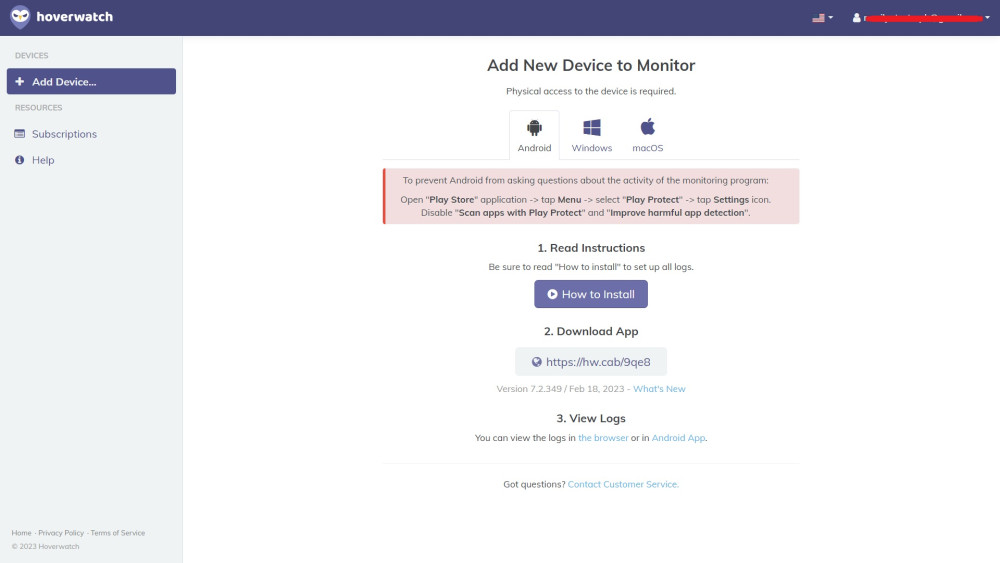 You have to access the dashboard from the target device and perform a Hoverwatch download. Then you have to go through a series of steps. They include giving various permissions to the app to access, track, and log the data in the device.
The steps will vary depending on the device you are targeting. Your Hoverwatch dashboard will provide you with the necessary guidelines.
Our Opinion
Hoverwatch has many shortcomings, some of which disqualify them as a considerable option. For instance, as Hoverwatch for iPhone is not available, you cannot use it if your child uses an iPhone.
However, if you want to target devices that run on Android, Windows, or Mac OS, then Hoverwatch viewer is one of the best investments you can make.
The dashboard is simple and brings all the important information to your fingertips. The pricing can be a bit on the high-end, so you may want to shop around a little bit. But keep Hoverwatch on your list for sure.
Visit Hoverwatch