Last Updated: December 1, 2023
mSpy Review 2023
mSpy is one of the top parental control and monitoring software on the market. It offers every single tool you might need in order to make sure your kids stay safe – both physically, in real-life, and online on social media.
When it comes to your child's safety, there is no way a parent can leave anything up to chance. That is why you want to use mSpy. It is one of the most comprehensive suites for parental monitoring there is out there.
Look:
I have reviewed many parental control and monitoring software over the years in a bid to find the best one for each parent. As a parent myself, I understand how stressful not knowing your child's whereabouts and activities can be.
So, in this review, we will look at exactly what mSpy entails and why you may want to use it. This is so that you can make the best choice and keep your children safe.
Get an additional 30% discount with our coupon code: PARENTALCONTROL
Try mSpy For Free!
What is mSpy and How Does it Work?
mSpy originally launched in 2010 with a basic set of features, including calls, text, and GPS monitoring. In the decade since then, they have made a lot of progress with adding new features and broadening the extent of monitoring. It is designed to run in three different scenarios:
Considering it launched in 2010, it was actually one of the first monitoring apps to be released. So, how does it function?
Simply put...
mSpy is a surveillance app for parents to monitor and control their child's phones. Once it is installed on the child's device, it will stay hidden. A child won't know it exists.
Additionally, the app is password protected so even if your child finds it, they won't be able to get in and change settings.
It runs in the background at all times and consumes minimal battery power. There is also a negligible difference in performance. Installing and setting it up is also easy, so non-technical parents have nothing to fear.
The Highlights of Using mSpy
So, what are the key benefits of using mSpy?
Almost all mainstream social media and messaging apps are under surveillance. mSpy will record everything your child sees and says on social media, so you can go through the records to find inappropriate content later on.
mSpy includes a built-in keylogger. The keylogger allows you to see every single key your child pressed. This allows you to not just see messages but learn their passwords so that you can log into their social media account and check if everything is acceptable.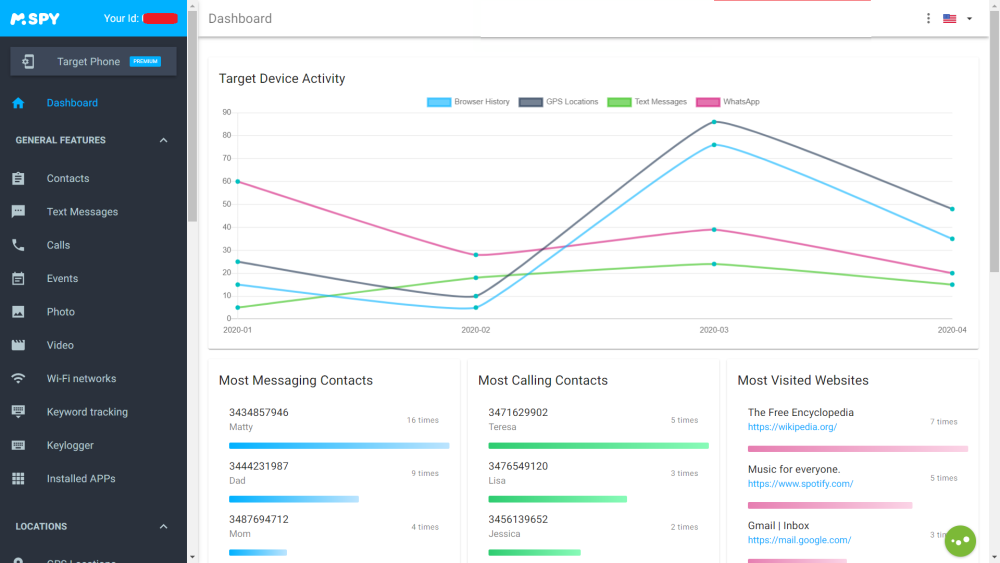 Everything that is recorded by mSpy is displayed on a cloud-based dashboard. Parents can track their children from anywhere and at any time. The dashboard can be viewed on PCs, tablets, and mobile phones alike. The only thing the parent needs is an internet connection.
Take note: Make sure that you save your mSpy login details since you will need this if you want to access the dashboard from another device.
mSpy Detailed Features
mSpy has a whole array of features that are extremely handy when you want to track and monitor your kids. I will list a quick overview of them here:
Location tracking via GPS.
Monitoring phone contact details.
Recording incoming and outgoing phone calls.
Monitor and record incoming and outgoing text messages.
Keyword alerts whenever your child types in a vulgar or mature word.
Check the information and status of devices such as storage left and battery life.
Checking multimedia files like saved images and videos, plus installed apps and browsing history.
Remove call logs remotely – useful in case you don't want your child to see a missed call
Factory reset the device and delete all data remotely in case it is lost or stolen.
Save logs in various file formats, including PDF, CSV, and Excel
Remotely lock or restart the child's phone.
I will go into further detail about the most important features out of these and explain how to use them.
Get an additional 30% discount with our coupon code: PARENTALCONTROL
Try mSpy For Free!
Location Tracking
Knowing your child's location is extremely important. It is critical in a lot of respects.
For instance, if your child is headed towards a bad part of the town, then you need to immediately call them and tell them to turn around. If they are in danger or were in an accident, then you definitely need to know where they are in order to help them.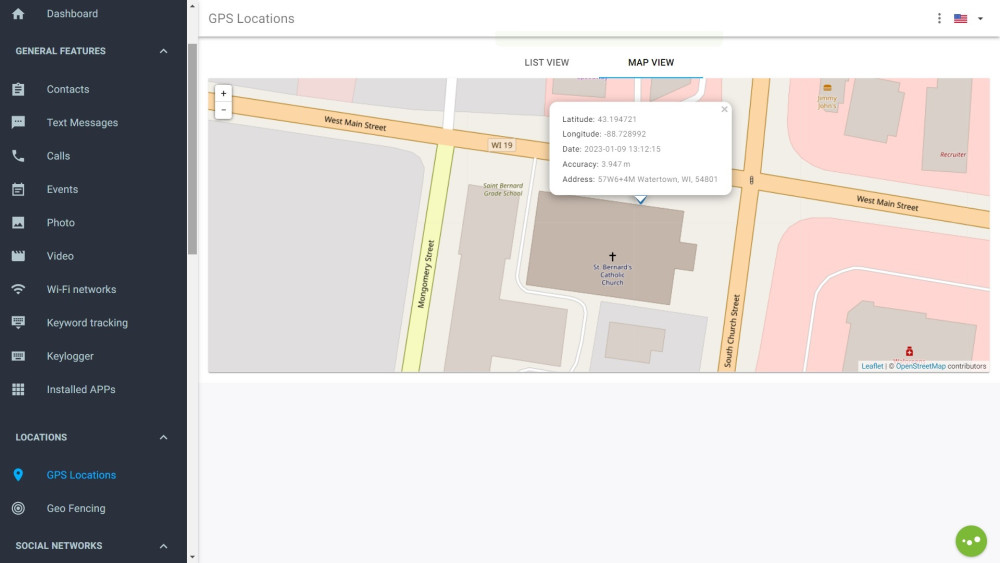 That is why fast, accurate and real-time location tracking is a must! I tested their location tracking using and found that it is fast and in real-time. It is not extremely accurate, but it is still very close and sufficient for all purposes.
Direct Tracking
Direct tracking is the basic form of location tracking. It simply tracks where your child is and displays their location on the map. You can view their route and location history and also get directions to their location.
Geo-Fencing
A geo-fence is basically a virtual boundary. It can be used to denote certain areas such as home or school as safe places. When a child leaves the bounds of a safe place, it will send an alert to your phone. You can also set a forbidden location which will alert you when the child enters the bounds.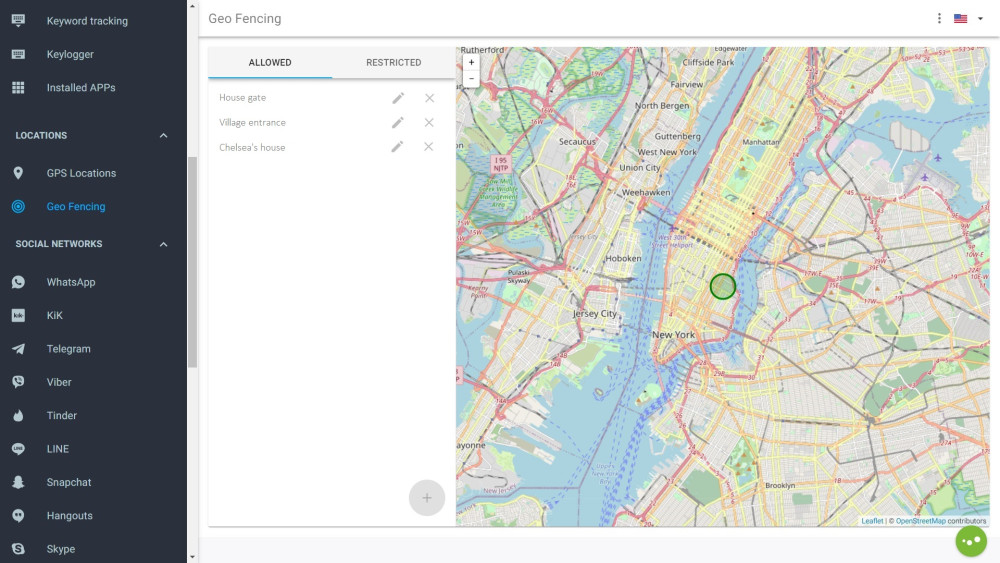 Geo-fencing is a great way to keep abreast of your child's location without keeping your eyes glued to the phone. As long as they are at school, home or a known friend's house, you don't need to worry. So, you could simply set it so that it alerts you when they leave the safety of those premises.
Recording Phone and Online Activity with mSpy
While knowing your child's location reassures you about their physical safety, mental health and safety is still a concern. You do not want adults to be grooming your kids over phone calls and texts, or their peers cyberbullying them.
That's why as parents, we need to keep a track of their phone calls, emails, and other social media accounts. Here is how mSpy helps you do that.
Phone Calls
Phone calls are the most straightforward way of communicating with someone over the phone. mSpy can monitor and record all incoming and outgoing calls. It can also record how long a phone call was, the contact information of the person at the other end, the time stamp, and so on.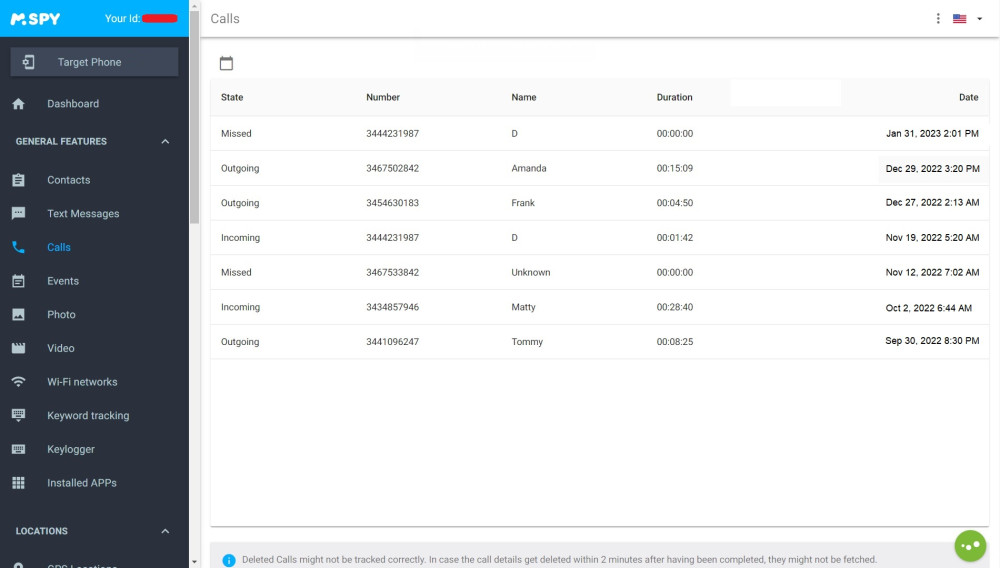 With this app, you'll be able to track all missing, outgoing and incoming calls in detail. Via the dashboard, the following information will be shown:
Take note: It's not capable of recording the exact audio of the call, even on a jailbroken phone. Therefore, you may have to talk to your child about the particulars of the call, or listen in via another method.
Emails
Emails are the most popular way of communicating online. Unfortunately, they can also be used for other purposes that other than work, or easier communication.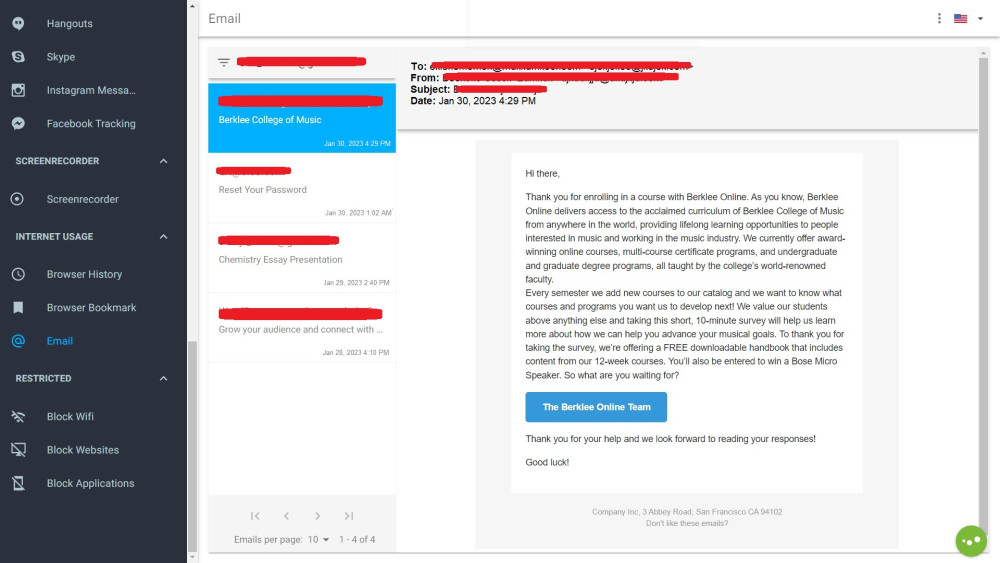 For instance, people could send mature and unwanted images and content to your child's inbox. They could also send scams and viruses. Some cyberbullying can also take place over email.
Browser History
For your kids, the best use of the internet is for education and staying in touch with friends. However, curious kids can quickly find other things on the internet to occupy their time. They could be wasting their time playing online games when they should be studying.
Or, more insidiously, they could be looking up adult content while they are still too young, possibly out of curiosity or peer pressure.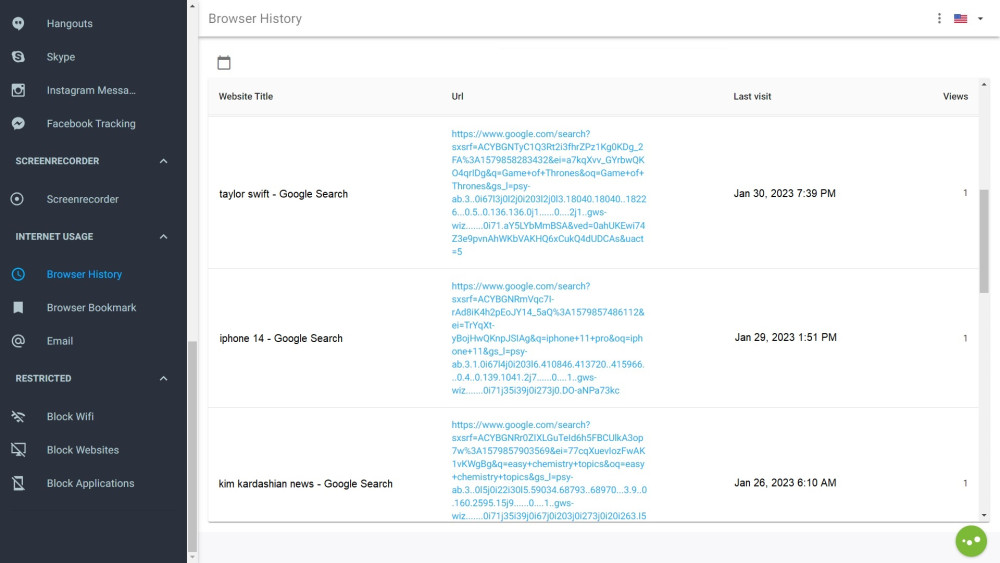 In all of these cases, checking browser history after the fact will alert you as to what kind of websites your child is visiting. You can either block those websites as needed, or sit down for a talk with them.
Get an additional 30% discount with our coupon code: PARENTALCONTROL
Try mSpy For Free!
Detecting Harmful Content on Social Media with mSpy
Often, dangerous, harmful or mature content isn't targeted directly at your child. They can stumble upon it all on their own when they are on social media.
Plus, as mentioned earlier, a lot of scamming cyberbullying and unsavory practices happen through social media. It is prudent to monitor your child's use of it.
Here is a list of the main social media apps and websites that mSpy focuses on monitoring. Most of them have some kind of encrypted messaging, so mSpy actually takes a different approach. It records the screen entirely. It is not a continuous video recording, but rather an image taken and updated every time the screen changes.
Facebook and Messenger
Facebook is the indisputable #1 most commonly used social media app. If you are short on time and can't monitor every single thing your child does online, at least check their Facebook from time to time, preferably from their own account. Make sure your child isn't being influenced by bad behavior.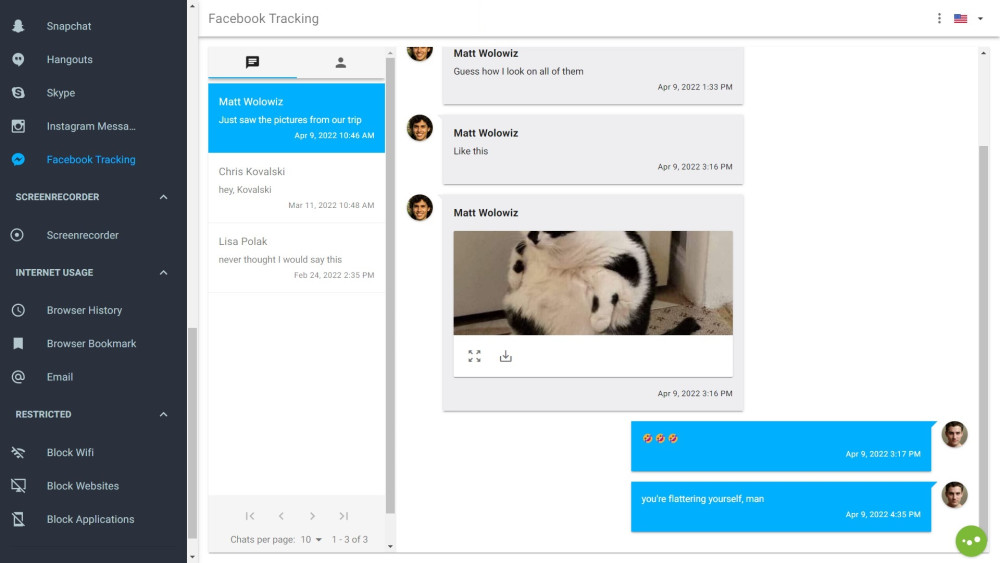 iMessage
iMessage is a messaging app exclusive to iPhones and iPads. Even with the premium price tag, those devices are extremely popular among kids and teens, so it also needs to be monitored. However, doing so is a little trickier, since Apple tries to encrypt and secure their apps more thoroughly than others.
While some other parental control apps fail to track and monitor iMessage properly, mSpy definitely can.
WhatsApp
After Facebook Messenger and iMessage, WhatsApp is one of the most popular texting apps. What sets it apart from those two is that it uses a phone number rather than an account.
It can even make phone calls and send text messages, but instead of using the phone network and balance, it uses Wi-Fi. This saves money and makes WhatsApp a great alternative to normal calling and texting. It also makes WhatsApp harder to monitor, as it does not use your home internet.
Instagram
Instagram is mainly an app for sharing pictures and photos. Of course, it has a bad reputation due to some kids using it to share mature photos and images that they really should not be.
It's also a hotspot of cyberbullying – 42%, nearly half, of Instagram's users have reported being bullied through it. This can lead to issues like anxiety and self-esteem in kids. As a parent, this is one of the must-monitor apps.
Snapchat
Snapchat is another highly insidious social media app that's designed for messages, pictures, and short video clips. The unique thing about Snapchat is that video clips, called 'snaps', are deleted after they have been seen.
As you can imagine, it is almost tailor-made to counter parental supervision. However, with mSpy, everything will be recorded as soon as they are sent. Even if the Snaps are deleted afterward, you can still view the content from the mSpy dashboard.
Telegram
A messaging app with an automatic message deletion feature similar to Snapchat. And just like Snapchat, mSpy handily defeats it by recording messages as they are sent and read before they can be deleted. Telegram is not very popular among kids in general, but it is another option your children might use.
Kik
Kik is another messaging app that could be used by your children. It does not have a strong focus on privacy, but it does allow users to make anonymous accounts. Anonymity on the internet can be dangerous, as you might not have any idea who your child is talking to. mSpy records conversations and all visible user data on Kik.
Tinder
Dating and relationships are pretty much inevitable – every parent knows that. However, as a parent, you can still do a lot to make sure your kids don't date the wrong people, get catfished, or run into one of the other myriad dangers of online dating.
The best way to do this is by keeping an eye on your older teen's Tinder account. If they are too young to be dating, then you could block it entirely as soon as mSpy detects activity on it.
YouTube
YouTube is becoming increasingly popular with kids. It's not just older kids who use it – children as young as three or four may be on YouTube. It has basically replaced the TV we used to watch as children.
However, YouTube didn't start off as a platform for kids. So, there is plenty of content that is mature, violent, or adult content on it. It may not actually allow extremely violent or graphic videos, but there are still plenty of content you don't want your kids to see.
It might be videos about violent movies and games, news and podcasts about events in real life in full detail, videos filled with profanity, nudity, etc.
YouTube already has some parental controls built-in. However, you can make those much more effective by using mSpy. The keylogger could be used to check what kind of videos they are searching for. Manual control of the device could let you prevent the child from turning off parental controls.
Depending on their age, you can select and limit channels for them, so that only family-friendly content is visible. mSpy gives you more tools and info to ensure this.
Get an additional 30% discount with our coupon code: PARENTALCONTROL
Try mSpy For Free!
Apps with Unsupported Message Logging
Unfortunately...
Different chat and social media apps are becoming more commonplace. There are too many others to list here.
The biggest one to note is Discord. Discord is a voice communication and messaging app that was initially designed for gamers. Unlike most messaging apps, Discord is focused on persistent 'servers' with lots of people and groups.
Basically, each Discord server is its own closed community. A lot of dangerous or mature material can be shared using it easily. Your child could be talking to unknown, anonymous strangers all day on Discord. Also, it is designed for teenagers and older kids, so it does not even include the parental controls a lot of other apps do.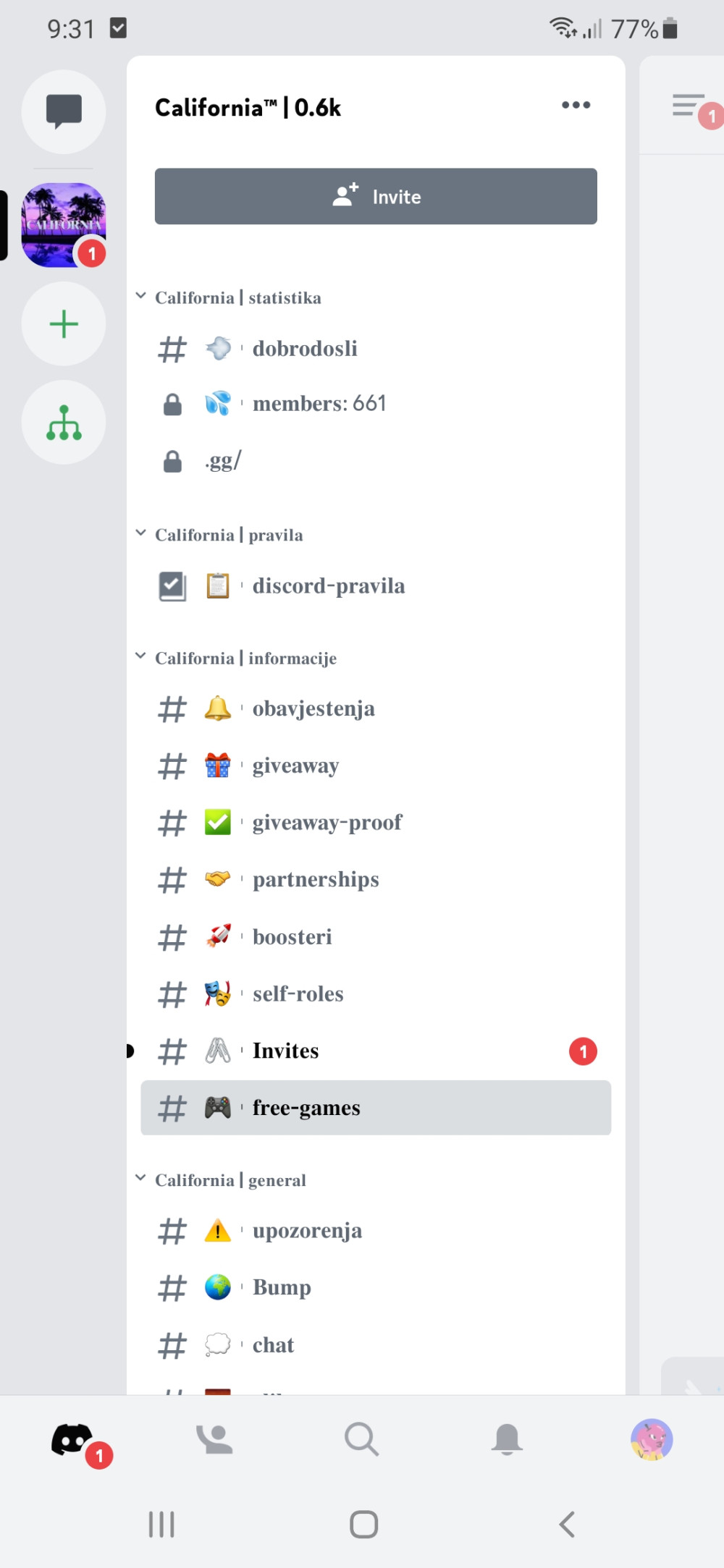 As you can see, it is a particularly dangerous app. Another app that is very difficult to monitor is Signal. This is a basic messaging app, but they have particularly advanced security and encryption. However, despite the additional security, you can still monitor them through the screen recorder.
Plus you may check the records of what they are typing from the keylogger. If you think their activities are unsafe, you can manually block the app entirely.
mSpy Mobile Compatibility
mSpy is designed first and foremost for mobile phones. It does not have any kind of desktop version, whether for Windows or Mac. So, if your child prefers to use a PC or Laptop over mobile phones, then I suggest you consider an alternative app.
| Device | Supported |
| --- | --- |
| Android | ✅ |
| iOS | ✅ |
| Windows | ❌ |
| Mac | ❌ |
With that out of the way, let's talk about mobile compatibility. mSpy is compatible with both Android and iOS. However, due to the different requirements, Google and Apple impose, the actual features available are actually slightly different.
The exact versions of mSpy that are compatible with your device are here. Take a look at the chart and confirm your child's phone version before you install it.
Jailbroken means that some restrictions on the device have been removed. It deserves a full explanation, so I will describe it later on.
On iPhones
iPhones are extremely popular among kids and teens, due to how fashionable they are. So, it is absolutely necessary mSpy support Apple's devices
Despite Apple's efforts to ensure privacy and securely lock down their devices, mSpy can be used somewhat effectively.
It is compatible with all modern iOS devices up to the latest version. It supports most of the monitoring features, including call information, contacts list, messages, WhatsApp but no other messaging apps, browsing history, app list, etc.
As you can see, there are quite a lot of limitations, unfortunately.
On Jailbroken iPhones
Jailbreaking is the process of removing a lot of the restrictions and limitations Apple puts on iOS devices. A jailbroken iPhone or iPad will have a lot more freedom.
For jailbroken iOS devices, mSpy is only compatible with iOS versions between 7.0 and 9.1 inclusive. The newest iPhone that is compatible with this is the iPhone 6S, a phone from 2015!
This mainly limits you to older devices, so you should think twice before buying your child the shiny new iPhone they are begging for.
On a jailbroken iPhone, the full suite of mSpy features is available. This includes full monitoring and recording of all communication on all messenger and social media apps, location tracking and geofencing, access to phone calls, emails and block lists, internet usage and history, manual device control and wiping, and so on.
On Android
Fortunately, there are not as many restrictions on the use of mSpy in Android phones. Any phone running Android 4.0 or newer can run the mSpy app. For reference, Android 4.0 came out in 2011, so nearly every smartphone currently available can actually run this app.
Almost all the features are available in Android out of the box. That includes GPS tracking and geofencing, text messages, phone call information and monitoring, contacts list and blocking, emails, internet usage, and browsing history and manual device control.
There is just one feature that does not fully work on normal Android phones – screen recording. For many parents, this would be the most important feature, so clearly something has to be done. That something is rooting. It is the equivalent of jailbreaking, but on Android, it is a much easier and more common process.
On Rooted Android
All Android devices can be rooted, though the process gets progressively trickier with newer phones. Rooting is also not as dangerous as jailbreaking.
When you Root an Android phone, it unlocks additional features that were originally locked away for safety. We don't care about those features, however – only about how it helps mSpy.
Rooting allows mSpy to read the device's memory. That is how it can read the messages from any kind of messenger or texting app. On a rooted device, you may use mSpy to check each and every message your child sends and receives. It will work for almost all messaging apps – Messenger, Telegram, Instagram, Snapchat, etc.
Get an additional 30% discount with our coupon code: PARENTALCONTROL
Try mSpy For Free!
Is it Right to Breach My Child's Privacy?
Some parents won't think twice about spying on their children, either out of concern or to maintain control. But other parents are quite concerned about their children's privacy. It is alright to try to give your child some privacy, but I recommend you still install and use a monitoring app from time to time.
Let me explain why with the help of some statistics
Did you know that about 37% of all kids or teens have experienced cyberbullying? Over the last year, that number has increased up to 50%. If you have three children, then it's almost statistically certain that one of them has been bullied online.
Will they actually come forward and tell you if this is happening? According to research, only 10% of victims will actually step forward even to their parents.
Online harassment and cyberbullying can cause a lot of stress and anxiety in children. It can lead to kids losing friends, falling behind in their studies and other activities, becoming depressed or having thoughts of suicide.
In this situation, it is impossible to keep your children safe and happy without infringing a little on their privacy. It is a small price to pay, and one that I suggest you pay.
mSpy, after installation, completely hides itself. There is no way your child will detect the app afterward, so there is no need for an ugly conversation about spying. You can simply borrow their phone, install the app, then keep track of them for their own safety and your peace of mind.
The pandemic and lockdown have made it even more crucial to check your child's social media closely. Since they have not been going to school, almost all their social interactions are through these messaging and media apps. So, if your child is exposed to the wrong thing, the knock-on effects are much greater!
By staying up to date with your child's internet use, you can protect them from any of the myriad threats out there – scammers, predators, bullies, and stalkers. Use mSpy to safeguard your children today!
Getting the Most out of mSpy
Here are the most important features of mSpy you should be using and how they can help you.
Location Tracking and Geofencing: Soon, your kids will be in school once again. Using geofencing, you can make sure they are actually at school and not playing truant instead. Thanks to mSpy you can keep tabs on their location.

Your kid might claim that they are visiting a friend's house, and instead go off to a club or party at another location. That's when location tracking comes in handy – you have proof that they lied to you or disobeyed you.

At the same time, you also know where they are so if anything really bad happens, you can rush over immediately.


Limiting Apps: With mSpy, you can see the list of apps that are installed on your child's phone or tablet. Every single app that is installed will be shown, even the ones that normally try to keep themselves hidden. So, if your child tries to use any apps with mature content they should not be, you can immediately take action.

It does not have to be just to keep your child safe. Limiting apps can be a form of discipline as well.

Did your child do poorly on their last test, while mSpy shows that they played over 30 hours of Fortnite last week on their phone? In that case, you could either take away their phone or hear a lot of grief over them missing out on social media and their friends, or you could simply block that particular game.

Apps can be limited in a couple of ways using mSpy. If you do not want an app to be present on the phone at all, then the app can be deleted wholesale. Otherwise, the app can be blocked, either temporarily or permanently, using the 'Block App' button on the dashboard.


Monitoring Internet Activity: You can monitor your child's internet activity in the same way you monitor their app usage. mSpy can record the full browser history, list of bookmarked websites, and track different Wi-Fi networks and their locations and names.

So, you won't just know what they do on the internet, but also how they connect to it. Keep seeing a suspicious, unknown Wi-Fi name? Chances are, they are trying to use that Wi-Fi to dodge tracking without realizing it's not the Wi-Fi but rather the phone itself.

More nefariously, there's also a chance that whoever owns that Wi-Fi could upload malware and spyware to your child's phone or learn about their internet usage. Yes – even a simple thing like an unknown open Wi-Fi hotspot or point can be really dangerous.

Another way internet activity can be monitored is to scan for banned 'keywords'. You could ban any kind of keyword. Examples would be the names of drugs or adult performers and videos. If your child tries to search for any of these, you would get an immediate notification.

Monitoring internet activity is one of the cornerstones of keeping your child safe and healthy. If you use mSpy, make sure you leverage all the features of it in order to make it happen!
How to Track Your Kids
Now that you know all about mSpy's features and uses, it is time to explain how to install and set it up to monitor your kids. I understand that not all parents are extremely tech-savvy with a lot of know-how. So, the installation guide and explanation here will be as simple and straightforward as possible.
The first step is to visit mSpy's website and see the different features that are offered. Consider which of these features are absolutely needed. While it's recommended to get the premium version to unlock all the features, it can get expensive for parents on a budget.
Once you've decided which version to get, sign up and create an account. You will be able to monitor everything from this account's dashboard.
Get an additional 30% discount with our coupon code: PARENTALCONTROL
Try mSpy For Free!
Installing mSpy
The process for installing mSpy varies a little from phone to phone. Before describing that, I will explain a pair of terms I have mentioned before. These two are not crucial for mSpy to function, but they do open up a few features that are otherwise unavailable.
A word of caution:
Please don't try to Root or Jailbreak if you are not comfortable with tech. The process is not extremely difficult, but there is always a small chance of making a mistake.
I won't give the exact step-by-step process here, so you may research it instead.
What is Jailbreaking?
Jailbreaking removes the OS-level restrictions Apple places on their phones. In order to jailbreak, first, check the phone's iOS version number.
To do this, take the phone and go to 'Settings', then 'General', then 'About' and then 'Version'. If the version is not compatible with mSpy, then don't root it.
Depending on the version number, download and install a specific jailbreak app. This app will allow you to run external code and independent app stores or marketplaces rather than being restricted to apps approved by Apple. On more recent iPhones, this can be done exclusively on the phone. With older devices, you may have to install iTunes on a Mac or PC.
Afterward, you can download and install the app. If you require, you can even ask customer support for help with Jailbreaking. They will guide you through the process.
Jailbreaking also opens up some other fun features unrelated to parental control. For instance, your child might enjoy having the freedom to download custom icons or modify the home screen.
What is Rooting?
Rooting is similar to jailbreaking, except it is for Android phones instead. Rooting is also generally a little safer and simpler.
The basic process for rooting is to reboot the phone into Fast Boot mode, then load the root software on it. As mentioned, this is a general idea of the process and I encourage you to look further into it.
Now, let's go over the installation instructions.
Installing on iPhone
Here is how you install the mSpy iPhone app:
Step 1: Borrow your child's iPhone or iPad. Make sure the iCloud Backup option is enabled and that you know your child's iCloud username and password.
Step 2: Open the mSpy dashboard/control panel.
Step 3: Choose the version of the app to install – jailbreak or no-jailbreak version.
Step 4: The detailed steps are will be given. Follow them to install mSpy and start monitoring your child's device.
Installing on Android
Installing the mSpy Android app is similar, but there are different security measures to disable. There is no separate Android app for rooted or non-rooted phones. Rooting will simply enable additional features.
Step 1: Borrow your child's phone. All these steps need to be done on the phone mSpy will be used on.
Step 2: Open the Google Play Store app. Go to 'Settings'.
Step 3: Go to 'Play Protect', then tap the gear at the top right. Disable 'Scan Apps with Play Protect'.
Step 4: Go to 'Settings', then 'Apps', and then select the Play Store and disable notifications. This will prevent it from alerting your child that the Scan Apps setting is disabled for some reason.
Step 5: Find the URL to download mSpy from the dashboard. Open it in the browser and follow the instructions to start downloading the app.
Step 6: If there is a popup saying "Unknown Apps cannot be installed," then tap 'Settings' and 'Allow from this Source.'
Step 7: It will install an app called 'Update Service'. This is just a disguise used by mSpy. After installing it, allow all permissions and then enter your mSpy registration code. Click on 'Complete Installation."
Step 8: Log in to your mSpy account to link the phone to it.
Now, you can return the phone to your child. They will be none the wiser, as the mSpy app hides as a very generic 'Update Service' app.
Customer Support Details
I can't emphasize enough...
Customer support is quite important, since if you ever encounter any issues with your account, making payments, or the app itself, then you will have to contact them. Plus, you do not want any kind of disruption when monitoring your child, right?
Customer support for mSpy is available around the clock, 24/7. The main methods of communicating are email and live vhat.
I tested out the Live Chat function. A customer support rep replied to me within 2 minutes, which is a very good response speed. They were also polite and helpful.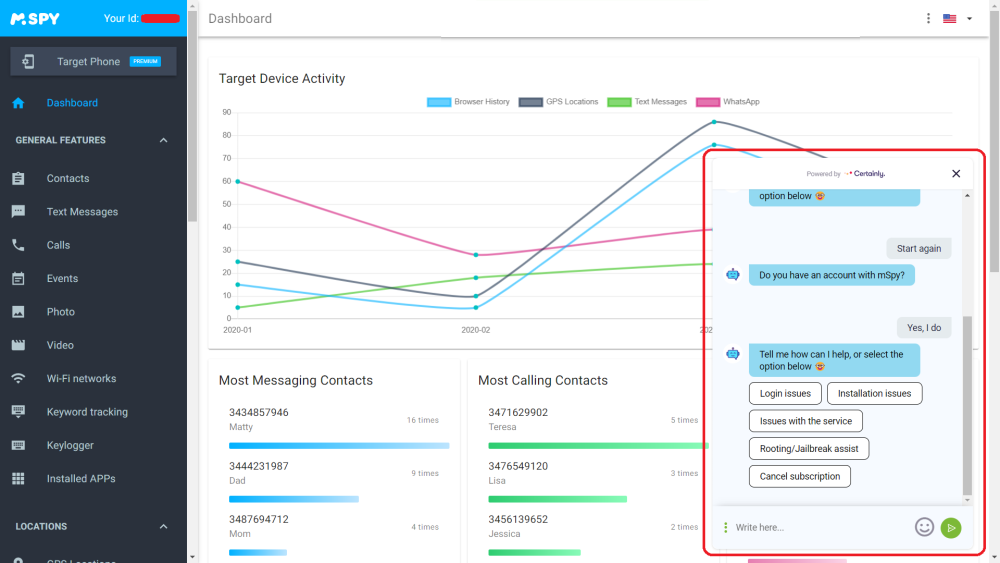 The Email support took longer to respond – 30 minutes. This is also a very good time for an email response. There are several different emails for different departments. The relevant ones for Customer support are:
Technical Issues and Support:

[email protected]

Purchases and Billing Issues:

[email protected]
mSpy also has several phone numbers for multi-lingual support. English, Spanish, French, Portuguese, Turkish, and Czech support is included. Note that while English and Czech support is available 24/7, the other phone numbers are only available on weekdays.
Here is a list of all the phone numbers:
| Country | Language | Phone Number |
| --- | --- | --- |
| USA | English | +1-855-896-0041 |
| Mexico | Spanish | +52-800-461-0454 |
| France | French | +33-970-73-8115 |
| Portugal | Portuguese | +351-308-802-223 |
| Brazil | Portuguese | +55-800-591-5100 |
| Turkey | Turkish | +90-850-252-6514 |
| Czech Republic | Czech | +42-022-888-13242 |
Pricing Options and Packages
mSpy currently has only one pricing package, called 'Premium'. It had a basic version previously, which has been removed since then. Under this package, you get the following features:
Phone Call monitoring and contact information.
Email and Text Message monitoring
Calendar and Notes monitoring
Messaging apps monitoring, including Messenger, iMessage, Hangouts, Kik, LINE, WhatsApp, Viber, Tinder, Telegram and Snapchat
Recording and viewing audio and video files.
Location Tracking through GPS
Geofencing
Browser History recording
Keywords detection and alerting
Wi-Fi network information recording
Remote control device to wipe it.
In-depth information about the device
Application lists and blocking
Screen Recorder
Keylogger
The mSpy cost varies depending on how many months you purchase at a time. If you purchase a 1-month package, it will cost $69.99 per month. When purchasing a 3-month package, this is discounted to $39.99 per month. Finally, the 1-year package costs only $16.66 per month.
| Plan | Charge (per month) |
| --- | --- |
| 1 month | $69.99 |
| 3 months | $39.99 |
| 1 year | $16.66 |
Here's a deal: For the first subscription, all the packages are actually discounted. On the first subscription, if you get the 1-month package, it'll cost you $48.99 a month instead. The 3-month package will set you back $27.99 instead. The first purchase of the 1-year package will cost only $11.66 per month.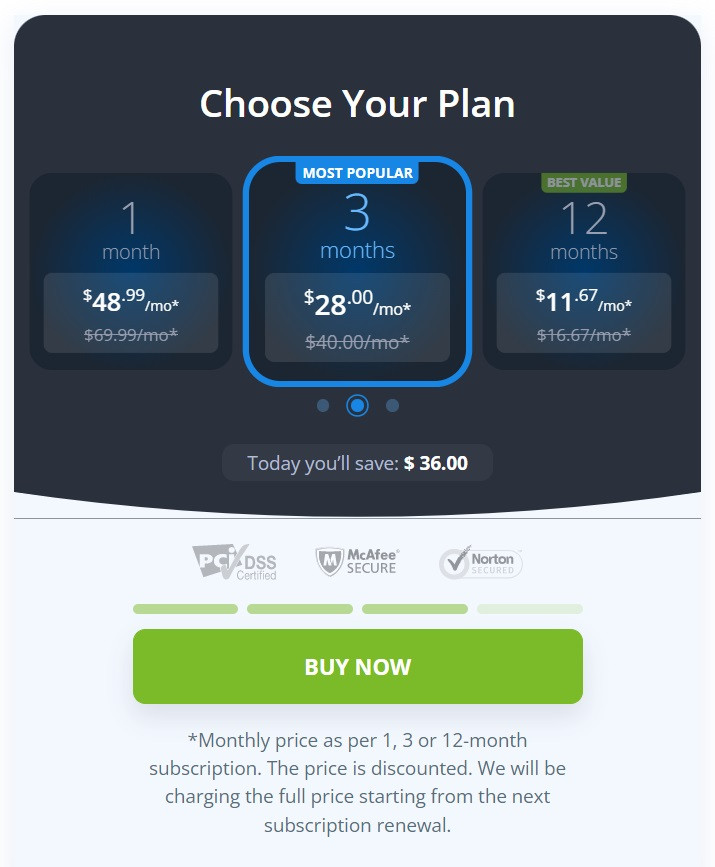 So, the 1-year package is the best in terms of value, but the other packages are more suitable if you are simply trying out the app for a bit. Make the decision carefully, since the discount goes away once you have subscribed once.
On an additional note, no matter what package you get, each mSpy account can only monitor a single phone at a time. If you have more than one kid, or if they have multiple devices like a phone and a tablet, then be prepared to shell out a hefty subscription monthly.
Try mSpy For Free!
Payment Methods
Currently, payments are accepted only through secure, mainstream methods.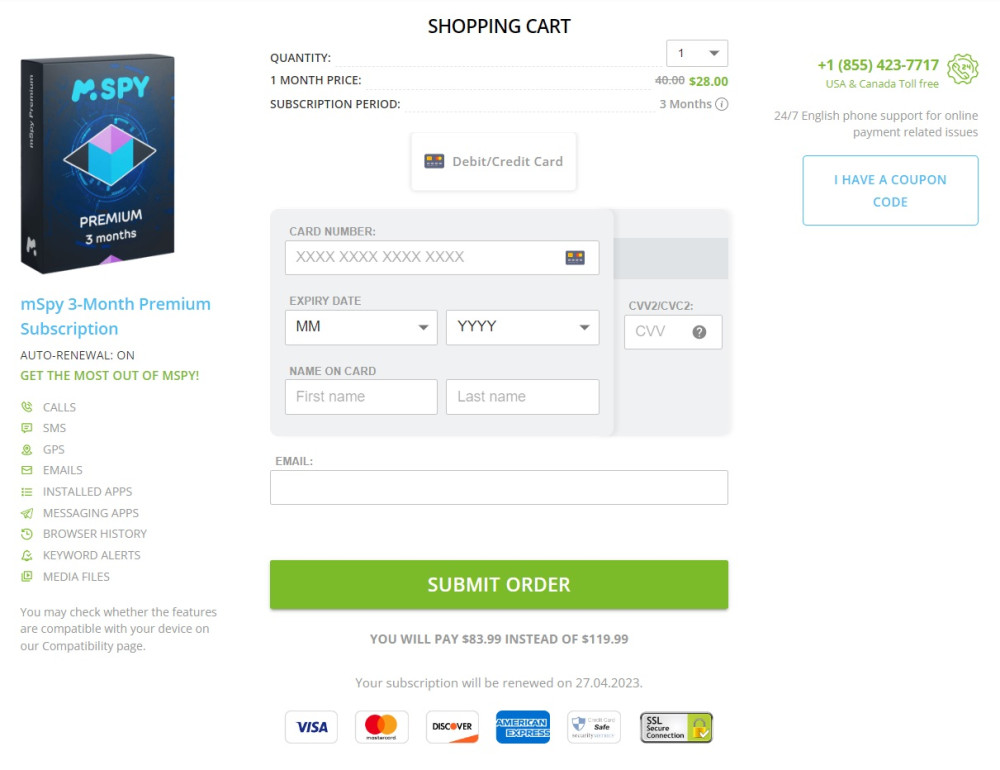 Online payment is supported through the following credit cards:
Additionally, Direct Debit and Bank Wire Transfers are accepted. As mSpy is a recurring subscription-based payment, I recommend using a credit card for it.
Overall Advantages and Disadvantages
There are advantages and disadvantages to everything. If you have paid attention to the review so far, you should be aware of mSpy's pros and cons already. Nevertheless, they are all summarized here so that you can easily compare mSpy to any other parental control or monitoring app you are considering.
Advantages
Accessibility: mSpy is a lot more accessible than other parental monitoring apps or software. When tools such as keyloggers, screen recorders, and others are involved, installation suddenly becomes more complicated as you have to help the app circumvent built-in restrictions on Android or iOS.

mSpy has one of the simplest installation steps and you can even directly ask their customer support for help with this.


Simplicity and Ease-of-Use: mSpy is quite easy to use. The installation is guided as mentioned, and there is a lot of documentation. The Control Panel or Dashboard is both easy to use and includes all the guidance you need to monitor your child effectively.


Value: While mSpy is quite expensive, it is also great value considering the features it comes packed with. There aren't many monitoring apps that only cost about $11 a month, while having screen recording, keylogging, geofencing features and excellent support.


Support: mSpy's best advantage is the support. Their customer service system has been rated very highly for speed, efficiency and helpfulness. Many customers have left rave reviews about how cooperative the customer support was.


Disadvantages
Limited to a Single Device: If your child has more than one device, you will have to purchase a second subscription entirely. If you have more than one child, you may end up buying multiple packages. By contrast, most competitors allow five or ten or so devices on a single subscription.


Expensive: The overall cost of mSpy is high. While it can be as cheap as $11.66 a month, there are cheaper options out there that have similar features. Additionally, the aforementioned price is not the regular price but rather a heavily discounted one. It would be best to take advantage of the mSpy free trial to test the service and see if it works for you.

The base price of $69.99 per month, before any discounts are applied, is extremely high for a parental control app. For some parents with multiple children or lots of bills piling up, this kind of price is not suitable at all.


mSpy Compared to its Competitors
There are many competing monitoring apps that could be used by parents. Now that you know the advantages and disadvantages of mSpy, let's take a look at its competitors and why mSpy is the better option.
Brand
Features
mSpy
Can be hidden
Has location tracker
Has geo-fencing
Can monitor calls and SMS
With recording capabilities
Bark
Cannot be hidden
No location tracking
No geo-fencing
Limited reading and recording abilities
No keylogger
HoverWatch
Can monitor Instagram and Snapchat
No geo-fencing
Cannot monitor calls and SMS
Bark (read our full Bark Review)
Bark is one of the newest and trendiest parental control software on the scene. However, Bark is not a true parental control app like mSpy is. Bark cannot be hidden on a phone. It also does not offer any location tracking or geo-fencing utilities. Its message reading and recording abilities are also more limited, and there is no Keylogger.
The only advantage Bark has is that it automatically recognizes mature or dangerous content and alerts you. Otherwise, mSpy is the better option.
HoverWatch is another parental control app. Unlike mSpy, it is very focused on certain messaging apps like Instagram and Snapchat. It can monitor those thoroughly.
However, this comes at the expense of other features. There is no geofencing in HoverWatch. Parents also can't monitor phone calls and text messages, which is needed. So, I suggest sticking to mSpy.
Is mSpy Safe to Use and Legitimate?
Yes! mSpy is one of the most reputable names in the Security and Monitoring industry. In fact, it is used by over 1.5 million parents in 180 countries around the world.
It has also been reviewed highly by mainstream news, magazines and reviewers, such as Forbes, the Los Angeles Times, ABC News and Working Mother.
Needless to say, mSpy is definitely safe and secure. It is fully above board and a great option for any parent.
Conclusion
To sum it all up:
mSpy is one of the best parental control and monitoring apps currently available. Through it, you may keep a close track of all the phone, text and social media interactions your child has. You can even check their browsing habits and apply app or website restrictions as necessary.
On the other hand...
It does have some downsides that are highlighted if you have a big family, but for smaller families or only-children, mSpy is a must-have for any parent.
Try mSpy For Free!
FAQs
In this section, we will cover some of the most commonly asked questions about mSpy, including its features, compatibility, availability and legality.
Is mSpy safe to install and use?
Yes, it is safe to install, as long as you follow the instructions and contact customer support in case any problems come up.
How many devices can I track with mSpy?
mSpy is limited to tracking only one device per account. To track more, you will have to purchase additional subscriptions.
Is it legal to use mSpy?
Parents have a lot of rights over their children, including the right to monitor them. So it is not illegal to use it on children. However, you must get consent if you want to monitor an adult.
Is mSpy available in my country?
Yes. There are no geographic restrictions to mSpy. It can be used from anywhere in the world. The only thing it requires is an internet connection.