Is There a Way to Monitor Your Child's Snapchat?
For most parents throughout the world, the internet offers a portal to knowledge and entertainment. However, they overlook the fact that there are also naïve teenagers and youngsters present. The majority of them have no idea if they are interacting with the incorrect people online.
There are multiple things that you wouldn't want your child to be exposed to while browsing online. This is a common understanding of all parents around the world. It's easy to read messages on most social media platforms.
But how do you track applications that offer auto-deletion of messages after they're read? Snapchat, for example, is an application that focuses on the privacy of its users. This privacy, however, can lead to people bullying others and sharing content that is not appropriate for all ages.
The application ensures that the chats are deleted after they're read. This can make it challenging for parents to monitor their children's activities. The lack of records also means that there's no evidence to prove that something happened.
If you're a parent and facing similar issues, you don't have anything to worry about anymore. We've gathered a list of the best applications that you can use to ensure your child's safety. So, let's not waste any more of your time and get you updated right away!
Doesn't Snapchat Come Equipped with Parental Controls?
Although Snapchat has some parental controls built into the program, they are insufficient. Snapchat, according to multiple user reviews, should provide better options for parents.
As of now, they offer the ability to make current accounts private and filter some content. Your child, on the other hand, can quickly alter these settings and drift off to the wrong side of Snapchat at any time.
This is why it's critical to employ applications that can better protect your child. These apps ensure that the settings can't be readily altered and keep you up to date on all their Snapchat activity.
What Are Some of the Best Applications to Monitor Snapchat?
After spending some time on research, we've come up with some applications that do the job right. These applications allow you to monitor your child's Snapchat and various other applications. Let's take a closer look at all of them.


Bark isn't an app for watching your dogs! Instead, the name comes from the idea that it will 'bark' loudly to get your attention when there is a threat to your kids.
Here's the deal
I found Bark to be one of the most affordable options, at only $10 a month. It covers most of the popular social media sites, including Snapchat on Android phones. Bark has 24/7 protection and will alert you to any kind of dangerous activity.
Using artificial intelligence, it detects and notifies for harassment, bullying, mature images, and videos. This saves you from having to read through all the conversations between your child and their friends. You won't have to breach their privacy too much to keep them safe!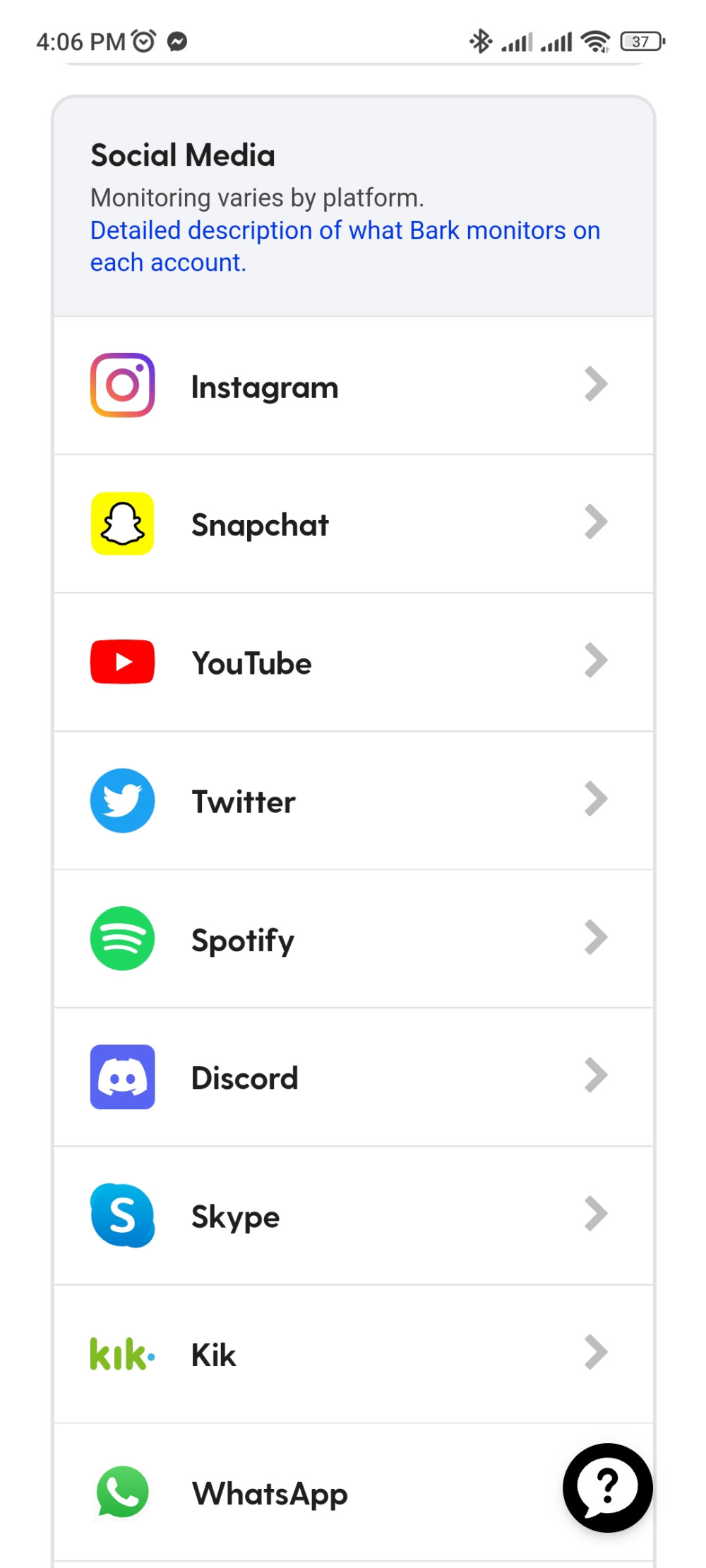 Bark even offers recommended responses for various situations. It was developed with the input of child psychologists, so this feature comes in quite handy and might even save you an expensive session.
Exclusive 10% discount with our coupon code: PCNWOW10


mSpy might be one of the best monitoring apps out there. However, it requires a rooted or jailbroken phone. This step is a little tricky for those who are not tech-savvy, so I recommend following some instructions to do it safely.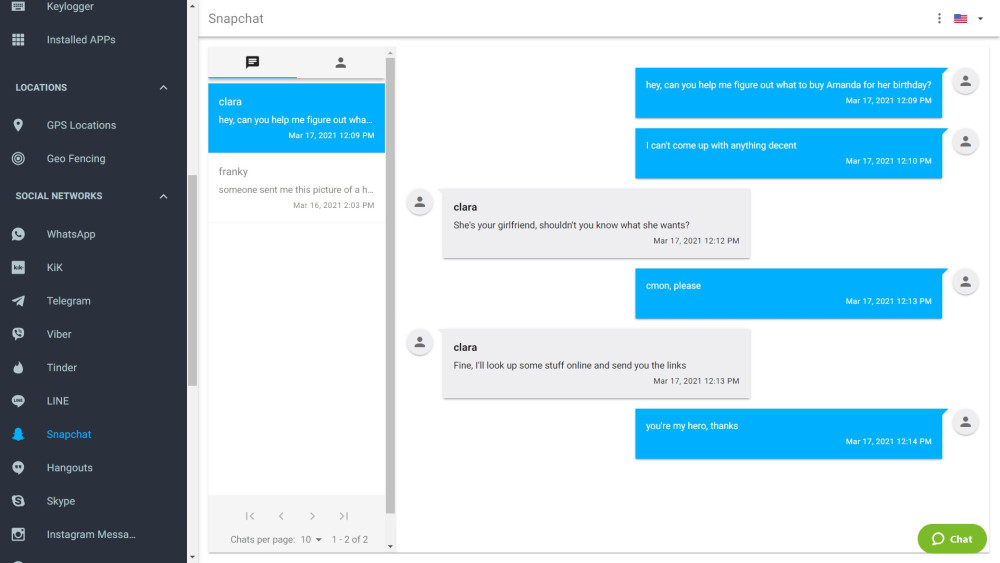 In addition to monitoring messages and media, MSpy includes a keylogger. It records every single thing your child types. To some parents, this may be a little overkill. To other parents, this is a way to get into their Snapchat accounts directly and take action.
MSpy does come with a hefty price tag. There is a massive discount for purchasing an annual package compared to a monthly one, so parents should try it out first before investing in it.
Get a 30% discount with coupon code: PARENTALCONTROL


eyeZy is one of the applications that provide ease of use and a friendly user interface. It doesn't require you to be tech-savvy and allows you to effectively track your child's activity on their phones.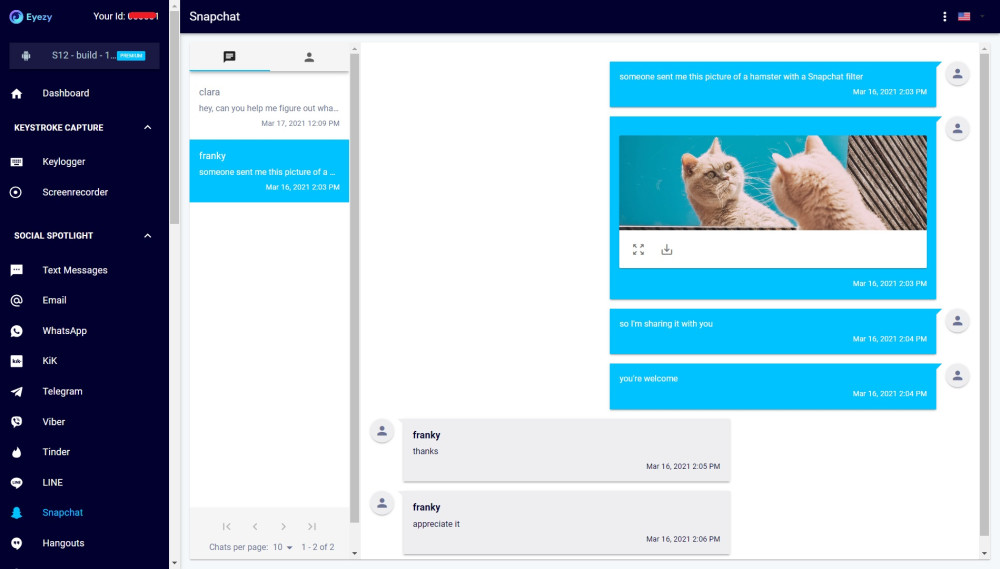 Its notable features include a keystroke recorder, content filters, and application control. You also have the option to record your child's activity with a screen recorder tool at any given time. Moreover, you have access to a dashboard that gives you a detailed overview of all of your child's activities.
All these features will cost you $47.99/month and are available for Android and iOS devices. It should be noted that you'd need to jailbreak iOS devices to use the full features of eyeZy.


Qustodio's Snapchat filtering is impressive. But it also does so much more, across other social media, content filtering, GPS tracking and even time limiting. You could start with the free plan (which is good, but you won't have access to all features), we'd really recommend selecting one of its plans (from $4.98/month) if you're looking to block or filter Snapchat from your child's phone.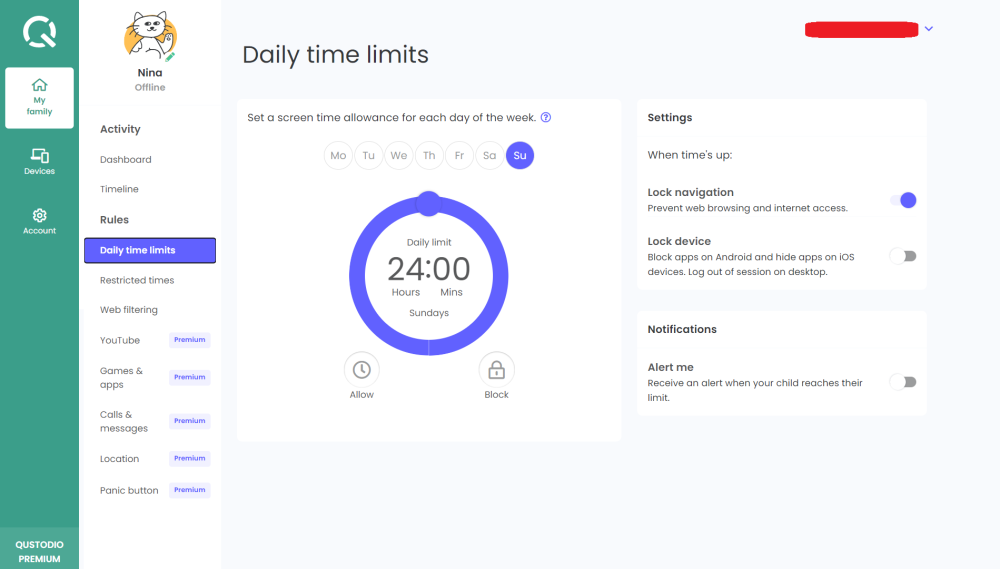 That and Qustodio is super user friendly – there's a reason 4 million+ parents love to use it!
Get a 10% discount with coupon code: IMAGINE10


uMobix is an application that allows you to monitor all the activities on your child's phone. You'd have ease of mind while using this application as it offers a GPS tracker that tracks in real-time. It also allows you to track almost all social media applications.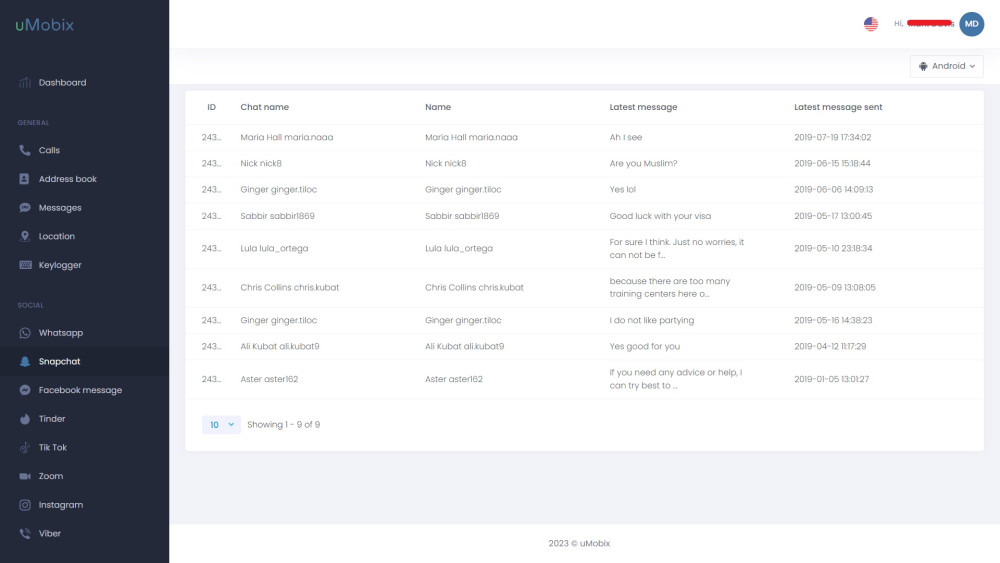 All of this can be done remotely, and the application stays completely hidden in the background. Your child would have no idea that you are monitoring their every move. And here's the best part, you wouldn't need to root/jailbreak any device.
It's a simple plug-and-play application and comes for $49.99/ month with all the features.
Famisafe is an award-winning parental control app. It comes recommended by some of the biggest parenting organizations. It is safe to say Famisafe is the ideal app for monitoring your child's online presence.
It's relatively affordable and comes with an array of features. Geolocation and Geofencing lets you know where your child is. Websites and entire apps can be filtered out, preventing your child from clicking a dangerous link on Snapchat. Explicit language in messages and mature images and videos they download can also be detected.
Famisafe might not be able to tell you exactly what messages your child is getting on Snapchat, but it will catch anything dangerous.
TruthSpy
TruthSpy comes loaded with a variety of trackers and spying tools. One of them is a Snapchat Spy.
Using this Snapchat Spy, you can check a record of your kids' messages and see any images or videos they save.
This app can be installed secretly on any Android phone. Once it has been installed, it can be hidden. It will not show up in the apps list, so there is no way for your child to delete it from the phone without knowing it is there.
Any data from TruthSpy is sent to an online console. Parents can log into the console from anywhere at any time.
Webwatcher is a very affordable and easy-to-use monitoring app. It is easy to set up and use and it stays hidden on your kids' phones at all times. You can view what it records from the parental app on your phone.
It is available for Android, iOS, and Chromebooks. Unfortunately, Snapchat monitoring only works on Android. You can set up alert words or phrases. If your child uses any of them or if they show up in a message, the app will send you a screenshot alert immediately.
Webwatcher will be recording everything your child sees, hears or says through their phone. At approximately $11 a month, it is a small price to pay for safety.
SpyIC
SpyIC is another great monitoring software for monitoring your kids. It has several pricing levels. The basic one is very affordable, but lacks Snapchat monitoring.
By contrast, the premium version is probably the most expensive on this list. Unless you take advantage of one of the deep discounts, it will run you up to $70 a month.
That price tag might be worthwhile. SpyIC covers more social media apps than any other monitoring app. Some less popular ones such as Badoo, LINE, WeChat or Telegraph are covered by this app.
In addition to images, messages, and calls, it also shows you video previews, calendar activities and bookmarks. It tracks location via SIM card, not just GPS, so it is impossible to evade by simply disconnecting from the internet.
FlexiSpy is the most feature-packed spying app there is. First developed in 2005 just as phones were getting accessible enough for kids to have one, it has steadily improved its features over the years.
In addition to the monitoring features it shares with all the other apps, it has some unique functions. It can remotely turn the phone on or off. It can send remote commands via SMS. If your child tries to uninstall the app, you can prevent that as well.
It can also record calls and even transmit live calls to you so you can listen in. You may even intercept calls and prevent your child from picking it up, which is useful if you know the number and don't want your child talking to them. Similarly, you can spoof SMS text messages.
All these features are not free, of course. FlexiSpy comes with a price tag of over $16.50 a month for the extreme version, which includes all features. Many of the features require jailbreaking or rooting a phone, so beware of using it if you are not technically inclined.
XNSpy is a monitoring app that has been touted quite a lot recently. While it has all the same basic monitoring and recording functions as other apps, there are a few new, interesting features as well.
One of them is Network logs. XNSpy can check and record what Wi-Fi networks or VPNs they connect through. It can track them through SMS and also send remote commands through it. If you notice your child installing an app or behaving suspiciously while at a friend's place, you can lock down their phone with a text.
The XNSpy Analytics is a good way to learn how your kid browses the internet, what apps they use, and how long they do it for. A useful example of this is to check if they are doing homework or simply surfing the internet. You might not be free to check yourself at the time, so analytics can be very useful.
All these features come in a relatively affordable package too! The pricing can be as low as $7.49 for the premium version.
A Note on Rooting or Jailbreaking
If you are not used to the phone lingo, you might not have heard of the words "rooting" or "jailbreaking". Both Android and iOS put in some software security in order to prevent users from poking around in the wrong place. It's because doing that could lead to irreversible damage to your phone.
Quick 101:
Rooting or Jailbreaking is simply the process of removing those restrictions. While it can be a little dangerous, there are no risks if you don't mess around. More importantly, it is necessary for many advanced functions. For example, it is impossible to control a phone remotely without rooting it.
If you are confident in your technical skills, you should go ahead and root or jailbreak the device. Otherwise, choose an app that does not require it.
Conclusion
If you're not a tech-savvy parent, the terms "rooting" and "jailbreaking" may seem intimidating. The termsrefer to gaining access to features that your phone provider doesn'tallow you to have. The procedure is straightforward, and you may learn how to do it from YouTube tutorials.
Parenting is a hard profession, and we understand what you go through daily to guarantee their safety. They might not be okay with you monitoring their activities, but they'll understand when they're older.
It's critical to monitor their online activities to protect them from the negative aspects of the internet. If left unchecked, your child may become a victim of cyberbullying and be exposed to other online dangers.
The applications highlighted in this guide will help you take control and protect your children. Some of them aren't cheap but when it comes to your child's protection, no price is too high!
FAQs
Nowadays a lot of harmful and explicit content is sent through Snapchat. As the app has a disappearing message feature you can't even know what harmful content your child has consumed. Thus, you need to monitor and check Snapchat to make sure you can stay ahead and protect your child from the dangers of the internet.
Rooting or jailbreaking is the process of removing any security measures that are installed in the phone by the developer, such as Android or iOS. These security measures are installed so you don't mess with the setting. But, for some parental control apps to work properly, you need to root or jailbreak your phone.
Most of these parental control apps are paid but come with a free trial or free version. Granted, some of the features are locked in the free mode but it allows users to experience the app first before committing to a paid subscription model. The paid version of these apps are not very expensive and are usually paid on a monthly or yearly basis.
Yes, there are some parental control features in Snapchat itself but they are often not enough to fully protect your child. With the current features, you can block some specific content and set your profile to private. These settings can also be changed by any user and are thus not very effective when it comes to monitoring.
Most of these parental control apps come with a set of features that enable you to monitor your child's Snapchat activity. Some of the common features are message checking, location tracking, screen time limits, photo access and more. Each app will have a different set of features so read through the reviews before you settle on one.