Screen time is a major problem for kids and if you as a parent landed on this article you are taking the first step to helping your kids. From smartphones to tablets, mobile gadgets are lifesavers, we use them for playing games, watching videos, and doing a plethora of other things. However, it can also be dangerous, specially among little ones as it is known today that these devices are addicting for us adults and for kids as well, it is easy to be hooked and spend more time than necessary using these gadgets.
Nowadays, almost every game is attached to a screen and this is when the concept of screen time enters the picture, especially for kids. In this article we will help parents answer the following questions among others:
How much screen time is ok for our kids?
Where you can see screen time on each device?
What apps can support parents in setting up time limits?
In a nutshell, screen time refers to the amount of time using a device with a screen, including a smartphone, tablet, laptop, or television, among others. This is directly related to child development, including physical and mental health. Too much time spent in front of screens can result in problems like lack of sleep and obesity. Children can also be drawn toward violence. More so, cyberbullying is likely.
As responsible parents, it is crucial to be proactive in managing screen time for kids. In this article, we'll talk about some of the best things to do. We'll also have a rundown of some of the top-rated options for a screen time app.
BEST DEALS:
Qustodio: Grab additional 10% discount for all the premium plans. Use coupon code: STAYATHOME
Bark: This parental control app allows you to track over 24 social networks including Facebook of course and is very affordable at $14 a month. To start your free trial click here.
mSpy: This parental control lets parents block access to websites, content, images, and videos. Get an EXTRA 20% off with coupon code PARENTALCONTROL.
How Much Screen Time Is Too Much?
In recent years the amount of time our kids spend in front of all kinds of screens is growling exponentially. While back in the day we had on main screen (the living room TV), in the last decade we see screens all over us. The cost of producing a TV or a phone has decreased dramatically hence creating more and more screens is not a problem. Our kids have TV's, gaming consoles and mobile devices constantly around them.
The major question is:
What they are doing with them and how to funnel their screen time into something positive and educational?
Research shows that an average kid in the US ages 5 to 7 spends over 4:00 hours daily glued to their screen. Now, it is all about balance – if your kid is paying candy crush for 4 hours it is obviously not so goo but if part of that time is used for solving math problems or playing chess on line it is probably much better use of the screen time. The recommended screen time for kids in these early ages is probably much lower and should not be over 1:30 hours. Kids in young age should be playing outside with other kids, socializing, exercising and contribute to their social and emotional development.
How to Limit Screen Time on iPhone
For iPhone users, there is a built-in feature that will let you limit screen time. It has powerful features that can also be useful for analytics. It has usage reports, which will let you know the online behaviors of kids. To limit screen time on iPhone, here's what you will need to do:
Step 1: Go to Settings and choose Screen Time.
Step 2: Tap App Limits, then click Add Limit.
Step 3: There are two things that you can do. First, you can set a general limit on all apps. Second, you can manually input restrictions based on several categories, such as social networking and games.
Step 4: Choose hours and minutes depending on the duration that you would like to set as a limit. You can also choose days, which means that you can set different limits throughout the week. Meaning, you can set longer screen time on weekends and shorter on weekdays.
What Are the Best Screen Time Apps?
In our opinion, the best way to limit screen time is to use parental control apps, including those mentioned below. The apps are packed with features that will let you go beyond limiting screen time for example, you can also monitor social media use, track location, and view message logs, among other things. Most of the apps allow parents to control their child's screen time, and some actually have some cool features. The apps allow parents to reward their kids with screen time allowance (just like money) if they preform certain task like homework, etc.
Below is a short description of the leading apps for time management:
Qustodio
The Qustodio parental control app comes with a simple to use features for parents to decide what is the desired time limit and the set a screen time scheduler or a daily time limit for not only videos but also for games and apps.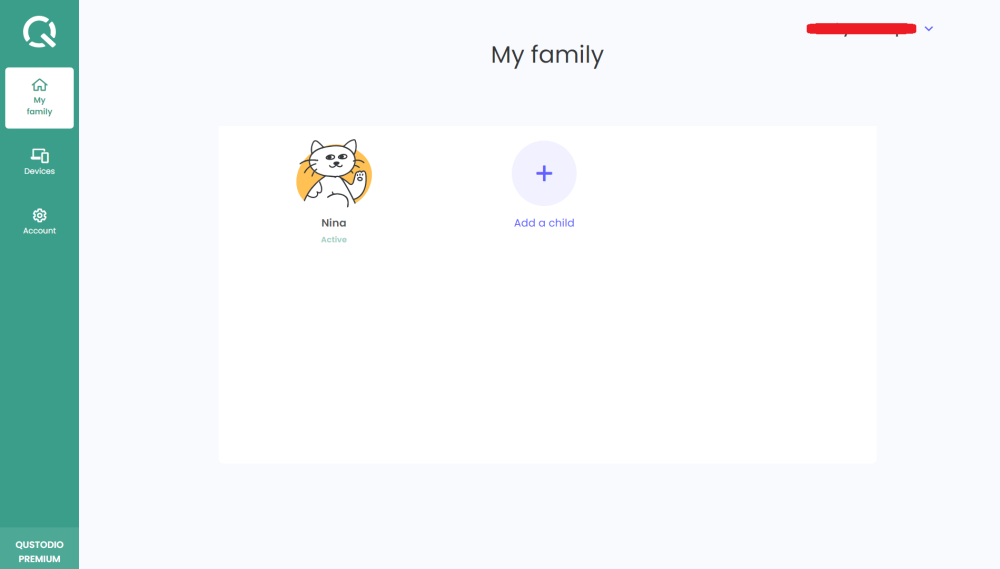 If you are using Qustodio for more than once device the app allows you to set different time limits per device, which is very important if you have kids in different ages.
Grab additional 10% discount for all the premium plans. Use coupon code: IMAGINE10
Visit Qustodio
Or read our Qustodio Review
FamilyTime
While FamilyTime comes with a free version, the problem is that it has limited features, which does not include setting time limits. FamilyTime is one of the only parental control apps that lets parents manage time limits on both iPhones and Android devices.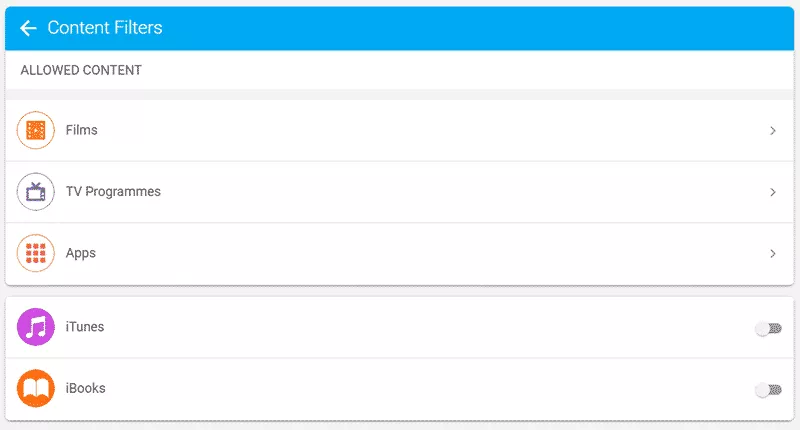 You can enjoy a free trial that lasts for three days and after this, you need to choose one of their plans. The cheapest one will cost you around $27 annually, which is roughly equal to $2.25 per month. This plan is good only for one device but the subscription includes setting up time limits before bedtime and homework time, giving you complete control on device usage.
Visit FamilyTime
Or read our FamilyTime Review
Bark
Bark claims to have protected millions of children all over the world and of course they offer a good and effective choice for screen time management. The feature is available on both the Junior plan which is $5 per month, and on the premium - $14 a month plan.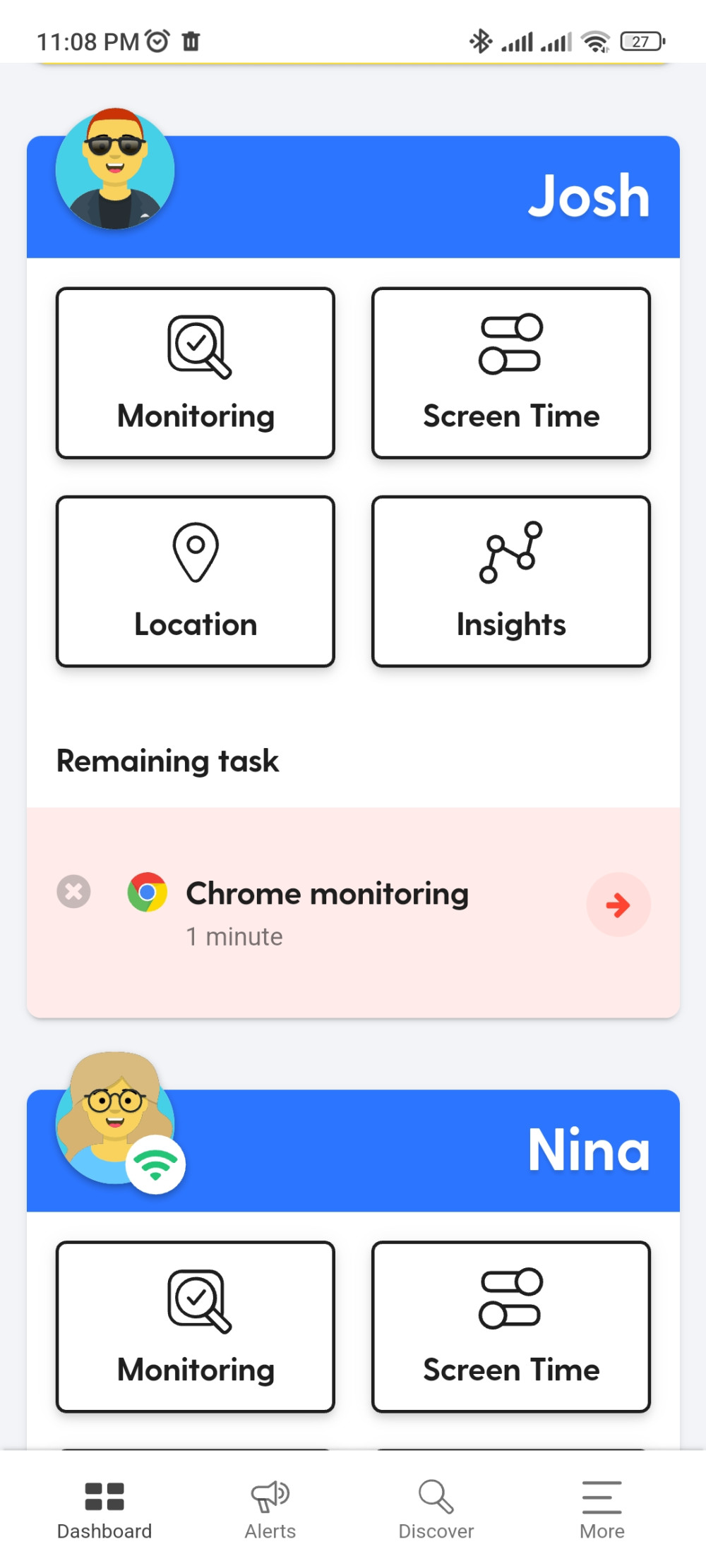 Bark is among the apps that can support time limits on both Android and iPhone devices. Bark also allows you to set up different time schedules per kid. Your can learn more here.
Visit Bark
Or read our Bark Review
Norton Family Premier
One of the most trusted names in the industry (anti-virus mainly), which is a good reason to choose it if you had used its products in the past.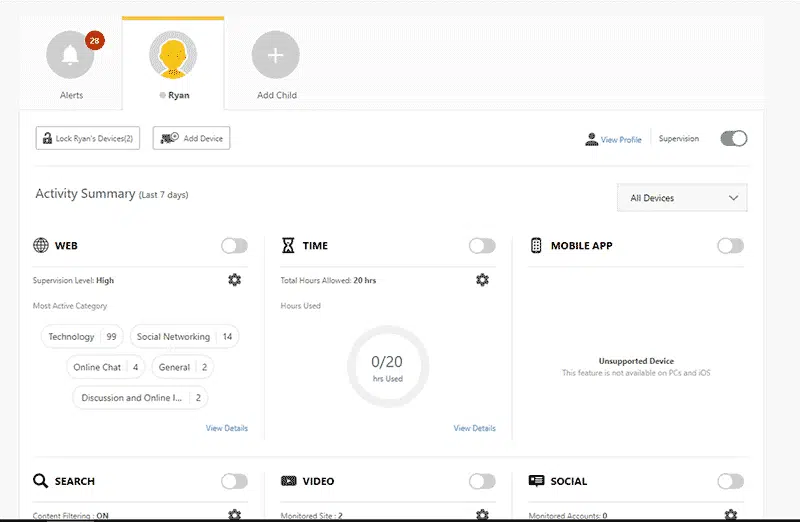 You can help balance the time kids spent on devices by setting a time limits from within the parents dashboard. You can sign up for a up to six months of a free trial, as of the time of writing this article, and play around.
Visit Norton Family Premier
Or read our Norton Family Premier Review
mSpy
Probably the most robust app of them all with great option for parents to control their kids devices. mSpy has pricy premium subscriptions, but we thing it worth every penny when it comes to our kids.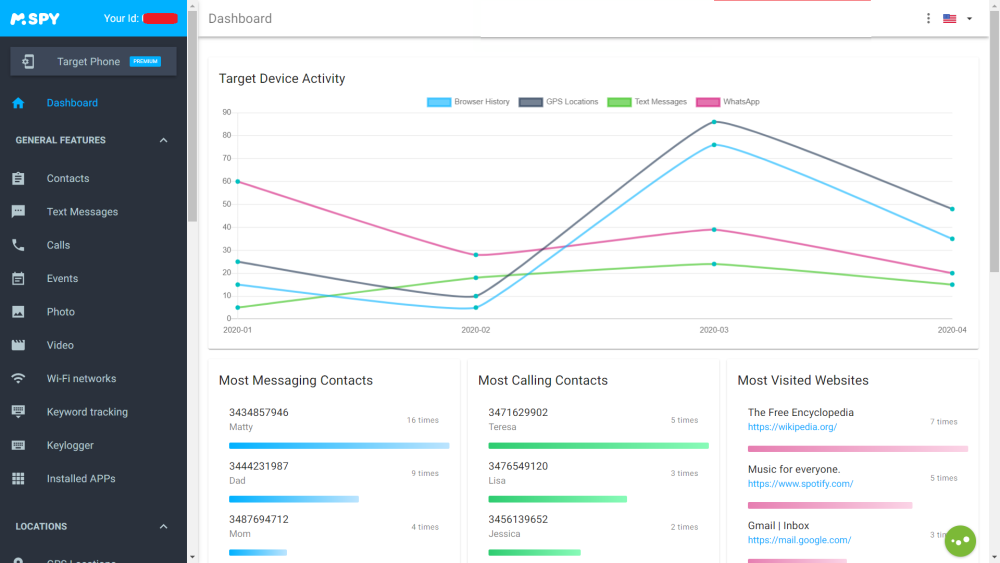 The app lets parents track everything that is happening on the device and according to many of its users, it is worth every dollar as it is packed with advanced features. The With the screen time management feature is available on all packages and lets you decide how much time kids can spend on their devices.
For our special promo use the coupon code PARENTALCONTROL
Visit >mSpy
Or read our mSpy Review
How to Limit Time on Apps?
If you chose to use the above apps you are covered, but you can also use the built-in features that both Android and iPhone have to set up and block inappropriate apps and content filters. Use the guides below to make sure you set up parental controls on the major platforms that kids spend most of their viewing time:
So, How Do You Check the Screen Time on an iPhone?
If you want to check iPhone screen time, there is a built-in feature that will let you do so. Under Settings, you can see the information that you are looking for. It's as easy as going to Settings and clicking on Screen Time. From here, you can see a summary that also shows a breakdown based on the usage of the device. For instance, you can see how many minutes were spent on games and social networks.
How to See the Screen Time on Android?
There's also an easy way to check screen time Android. Most Android-powered phones will have a native feature that will let you do so. If you are curious about how to check screen time on Android do this:
Step 1: Go to Settings, then choose Digital Well-Being and Parental Controls.
Step 2: Click Show Your Data, and from here, you can see the screen time on an Android device.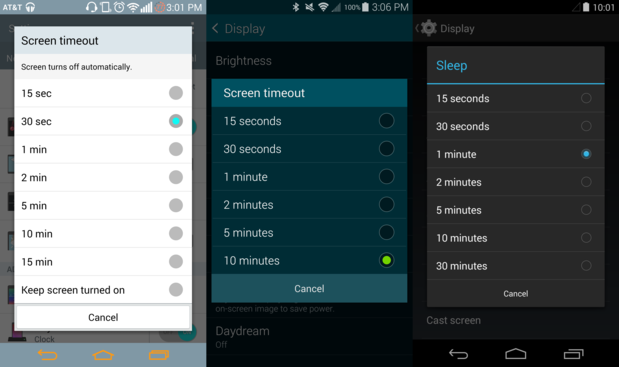 How to Change Lock Screen Time on iPhone?
For iPhones, there is a built-in feature that will let you set time limits and change it accordingly. There's no need for a third-party app for this. Go to Settings, then choose Screen Time. Tap Continue. Click This is My Child's iPhone/iPad. Set the start and end times. Save the settings and just like that, you have already changed the screen time.
Conclusion
In general, managing screen time is a must to instill healthy online habits among children. Otherwise, they will spend most of their day glued on their smartphones or tablets which means that they will prefer to do that over playing with other kids and study. The bad outcomes of over use are major, from screen addiction and obesity to physical health and social problems kids and parents that do not control the usage are in danger.
Luckily, if you read this article it means that you are concerned and it is a great first step. You can easily manage screen time for kids by doing the things that have been briefly mentioned above.