In this article, we will review and compare the leading features of Qustodio vs. Net Nanny to help you decide which parental control solution fits you better. Since the world has lately become an increasingly dangerous place, we now have a notion called 'helicopter parenting.' That means closely watching your child's every move. Nobody really wants to do that, but when you consider the dangers all around, you find yourself hovering more often than you want. When it comes to online security, things are even more difficult. You cannot always be there to keep your child safe, but you can use a parental control app to do the job for you.
If you do a little research on the apps that are available on the market, you will find a few that are extremely popular and recommended. But that doesn't mean it's easy to make a decision. However, to make things a bit more clear, here is a comparison between two of the most popular parental apps: Qustodio vs. Net Nanny.
Features Comparison
That's usually where your research needs to start, most parental control apps have roughly the same features. However, some do a better job with them than others. Not to mention, you may find additional ones that can convince you that's the app for you.
Qustodio has a wide range of features, like website filtering, blocking calls, texts, and certain apps. It even has a panic button and recently added YouTube monitoring option which allows parents to carefully monitor what their kids are searching and watching on the popular video site. Their screen time management feature helps you decide how much time your child can spend online and monitor their kindle device.
QUSTODIO: GRAB ADDITIONAL 10% DISCOUNT FOR ALL THE PREMIUM PLANS. USE COUPON CODE: IMAGINE10
Net Nanny also filters the website content and gives you detailed reports on your child's online activity. In addition, if your children are of different ages, you can customize their profiles and adjust the rules for each of them.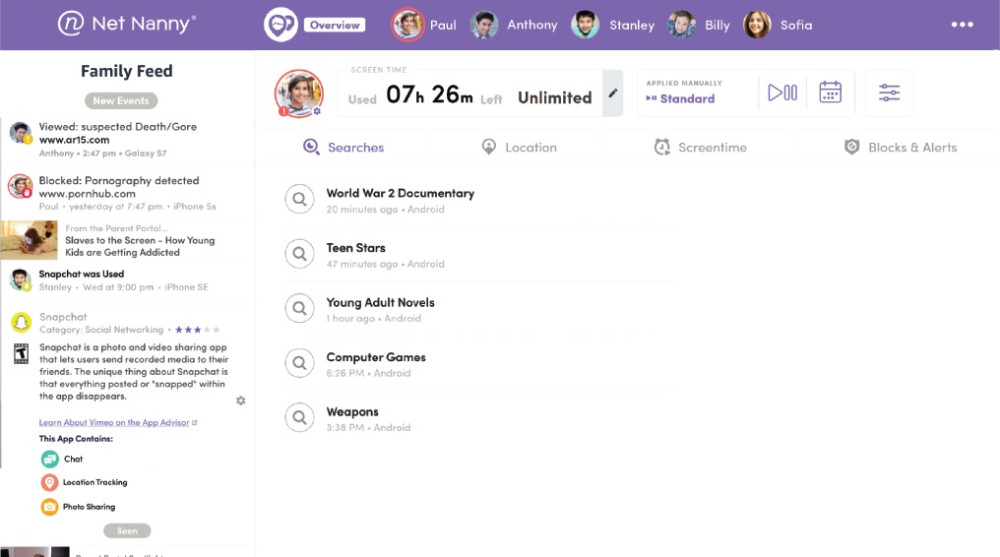 If you focus on the Net Nanny comparison to other apps, you will find a special feature that masks profanity on web pages. That means that even if your child is visiting a site that isn't blacklisted, but there is some inappropriate content on it, the app will find it and block it. If there's a warning flag in your child's online searches, Net Nanny will notify you by email. Another interesting feature is the one for addiction prevention, which is especially useful if your kid loves gaming.
The Qustodio comparison to similar parental apps and Net Nanny in particular also brings up some interesting features. Qustodio does a much better job monitoring social media apps, with deeper and more complex filters. It also controls the games your children play, which is extremely important. In addition, it has a feature Net Nanny lacks – location tracking and geofencing.
🏆 Winner: Qustodio
Visit Qustodio
Ease of Use
Net Nanny is one of the oldest parental control software on the market. With age does come experience, but it also means its interface is a bit dated. It's not difficult to use but doesn't look that great.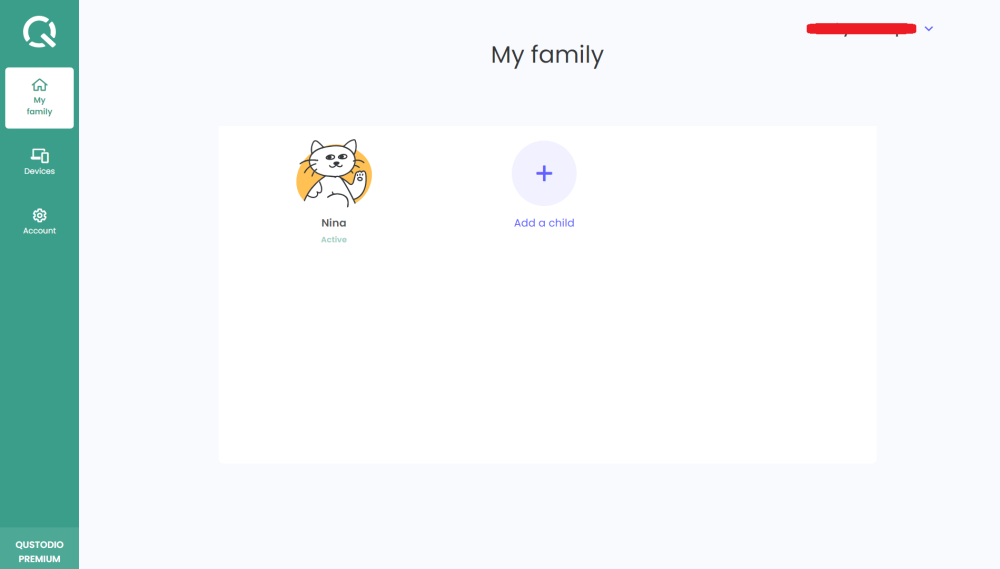 So, when it comes to presentation and ease of use, the Qustodio vs. Net Nanny challenge is won by the former. Qustodio is very well organized and easy to use, a bit similar to the Facebook newsfeed.
🏆 Winner: Qustodio
Try Qustodio
Pricing
Of course, features are important, but many times it's the price that is the strongest deciding argument. If you have two or three children and you need personalized profiles for all of them you will definitely think twice before choosing an expensive app.
When it comes to prices, the Qustodio vs. Net Nanny comparison has a clear winner – the first one. However, these two apps are difficult to compare from this point of view, because their pricing plans are very different. Net Nanny has a lot of levels you can choose from, but for a family with more than one child, you need the Family Protection Pass. That starts from $59.99 per year and covers up to 5 devices. There is a cheaper version of $39.99, but that one only covers one Windows or Mac device.
On the other hand, while Qustodio is usually considered more expensive than other apps, when compared to Net Nanny it wins the battle. Their most expensive plan is $137.95 per year, but they also have one at $54.95 per year that already covers 5 devices, so it's actually cheaper than its competitor.
🏆 Winner: Qustodio
*GRAB ADDITIONAL 10% DISCOUNT FOR ALL THE PREMIUM PLANS. USE COUPON CODE: IMAGINE10
Visit Qustodio
Pros and Cons
The best way to decide who wins the Qustodio vs. Net Nanny app comparison is to carefully balance the pros and cons of both sides.
Qustodio has cross-platforms support and manages web filtering on any browser. It also has a strong time management feature both for internet usage and device and application usage. And it does a great job tracking your children's location. On the other hand, it can get quite expensive if you choose a higher version and has some limitations when used on iOS devices.
Net Nanny is also compatible with many platforms and has an easy web-based configuration. It has strong filters, delivers detailed reports, and even allows you to divide your child's time allowance between different devices. But it also has cons. It doesn't offer location tracking and geofencing, older logs automatically disappear after 30 days, and it's a bit expensive.
🏆 Winner: Net Nanny
Visit Net Nanny
Conclusion
Considering all the features as well as the strengths and weaknesses of these two apps it's clear that they are both strong competitors on the market. An overall view of our face off Qustodio vs. Net Nanny seems to declare that Qustodio is the winner.
It has some very interesting special features, and it costs less than Net Nanny. Each parent knows exactly what features are more important for their family, how many devices they need to be monitored, which interface looks easier to use and so on. So, this was just a way to put things in perspective so it can be a bit easier to reach the best decision.
Visit Qustodio
Visit Net Nanny
Checkout these other interesting parental control apps comparisons: