The Apple iPhone and its countless models are among the best-selling and most widely-used smartphones of all time. Apple retains dominance in the smartphone market, and it is estimated that about 1 in 3 people in the US alone have an iPhone, with more than 700 million devices sold globally. More and more often, smartphones are becoming an integral, must-have item for youth as well as teens and adults, and often the iPhone is the go-to choice.
In this step-by-step guide on how to put parental control apps on your kids iPhone, you will be able to learn what are the existing features that iOS provides. If this does not satisfy your needs you can check our list of the best parental control apps for iPhone.
Like any communications device with internet functionality, however, there can be a lot of risks in giving a child or teen free reign with an iPhone. They can call, text, or video chat with almost anyone, access the full range of content on the Internet, download and use any kind of app, and make in-app purchases if there is a payment method linked to their account, potentially running up a massive bill.
For the sake of keeping kids safe, limiting their access to inappropriate content, and preventing unwanted purchases, parental controls on iPhone are something all parents should consider. There are both native options for parental controls on iPhone, as well as settings for parental controls on iPhone apps, along with third-party software that can also be used for more detailed levels of control.
In this step by step guide, we'll tell you how to put parental controls on iPhone, and talk a bit about setting up parental controls on iPhone apps, as well as through third-party utilities. We'll talk about why it's important, the features that should be present, what you can restrict, and so on. We'll also offer up some important advice for keeping your kids safe when using a smartphone, that goes well beyond the technical limitations of apps and controls, and more into educating and supervising kids to teach them good, safe habits from an early age.
Step by step guide to set up parental control on iPhone
Setting up parental controls on iPhone using the native tools is really easy:
Step 1: Navigate to the Settings menu, then select Screen Time.
Step 2: Choose the option for This is My Child's Device.
Step 3: You'll be prompted with options to setup a password, required to change these settings in the future.
Step 4: Then, select Content and Privacy Restrictions, enter the password if prompted, and enable Content and Privacy settings. You can choose and adjust settings for:
Preventing iTunes and App Store purchases
Allowed/disallowed built-in apps and features
Restrict content based on explicitness or ratings (apps/books/movies/TV shows/music)
Restrict Siri web search functionality or filter out explicit language or results
Restricting aspects of games such as preventing multiplayer gaming or adding friends
Limiting adult web content or limiting web content to only white-listed sites
Adjusting the settings for which apps can access data/camera/microphone/location/other functionalities
Step 5: You can also limit the total screen time, hours usage is allowed, and other time-related functionalities within the Screen Time menu.
Application-specific parental control settings are usually found within the applications themselves, and can further manage access, content, and usage limitations for your child. Each application that is installed may have different options, with some having little or no parental controls, and others (the more popular and child-centric apps, including Facebook and similar) have extensive menus of options for parental controls.
Step 1: Go to the settings option of the iPhone.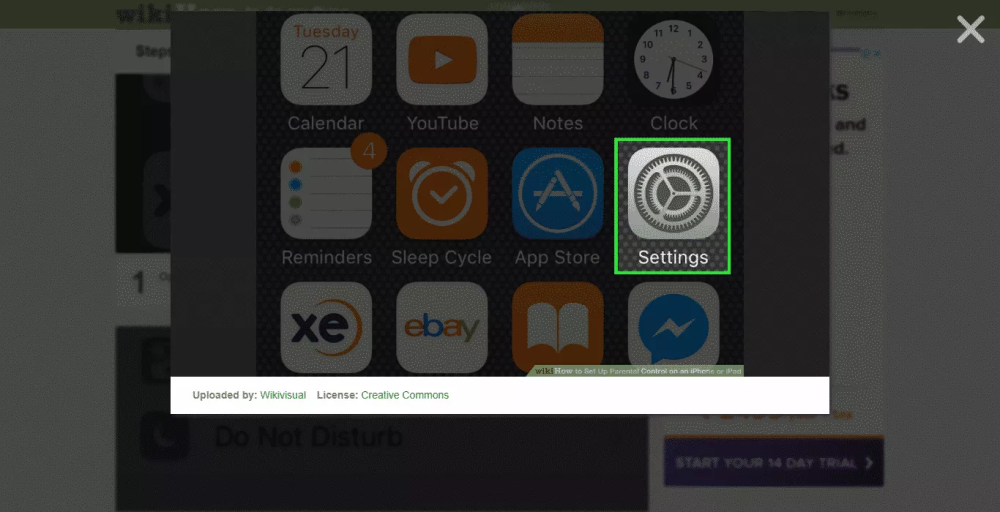 Step 2: Scroll down the list of options that appear after tapping on the Settings option. Click on the option "General".
.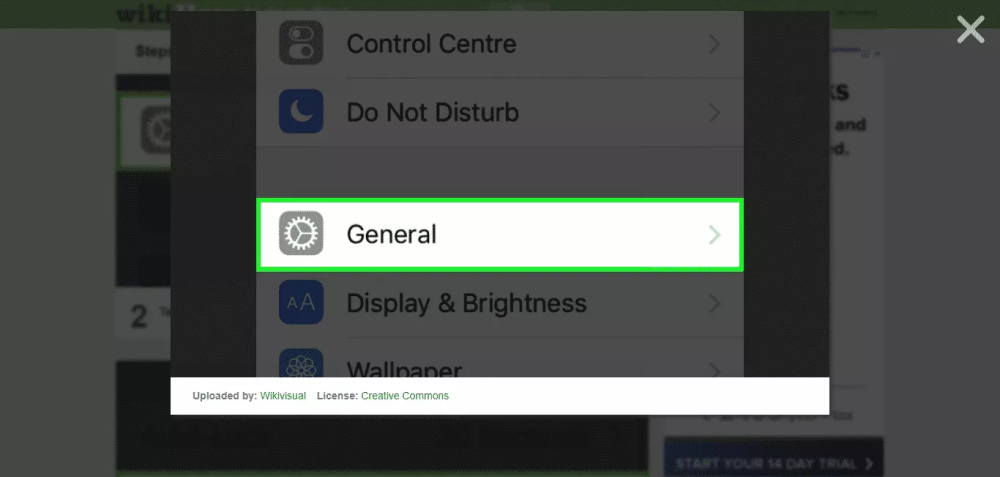 Step 3: Under General, scroll down to "Restrictions" and click on it. You will find it nearly halfway in the middle of the list of options in the page.
If your Restriction is already enabled, fill in the password when prompted. No need to enable twice if you have done it already.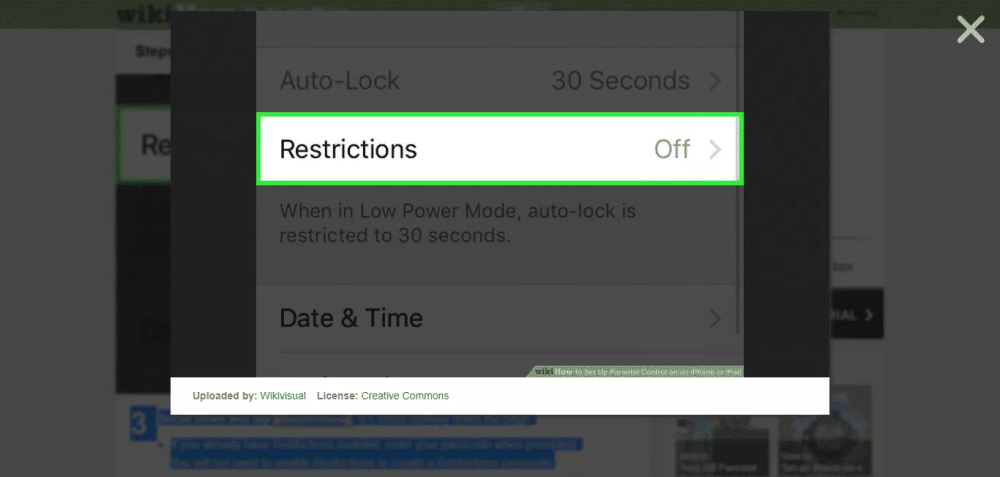 Step 4: Tap on the enable button of the Restriction option. This enables the option.
If the button shows "Disable Restrictions" it means the Restrictions option is already ON and you can skip this step.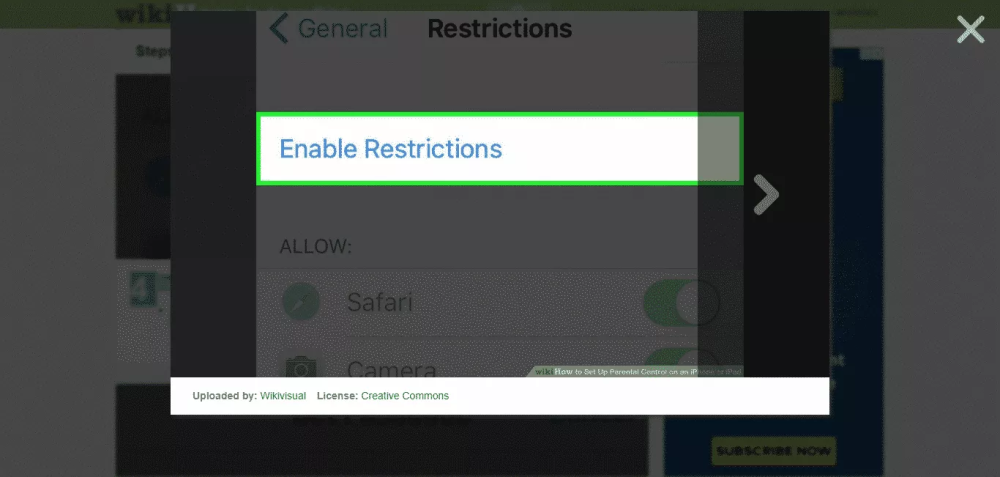 Step 5: Create a password to enable Restrictions and make sure you keep it for future references. You you will need this password when you want to disable this option later or change it.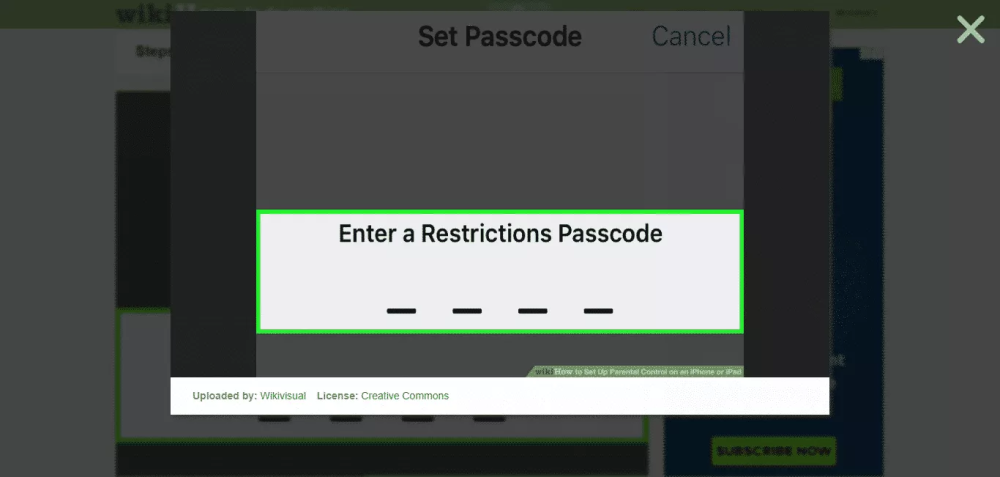 Step 6: You need to re-enter the password to confirm it.
Step 7: Check the items present under the heading "Allow". You can also restrict the use of apps present under this heading. You can prevent in-app purchases and other similar actions.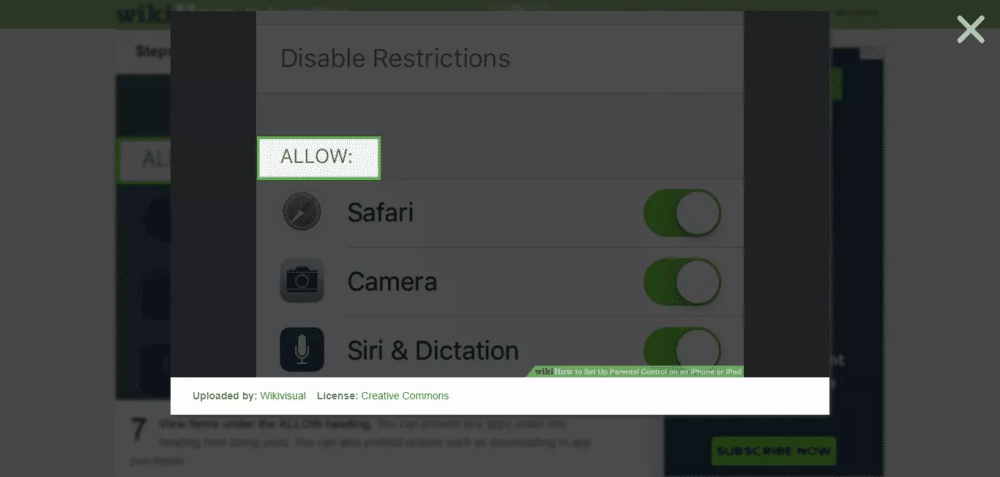 Step 8: Turn off or disable the action or app by sliding the button placed next to each app. The item turns white and will stop appearing on the Home Screen. The actions which you turn off once will also be prohibited.
Step 9: You can choose the options or items that you want to restrict.
Third Party Apps
Third-party software which seeks to unify or set higher-level policies for parental controls on iPhone can typically be downloaded as free, or more often paid, apps for the phone. Some of these apps even include geofencing capability, which provides you a notification if the phone (with your child) travels beyond pre-defined geographic boundaries.
We have detailed reviews of the leading parental control apps that can help you safe guard your kids. Please make sure you read through to know which app serves your needs in the best possible way. In the review section of each app we take a closer look at the main features such as: Monitoring, operating systems, geo fencing, notifications that parents can get and much more.
You can find these third-party programs listed in the Apple App Store, by searching for things like "Parental Controls," "Monitoring Apps," "Child Safety," and similar keywords within the store. Then, just follow the installation instructions and guide to the app's settings, as with any app.
Conclusion
Apple offers a wide range of options with the native parental controls for iPhone. Most mainstream app developers also offer parental controls on iPhone apps. Third-party software tools can help you add more monitoring capabilities and further refined restrictions on your child's use of their iPhone. By defining what you want to prevent, you can find the optimal balance of parental controls for iPhone, and set them up easily and quickly, often for free, to help keep your child safe.
If you followed the step by step guide above, you should be one step closer to ensure your kids are safer when they are on their phones and online. We do suggest you further explore the best parental control apps for iPhone before you settle for the device's only protection as these apps do provide many features such as time monitoring, geo fencing etc.
If you have android devices at home and need help setting up the parental control read our guide on how to put parental control on Android
For video instructions you can visit www.youtube.com/watch?v=EqO_mB3yOUo.